From the moment I began planning my trip to Mexico's Copper Canyon (Barrancas del Cobre in Spanish), I knew that visiting the villages of Urique and Batopilas were my top priorities. On the map they seemed quite close and I assumed I could start with Urique and take a short bus ride to Batopilas. I wasn't totally wrong. Urique and Batopilas are quite close to one another…as the crow flies. But what looks like a short distance on the map is actually a rugged landscape of canyons that requires a two-night, three day hike. While I was in Urique I heard rumors that a rough new four-wheel drive road had been cut between the two villages, but I could never find anyone who knew where this mysterious road is located. In the end, I opted to do what everyone else does: I went to the town of Creel and took a five and a half hour ride down into Batopilas Canyon.
Unlike the descent into Urique Canyon, the trip to Batopilas is made in a brand spanking new bus. I boarded in front of the Los Pinos Motel at 7:30 a.m. and very shortly we were descending into the canyon on a good paved road. About three hours later the pavement was replaced by a rough dirt track that followed a torturous switchback route down into the canyon. The driver negotiated crumbling bridges and slowed to a crawl in areas where erosion had washed out a portion of the already narrow road. Brakes squealing like an upset sow, he navigated around impossible curves with overhanging rocks that left only inches of clearance – there was no room for error, since backing up was an impossibility. I gasped and held my breath where gorges plummeted thousands of feet just inches past our wheels; when I remembered to breathe the odor of hot brakes wafted through my open windows. Thankfully, the bus made several stops to let the brakes cool, but then I wondered what would happen if a tire blew or the driver had a heart attack. I could only repeat my trusty mantra: if I die here it will be doing something I love.
Can't view the above slide show of the ride down into Batopilas canyon, Mexico? Click here.
On the canyon floor, a scattering of ranches and homes began to appear. We snaked along a crystalline river amidst rocky, cactus-dotted slopes and crossed one last bridge into the tiny town of Batopilas. As we pulled aside the town square I prepared for another sprint; it was the Wednesday before Semana Santa weekend and again I had no reservations. I dashed into Hotel Mary's first. It was tolerable but very rough, so I ran across the plaza to Hotel Juanita, where to my surprise I found sparkling clean, modern rooms with ensuite bathrooms for only $200 pesos (~$17 USD) per night (Juanita has no web site, but reservations are available by phone, +52 01 649 488 00 43). With lodgings secured for two nights I set off to explore this miniature town. Batopilas, often called "Treasure of the Sierra Madre," was founded in 1709 as San Pedro de Batopilas when silver was discovered. In the 18th and 19th centuries the silver mines of Batopilas, among the richest in the world, attracted Mexicans, Spaniards, and Americans in search of fortune. Among the Americans was John Robinson, who purchased an old claim in 1861 that had a large, hidden vein. In 1880 he sold the claim for $600,000 to fellow American Alexander Shepherd, who had been ousted as mayor of Washington, D.C. as a result of corruption charges that were never proven. Over the years, Shepherd filed over 350 mining claims and formed the Batopilas Mining Company.
To overcome the difficulty and time (more than eight days) of transporting ore to Chihuahua, Shepherd built a foundry along the river, where he processed more than 20 million ounces of silver that was extracted from the mines. This great wealth allowed Shepherd to bring amenities to Batopilas unheard of elsewhere in Mexico at that time; Batopilas was the second city in Mexico to have electricity, his hydroelectric works still provide power for the town, and he built an aqueduct which is still in use. Mining operations ceased in 1920, although there have been several unsuccessful attempts to reopen the mines, and most of the original operations are now owned by a Canadian mining company. Shepherd's foundry and his personal mansion, Hacienda San Miguel, lie in ruins, and the town has shrunk from its former 7,000 residents to a mere 800; it took me just two hours to walk all the streets in town, find the only Internet cafe, check out the restaurants, and arrange for a tour the following day with local guide Manuel Gill.
Can't view the above slide show of Batopilas town at the bottom of Mexico's Copper Canyon? Click here.
Manuelito and I set out early in his old pickup truck in order to escape the midday heat. Four miles later we rounded a bend and I got my first glimpse of the Jesuit mission church of San Miguel de Satevo, sometimes referred to as the "Lost Cathedral." There is a great deal of mystery surrounding this church. Some stories say that all records were lost in a fire, thus it is not known for sure what year it was constructed, while others insist it was built in 1764. Indeed, when I queried Miguelito about the nickname, he laughed and said it derived from a writer who dubbed it with that name in an article published some years back. Until very recently the beautiful old mission was deteriorating, its exposed red bricks crumbling away in the midst of sporadic restoration efforts. Fortunately, renewed efforts to save this architectural treasure have resulted in a new plaster coating on all exterior walls and work is now proceeding on the interior.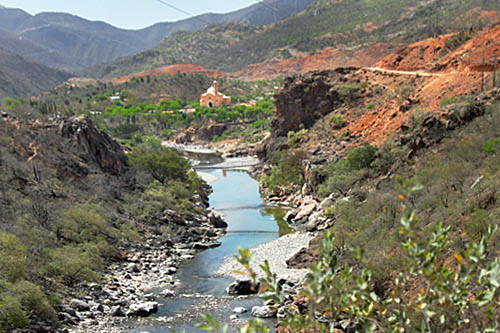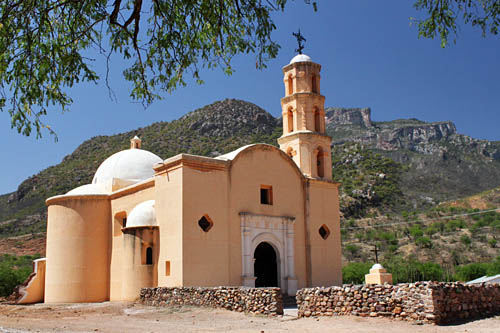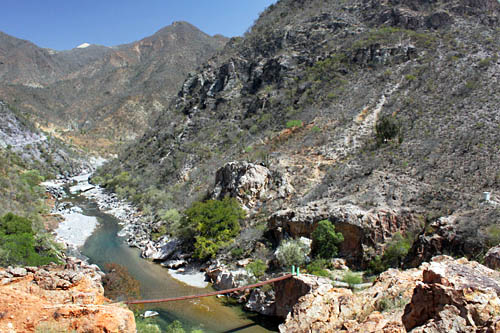 After investigating the mission, Miguelito and I walked up into the hills to visit a Tarahumara Indian settlement, where a handful of open-sided houses of adobe brick were sprinkled across the sere ochre-colored hills. At one, he stopped and introduced me to a 19-year old Tarahumara girl who stood rocking her year-old infant in a hanging cradle contrived of ropes and blankets. Since the girl's mother died two years ago, she has been caring for her own children (the other one a five-year old girl) and her siblings. The government provided her with the house when her mother died; prior to that her family was living in a cave. Despite some government assistance, Tarahumara struggle with abject poverty. The members of this family eke out an existence by walking high into the mountains before dawn each morning to gather fruits and vegetables, which they later sell in Batopilas. It is as close to a hunter/gatherer society as I have ever witnessed.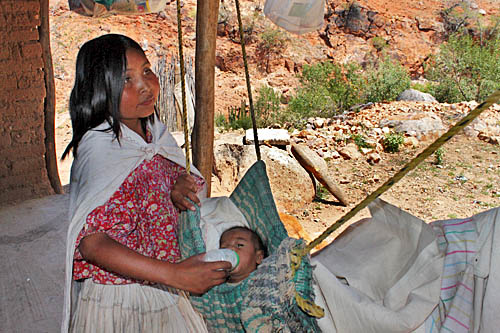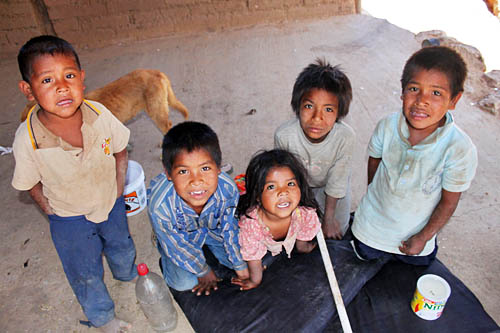 The following morning I hopped on board the bus for my return trip to Creel. Since transportation times in Copper Canyon are dictated by the need to hook up with El Chepe train and other buses, our bus departed promptly at 5:30 a.m. Not usually a fan of early morning, I was thrilled in this instance to drive through Batopilas Canyon as the sun rose over the mountains, providing a view so different from the one during my descent. With Semana Santa weekend close on my heels, I had for once made reservations. In Creel I would catch the economy class El Chepe train back to Bahuichivo for a four-day stay on the rim of the canyon at Cabanas San Isidro Lodge.
To be continued…..