The most interesting thing I could find to write about Creel is that it's home to the worst hostel I've ever stayed at. Other than taking a quick stroll through the central plaza, where Tarahumara artisans display and sell their crafts, I found little that interested me in this town. Creel does, however, have one saving grace: it's a perfect staging area for visits to the many interesting sites located in the eastern half of Copper Canyon and savvy tour operators have developed a number of well-designed trips to these sites.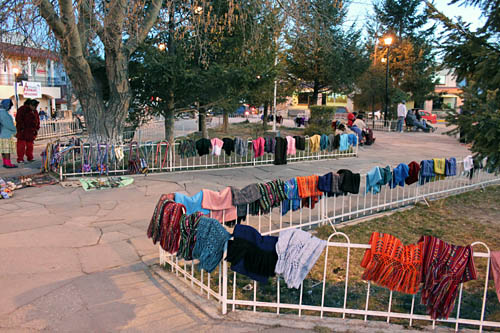 On my first full day in Creel I opted for a tour that visited six different locales, all well worth a visit. Our first stop was Cascada de Cusarare (Cusarare Waterfall Park), located on Tarahumara native lands a short distance outside of Creel. We paid a modest fee of $15 pesos per person (a little more than a dollar) and bumped along a rough road, churning up the omnipresent chalk-like dust that that defines the Sierra Madre Mountains. A couple of miles up the track our non-English speaking guide stopped and pointed out a path along the river for those of us who wished us to walk the remaining distance to the waterfall.
I followed it up a desolate rock-strewn hillside dotted with gnarled pines, wondering how it was possible to carve out a living on this barren terrain. For nine month each year, barely a drop of rain falls in the Sierra Madres. Trees turn tinder-dry, rivers shrink to rivulets, and everything in sight is coated in a fine layer of dust. When rains do finally arrive in June they come in deluges, flooding rivers and washing out roads. In this land of extremes the Tarahumara eke out a living, selling beadwork, carvings, and assorted other handicrafts, sometimes sitting for hours under a searing sun while awaiting the next tourist bus. Fortunately, Cusarare provides more shelter than most sites. Nearer the waterfall, pine forest thickened and branches intertwined overhead, creating a shade canopy beneath which Tarahumara women had set up their stands.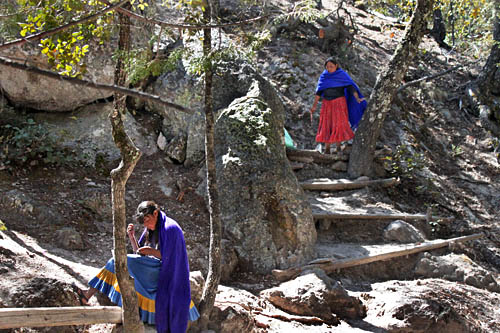 Beyond the vendor area, an overlook offered a view of the waterfall, a mere trickle at this time of year. Not content to settle for the topside view, I descended about 300 concrete steps to a canyon floor choked with immense smooth boulders, providing irrefutable proof of summer inundation.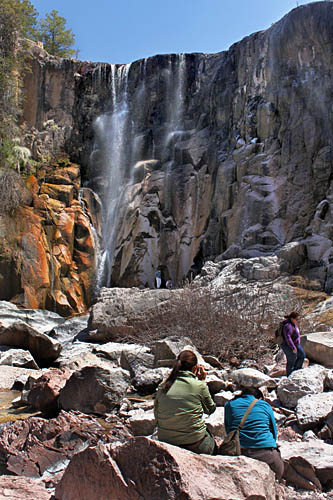 Our guide backtracked a couple of kilometers to the indigenous village of Curarare and parked aside the old Jesuit mission, where a large crowd of Tarahumara men and boys were gathering. Tribal elders, wearing large circular headdresses crowned with row upon row of white-tipped feathers, were arranging the boys in a double file in preparation for marching into the mission yard. From the youngest adolescents, caked in dust and with snot dripping from their noses, to swaggering teens, boys either carried a wooden board with a pointed end meant to represent the swords of Spanish Conquistadores, or beat on flat round drums covered in deerskin. Until that moment, I hadn't even realized it was Sunday, much less a religious holiday, but by virtue of amazing good luck I was about to witness a Tarahumara Palm Sunday ceremony.
Can't view the above slide show of the Palm Sunday celebrations in Cusarare, Mexico? Click here.
Inside the courtyard, Tarahumara women and girls leaned on stone walls or sat patiently on the dusty ground. Perhaps seeking to outshine the massive headdresses worn by tribal elders, women wear layer upon layer of multi-colored patterned skirts akin to old fashioned petticoats, albeit in much wilder colors than our ancestors would have approved. These are topped with a blouse and woven shawl in colors and patterns that in no way match the skirts, but somehow come together as a coordinated, vivid ensemble. Gathered by the hundreds, they bloomed in the austere church yard like a riotous spring garden.
Marching in time with their syncopated drumming, men and boys solemnly entered the yard and formed two long lines on either side of the church doors. At some unseen signal drumming magically ceased and was replaced with ominous rattling from small wooden instruments held by a few select participants. Following a brief ritual in front of the church door everyone crammed into the tiny church, where women sat on rough wooden floor planks on the right hand side of the church while men stood on the left. At the front altar a priest shook holy water over palm fronds and asked a blessing; these sanctified leaves, symbolizing palms spread before Jesus when he rode into Jerusalem on a mule, were then distributed amongst the crowd. Passionately clutching their palm fronds, Tarahumara streamed back into the church yard and gathered around a handful of women kneeling before a metallic oval disk for a final prayer to Mother Mary.
After witnessing this Palm Sunday spectacle, our subsequent stops at Lake Arareco, Valley of the Mushrooms (Valle de los Hongo), and the town and old mission in San Ignacio de lo Yola were somewhat anticlimactic, but still worthwhile.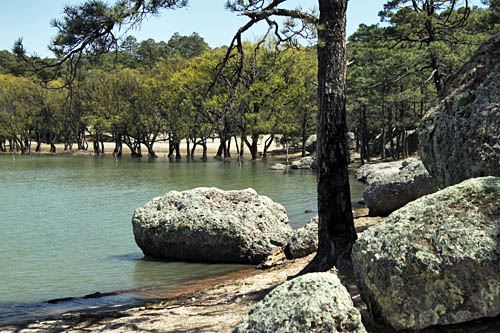 Our final stop at a cave where a large family of Tarahumara live was, for me, almost as impressive as the Palm Sunday procession. I stepped inside the huge, soot-blackened cavern and looked around in amazement. Crude wooden shelves, overflowing with hand-crafted items offered for sale, dominated the front of the cave. Behind the displays of merchandise and semi-hidden in the obscure depths, I could just make out woven mats and grasses spread on rock ledges that sufficed for beds. A sole woman stood pillar-like in the center of the cavern and peered at us with an expression that transmitted suffering beyond my ability to comprehend. How would I feel if strangers tromped through my home, day after day, oogling my possessions and leaving without buying a thing? Then, as if answering my question, I spied a small woven basket soliciting donations. I deposited $20 pesos.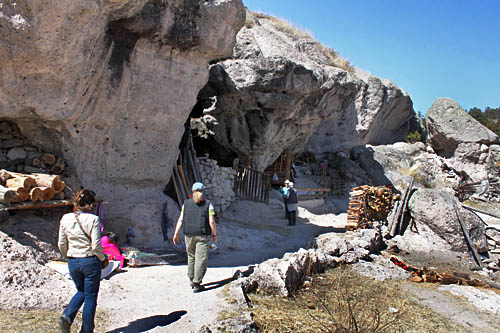 Though the woman gave no indication she had seen me leave a donation, when I asked for permission to take her photograph a few minutes later she motioned for me to wait while she smoothed her faded and dirt-caked skirt and adjusted her head scarf. Standing ramrod straight, she clasped both hands on one hip and looked straight into the camera with a look of stoic pride that pierced me to the heart. I nodded in thanks and glanced at the donation basket as I respectfully retreated from her home. My $20 peso bill had already been snatched up.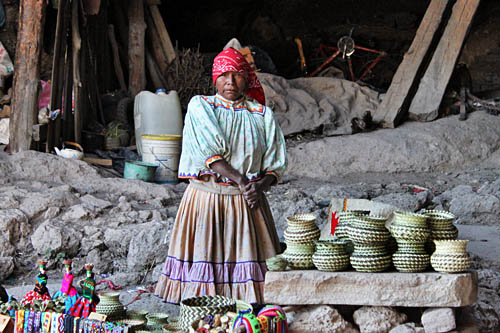 The following day I opted for a half day trip to Divisadero, which is widely accepted to be the best overlook into Copper Canyon. Since most people see the canyon from the windows of El Chepe train as it makes its 13-hour transit of the canyon, they get only a glimpse of the famous overlook. The station sits high above the canyon rim, offering a tantalizing peek into the gorge during a mandatory 15-minute stop, prompting many passengers to disembark and make a mad dash for the rim. But to reach the overlook passengers must descend a long stairway choked with food and craft vendors; there is simply not enough time. Instead, I bypassed this part of the train ride entirely, opting for the much cheaper bus to Creel, and for a mere $200 pesos was able to visit five different overlooks and walk a mile or so along the canyon rim. I even let myself be talked into having my photo taken in front of the canyon, which at Divisadero is so very reminiscent of Arizona's Grand Canyon.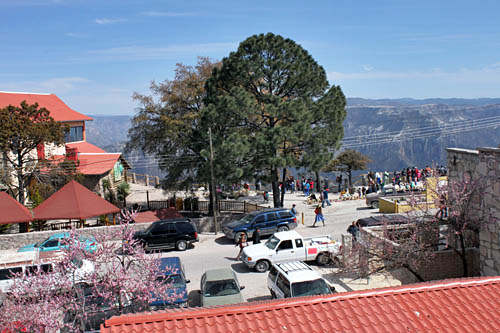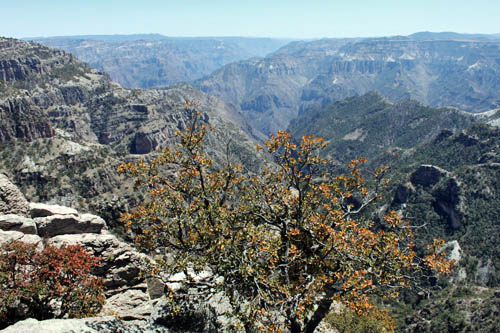 On day three, more than ready to leave dull Creel, I boarded a 7:30 a.m. bus for Batopilas, a tiny enclave wrapped in the narrow folds of yet another canyon deep within the Copper Canyon Complex. But that is a story for another day…
To be continued…..