My eyes popped open at the first hint of light. "No!" I groaned, still tired from 12 hours of traveling that had me arriving at Entre Amigos hostel well after dark the night before. I squeezed my eyes shut, hoping to fall back to sleep, but it was no use; my incessant curiosity demanded that I investigate this latest destination in Mexico's Copper Canyon.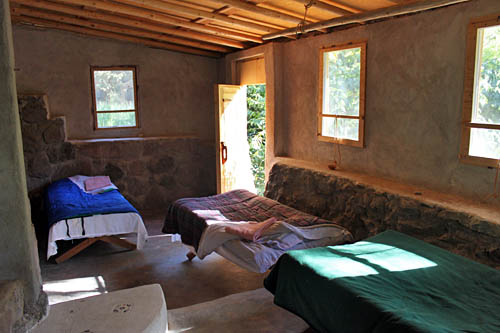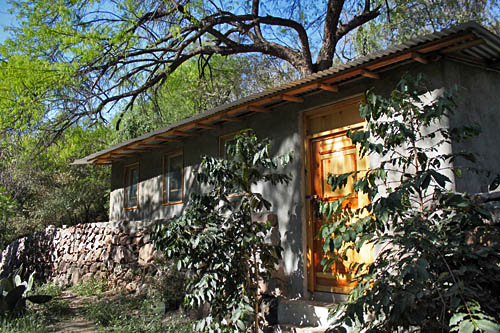 Shivering in the early morning chill, I piled on a couple layers of clothes and went in search of a bathroom. The narrow path leading from the dorm, so black and foreboding the night before, wound past papaya trees heavy with fruit, coffee bushes laden with ripe red beans, and giant cactus with prickly upthrust arms. Beyond this Garden of Eden rose the sheer walls of Urigue Canyon, its green carpeted slopes and naked red rocks creating heavenly vistas in every direction.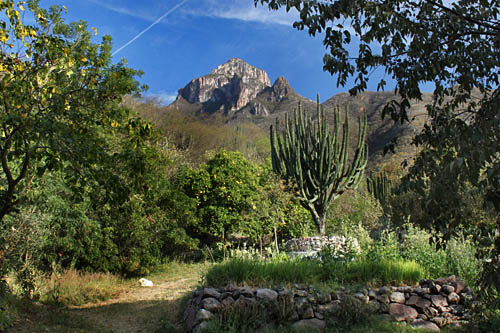 It was the itching that brought me back down to earth. With hot water available only in the morning, I'd had no choice but to climb into bed dust-caked previous evening and my skin was screaming for relief. Fortunately Tomas, who along with Maruca oversees the hostel when the owners are in the States, had already stoked the wood-fired boiler, and a blissful hot shower later I felt human again.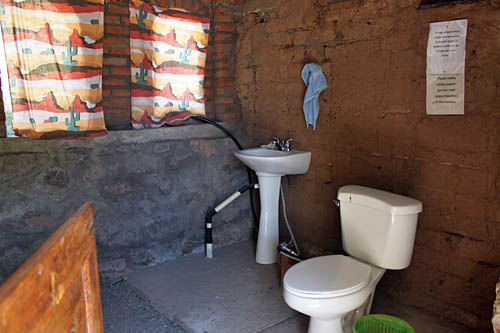 By this time, mouth-watering cooking aromas were wafting from the kitchen in the main house and my grumbling stomach reminded me that I had nothing to eat. As if omniscient, Maruca appeared and invited me to share their breakfast of fresh-picked papaya and pancakes with honey while I marveled at my surroundings.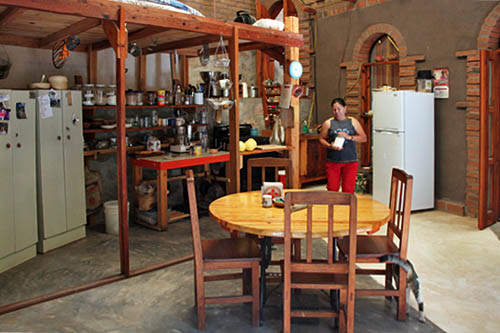 Entre Amigos Hostel happened almost by accident. In 1975, Keith Ramsey needed both a break from graduate school and an adventure. He loaded up a trunk with books and checked out a map of the Sierra Madre Mountains, searching for the place that looked the most empty. In Chihuahua, he met a "crazy Nicaraguan," Jose Maria Chema Lugo, who invited Keith back to visit once he grew tired of the Sierras. Then, learning that a road had just been completed to Urique, Keith headed down into the bottom of the deepest gorge in the Copper Canyon complex.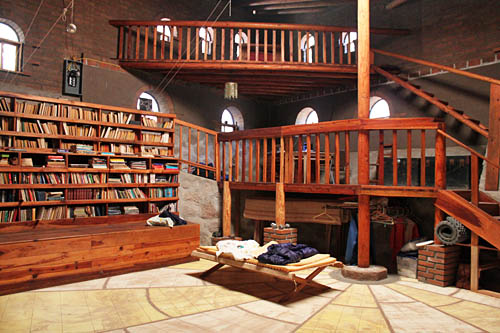 "One thing led to another, and the crazy Nicaraguan and I, along with another of my friends from graduate school, Tom Scharmen, bought the pile of rocks that became Entre Amigos," Keith reminisced. "We started off in tents, taking turns during the early years either working on the place or taking jobs to keep it afloat." In 1977, when Keith was there by himself, Violeta, a photographer from Chihuahua came through Urique taking pictures. "I happened to be riding a borrowed white horse when I met her, and this probably convinced her I was all right," said Keith. They were married in mid-1978 and shortly thereafter departed for Oregon, leaving Tom in charge.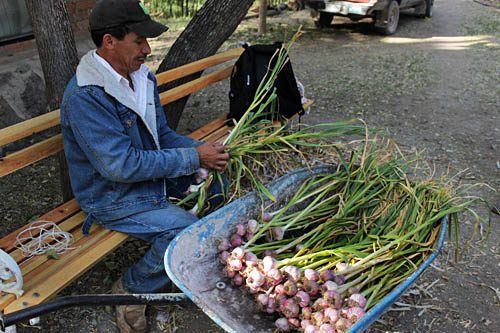 Soon, another young woman from Chihuahua arrived on the scene. Veronica Fuentes, daughter of one of Chihuahua's better known writers, Jose Fuentes Mares, was in Urique doing community organizing and other good deeds. She persuaded Tom to teach in the local school, and three years later they also married. During the next five or six years, they started a secondary school in Urique and developed a health program that became the model for Sierras; both programs were eventually taken over by the government. By that time a family of four, Tom and Veronica did whatever they could to scratch out a living: Tom painted signs, played in the local band, got grants, etc., but when their kids reached school age, they moved to Chihuahua, where Tom continued to work for the now government run health program.
Around that time, Entre Amigos developed a loose association with the medical school at the University of New Mexico, becoming the hardship rotation for quite a few doctors and nurses in training. As a result, around 1995 Tom was offered a job and admission to a masters program in public health at the UNM, and  Keith and Violeta took over the responsibilities at Entre Amigos. Tom completed his studies and took a job as an epidemiologist for the State of New Mexico, which he is still doing. Along the way Chema and his wife Susana both died; Chema's ashes are under the mango tree just outside the door to the big house. Chema was a philosopher and poet in the style of William Blake and wrote prize winning poems at Entre Amigos.
Over the years, various buildings were constructed around the main house for use by the now extended families of the original three partners and friends. But again, one thing led to another and the hostel somehow emerged. The facilities today include two dorm rooms with a total of seven cots, two private rooms, a common kitchen, library, Internet room, common shower house, two common bathrooms, and camping area that can accommodate a considerable number of tents. And perhaps because they never intended to have a tourist business, the partners have kept the rates amazingly low: $7 USD per night for camping and $10 USD per night for a cot in one of the dorms, and guests are encouraged to help themselves to the amazing variety of vegetables grown in their organic garden and the abundant fruit from trees around the property.
Most guests cannot imagine the work that went into building Entre Amigos. Tom Scharmen clarified Keith's description of 'working on the place' as "a few thousand hours of hard labor that he and I and others performed with hardly any machinery or power other than our own backs." When visitors commented that he lived in paradise, Tom's standard reply was always, "Paradise is a hell of a lot of work."
Keith sums up Entre Amigos this way: "It's been a great ride for me. One of my guiding rules is to get enough pleasure out of the place that if I have to I can walk away and say that it had been worth it. So far that has always been the case." Though Keith claims he's not the least bit altruistic, insisting that he continues to get a lot of good will because of the things his partners did, he gives himself away when he expresses his guiding rule, which says: "How can we hope to prosper if the people working for us aren't prospering."  If you visit, you won't even need to ask Tomas and Maruca how that philosophy has worked out for them. Their love for Entre Amigos shows in everything they do.
Had the partners had never mounted a single philanthropic effort, the joy Entre Amigos has brought to guests over the years qualifies the partners for a spot in heaven. They've created a place of great beauty where utter serenity and tranquility reign, and I have come under its spell. At the end of my planned three day stay, I simply could not tear myself away, and so I have extended my stay. For how long is anyone's guess at this point.
To be continued…