A steady stream of pedestrians crossing the Queen Emma Bridge in Willemstad, capital of the tiny Caribbean island of Curaçao, seemed unfazed by the shrill bell signaling that the floating pontoon bridge was about to open.
"Why aren't they hurrying?" I asked my tour guide, Howard.
"The orange flag hoisted over the harbor master's shack means the bridge will open soon…perhaps 20 minutes from now. But when the blue flag goes up – then you will see people running!" he explained.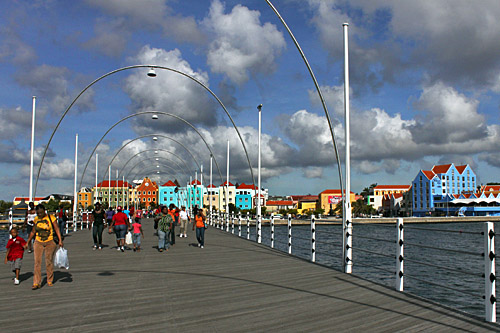 Unhurriedly, we strolled across the bridge from the newer neighborhood of Otrabanda to Punda, the oldest district of the city. Returning, we stepped back onto solid concrete just as the blue flag was hoisted and two powerful ship motors winched the bridge toward shore, allowing an enormous cruise ship to sail into to Schottegat Bay, the seventh busiest harbor in the world.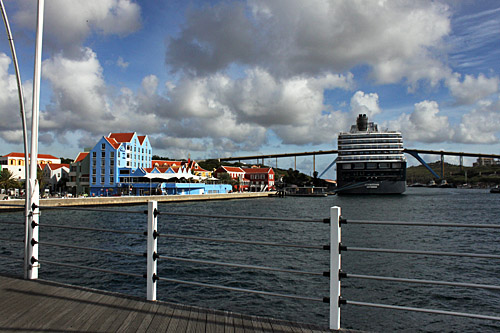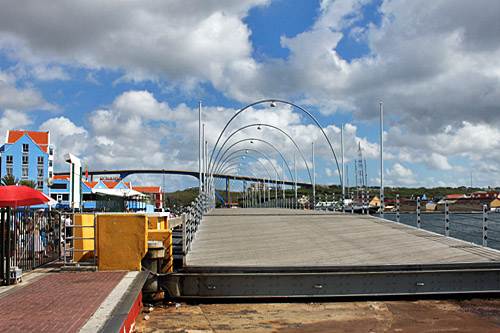 Affectionately nicknamed the "Swinging Old Lady," Queen Emma Bridge is one of the oldest and longest non-military pontoon bridges in the world. Its unique design was a necessity; by the time a bridge was contemplated, buildings covered every inch of shoreline on the Punda side of the channel and a traditional bridge would have required destruction of many structures. When the original 20-foot wide steam-powered pontoon bridge was completed in 1888, tolls were charged: two cents for pedestrians wearing shoes, ten cents for horses and, later, 25 cents for each car, but so many pedestrians removed their shoes and crossed barefoot that the toll was finally eliminated.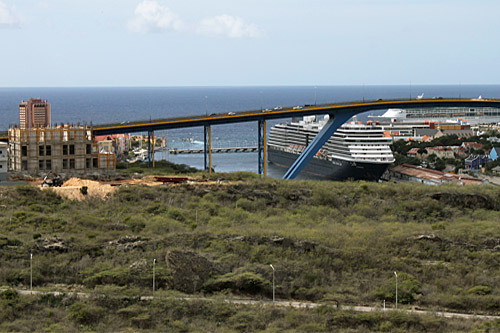 In 1938, in order to accommodate increased shipping, the original bridge was replaced by a wider span, but increased harbor traffic resulted in long waits for cars wishing to cross. To remedy congestion, construction was begun on the Queen Juliana Bridge, which would ultimately soar 185 feet above the sea level, earning it the designation of highest bridge in the Caribbean and one of the highest in the world. When the Queen Juliana Bridge officially opened in 1974, Queen Emma was forever closed to vehicular traffic.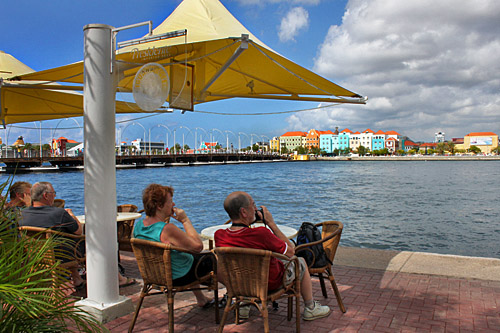 Today the "Swinging Old Lady" is one of Curaçao's most prominent historical landmarks and a favorite with tourists who sip tropical drinks at waterfront sidewalk cafes and watch the bridge open and close to accommodate ocean-going cruise ships, cargo containers, and tankers.
Disclosure: Author Barbara Weibel visited Curaçao as part of a press trip, provided by the fabulous Marriott Resort and Emerald Casino, which is ideally located within walking distance of Willemstad.