What sets one resort apart from its competitors? A great location is always preferable. The physical condition of a property is also a factor. But for me, the most important quality is customer service and the proper training of staff. I am pleased to report that the Marriott Beach Resort and Emerald Casino in Curacao, which is hosting me for four days as part of their BlogParadise event, has all three: great location, exquisite facilities, and one of the best-trained staffs I have ever encountered.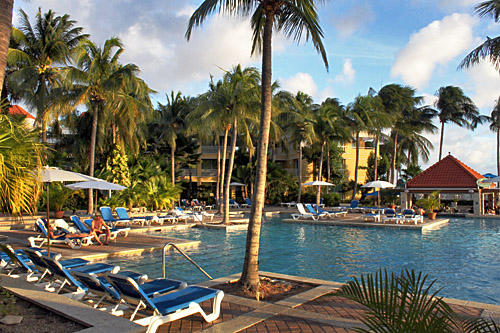 From the moment I arrived, it was obvious how service oriented the resort's employees are, but at dinner last night I learned this is more than just training. I asked the resort's Sales Manager, Yvette Schotting, to tell me what makes this resort so special. She turned to our waitress, another Yvette, for an answer.
"I have been here nine years and this is my family. Every year, many of the same people visit us and they are always so happy that I remember them from previous visits. I love my job."
Family is fundamental to the Marriott story. Most management personnel started in entry-level jobs: the corporation's President of International Lodging began his Marriott career as a night watchman and the head of North American Lodging Operations started as a waiter. John Toti, the General Manager of the Curacao Resort, graciously stopped by to meet me last night and I learned that he also started at the bottom as a cook and bartender. Today it is fashionable for businesses to talk about themselves as family, but at Marriott they don't just talk the talk, they walk the walk.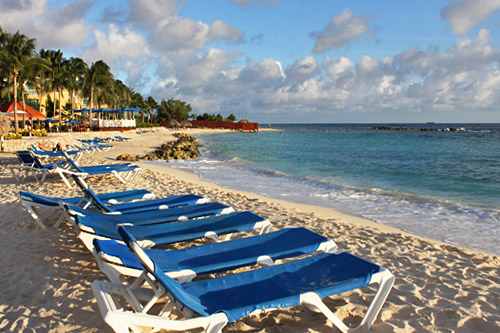 Having said all that, the resort's location is ideal. Located just west of the capital of Willemstad, it is away from the traffic and noise of the city but just a 20-minute walk or a five-minute shuttle ride away. And the facilities are exquisite: a lovely white sand beach, palapa oceanfront bar, gigantic pool, multiple restaurants, full service workout room and spa, lushly landscaped grounds. I could go on, but I need to work off last night's delicious meal of cauliflower cream soup, goat cheese and poached pear salad, and seafood risotto by walking to town. For the moment, I hope you'll enjoy some photos of this fabulous resort.
Can't view the above slide show of Marriott's Curacao Beach Resort and Emerald Casino? Click here.