Downtown Gatlinburg wasn't always filled with cheesy souvenir shops, wax museums, and fast food joints. In the years before Dollywood and the miles-long carnival strip of Pigeon Forge, this eastern Tennessee town was known for craftsmen and artisans who occupied shops and roamed the city streets, demonstrating their skills.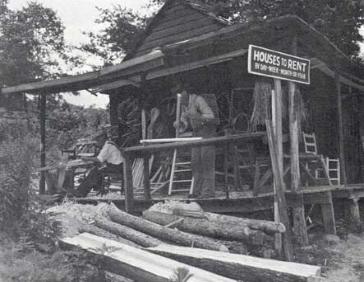 As tourism grew, escalating rents drove the arts and crafts community from the city center. But for the vision of woodworker John Cowden and a few of his friends, they could have faded into obscurity. Suffering from from long hours and worn out feet, Cowden and his fellow artists decided to just stay home where they would be near their tools and the source of their supplies. They opened workshops, studios, and galleries right alongside their homes or even inside them, most of which were concentrated along a an eight mile loop along that winds through the Tennessee hills surrounding Gatlinburg. As visitors started coming, other craftsmen and artists joined in, until it grew to be the largest group of independent artists and craftsmen in America.
Located just three miles from downtown, this historic district has been designated a Tennessee Heritage Arts & Crafts Trail. Marked with distinctive signs, the trail is easily driven, and all of the shops provide free and ample parking. Better yet, leave your car behind and board an old-fashioned trolley at one of 100+ stops around the city. The Great Smoky Arts and Crafts Community Yellow Route travels the entire eight mile loop continuously, allowing visitors to hop on and hop off throughout the day. The fare? A whopping $1.00 for unlimited one-day use.
With nearly 100 shops, studios, and galleries lining the route, it's easy to spend an entire day examining gorgeous quilts, old-fashioned straw brooms, exquisitely woven baskets, beautiful jewelry, hand-dipped scented candles, Victorian ceramic pitchers, pottery, stuffed bears, leather vests, woodcarvings, oil and watercolor paintings, and much more.
My favorite shop was Smoky Mountain Dulcimers. I have always wanted to play a musical instrument. As a young girl I took organ lessons for a short time and later, in my twenties, I bought a guitar, determined to learn to play. It was no use; my only musical talent was singing. But old dreams die hard. Confronted by rows of gleaming, meticulously hand-crafted dulcimers hanging on the wall, I was tempted to try again. The woman behind the counter patiently demonstrated how to play and then handed the pick and metal slide over to me. Following a by-the-numbers chart, I strummed a halting "Amazing Grace." I was sorely tempted to take the shiny instrument home. Sensing my hesitation, the saleswoman explained she had learned while watching TV in the evening, plucking out tunes during commercials. Fortunately, common sense prevailed; although I'd have every good intention of practicing, like my guitar, the dulcimer would likely end up gathering dust in a corner. The best contribution I can make to the world of music is to be an avid listener. And so I did. Choosing one of numerous cafes and restaurants located along the route, I enjoyed a delicious lunch while listening to toe-tapping live mountain music. The guy playing the dulcimer? Way better than I could ever hope to be!