Deep within North Carolina's Nantahala Forest, a glittering emerald valley is encircled by 5,000-foot high peaks. Sunshine streams down through crisp pine-scented air, illuminating the craggy stone faces of Yellow Mountain, Rock Mountain, and Chimney Top that stand sentinel around the valley. In the surrounding woods, spongy footpaths carpeted with last winter's detritus follow rushing creeks to thundering waterfalls. Mountain roads snake past wildflower-choked fields, neatly manicured crimson barns, and tiny hamlets on their way to spectacular mountaintop vistas.
What is this mystical place? Have I been magically transported to Eden? No. This is Cashiers, North Carolina, as close to heaven as a mortal can hope to be.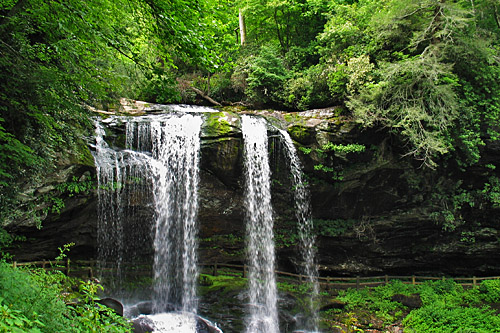 This tiny town, located at the junction of U.S. Rt 64 and NC 107 in far southwest North Carolina, perches at the southern crest of the Blue Ridge Mountains. With little more than a mile of quaint shops and inns, the focus in Cashiers is on the outdoors. Visitors who are not physically inclined can explore the exquisite landscape with a ride on the Great Smoky Mountains Railroad. The 53-mile scenic rail journey crosses two tunnels and 25 bridges on its spectacular route across fertile valleys and through river gorges.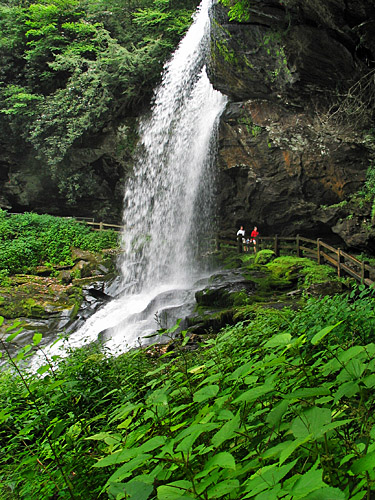 Active sports enthusiasts revel in the choice of activities. The Nantahala, Ocoee, and Chattooga Rivers are a rite of passage for whitewater kayakers. Fly fishermen flock to area streams and rivers, and rock climbers head for the thousand-foot cliffs of Whiteside Mountain. Biking, golf, horseback riding, ATV adventures, winter snow skiing – all this and more is readily available in lovely little Cashiers.
Hikers are delighted by miles of maintained trails, many of which lead to waterfalls that tumble from mountaintops. My passion for hiking was satiated on the trail to Whitewater Falls, the highest waterfall in the eastern United States.
At the end of this Utopian day I looked around for a place to stay and found the Laurelwood Mountain Inn. Located on four wooded acres atop a hill in the center of town, the inn offered accommodations ranging from standard rooms to isolated cabins. I chose a standard room – a bargain at $80 – and was delighted by the rustic wood interior, complete with comfy queen bed, writing desk, and sparkling clean bathroom with an oversize shower.
Everything about the Laurelwood Mountain Inn appealed to me. Just days earlier, I had paid $120 per night at one of the "chain" motels, where I had to choose between unplugging a lamp or the alarm clock in order to work on my laptop from the comfort of my bed. At this mom and pop gem, it was obvious that a great deal of thought had gone into designing a room for the ultimate comfort of the guest.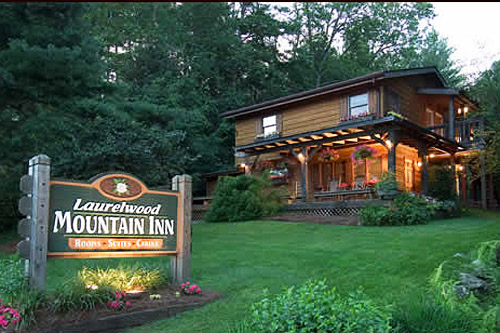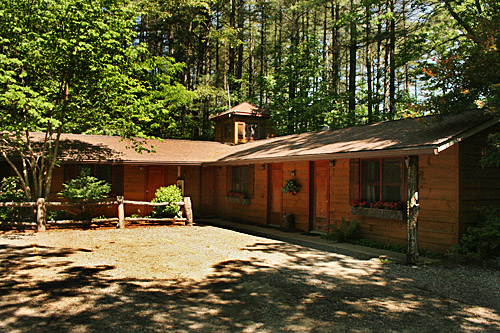 The next morning I was fortunate to meet Bob Dewes, one of the owners. Bob and Lise' (pronounce Lisa)Â  purchased the Laurelwood in June of 1995. After spending many years in the "corporate rat race" they gave up the big city life and moved to the mountains. They are now living their dream of running their own family business. Since purchasing the Inn, they have made many improvements to the existing rooms, built the log building with the suites, and a freestanding log cabin. They also purchased eight acres of land that adjoined the original property, ensuring that guests have a quiet spot to kick back and relax.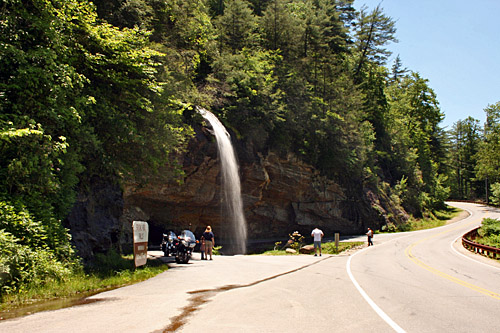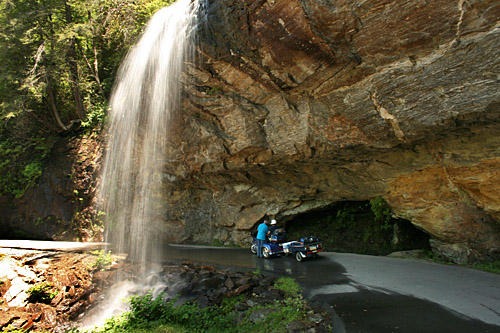 I hated to leave, but the road beckoned once again. With one loving look back at the Laurelwood, I turned onto Rt. 64 and headed west toward yet more waterfalls and trails. This time the most intriguing was also the easiest to access – I actually drove under Bridal Veil Falls! A bit further along I found Dry Falls, Upper Cullasaja Falls, and Lower Cullasaja Falls. Ah, so many waterfalls; so little time.
As I crossed the border into Georgia, I softly chanted: Cashiers, Cashiers, Cashiers. Was it all in my imagination, or was it real? It was real, I knew. But it was also a little slice of heaven on earth.