Each time I drive across the Seven Mile Bridge on my way to or from Key West I wonder about tiny Pigeon Key, located off the west end of Marathon. The only access to this five-acre rock appears to be via a rusted old bridge that bisects the island. Speeding along the new modern bridge, I have often puzzled over the adjacent older roadway. If it was unsafe, why it was left standing? And if it is safe, why have two giant chunks been cut out of the span, ensuring that it is not used? This time, my curiosity got the better of me. It was time to find out.

Inside the silver Henry Flagler railroad car that now serves as the Pigeon Key Visitor Center and Gift Shop, I discovered that my $11 admission included a boat trip to the island, but instead I opted to walk 2.2 miles along the original Seven Mile Bridge. Under a blazing sun I strolled the narrow two-lane roadway that has been converted for golf cart, bicycle, and pedestrian use. Noticing that the handrails are actually old railroad steel rails, I was reminded that this bridge was originally a railroad trestle for the Florida East Coast Railway.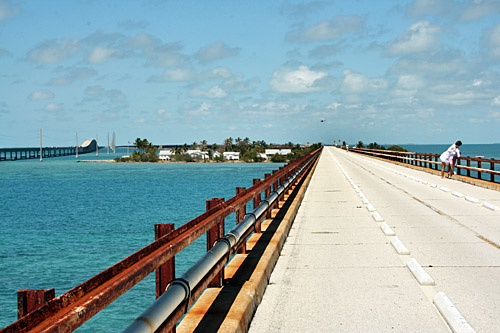 The railway was the idea of Henry Flagler, who had the good fortune to be a partner of John D. Rockefeller in the firm that eventually became Standard Oil. Long intrigued by Florida, Flagler began constructing luxury hotels on the east coast of the state. He soon realized that Florida's development potential was hampered by lack of infrastructure and, in 1904, announced his intention to build a railroad from Miami to Key West. Engineers scoffed. Friends thought he had lost his mind. Undeterred, Flagler put his amassed fortune to work, eventually finding engineers who assured him they could get the job done. For four years the roadway was constructed, hopping from island to island. By 1908, the only remaining piece to be built was the seven mile stretch of open water between Vaca Key and Little Duck Key.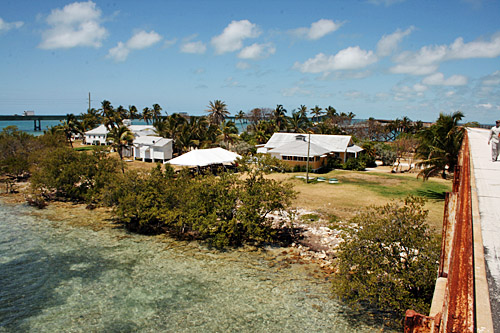 By this time, 78-year old Flagler's health was failing. Determined that he should arrive in Key West on the first train to ride the new rails, workers mounted a "marathon" to complete the project before Flagler died, working 14-hour days, six days per week. The City of Marathon on Vaca Key took its name from this final push. With its location midway between the two end points, Pigeon Key was turned into a work camp for up to 400 laborers during the four years it took to complete the final span. Working conditions were atrocious. Mosquitoes were a major problem and many died of malaria. All fresh water had to be transported in from the mainland, even water to be used for mixing the concrete. Despite all this, on January 22, 1912 Flagler rolled into Key West; Flagler's Folly, as it had come to be known, was complete. Less than two years later, Henry Flagler died at his palatial home in Palm Beach, Florida.
An engineering miracle in its day, the Seven Mile Bridge required 546 concrete piers, two miles of 35-foot spandrel arches, and the Moser Channel Draw Span, a 253-foot long rotating swing bridge that allowed sea vessels to pass through the bridge. The railroad operated until 1935, when a hurricane with 200-mph winds and a 17-foot tidal wave destroyed miles of track and washed out several of the long fills. It was the height of the depression and funds were scarce. Rather than repair a raiload that had never made money, the Florida East Coast Railway Company abandoned the line and later sold it to the State, which used the old railway trestle as a base for the original two lane Overseas Highway.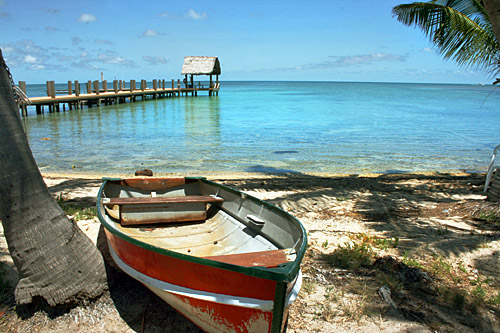 Whenever I sped past on the new bridge, this old span looked to be rusted and crumbling. But as I made my way to Pigeon Key I noted that it seemed in remarkably good condition. Indeed, some say the original bridge is in better condition than the present day highway. The German engineers who designed the piers used a concrete formulation specially developed to withstand salt water environments. The secret died with them and no one has since been able to match its endurance. The only evidence of deterioration are the steel railroad tracks that have been used as handrails; they are slowly but inexorably rusting away.
Both bridges – old and new – stretched out in front of me. To my left, traffic on the new bridge whizzed by at 55 mph, seemingly unaware of the historic site. In the distance, the "hump" of the new bridge rose, eliminating the old swing bridge that halted traffic for passing boats. I gazed over the rails to crystalline clear waters below, where enormous tarpon hovered near piers and a family of manta rays swam in perfect formation reminiscent of fighter jets, nose to tail, just inches of clearance between their gracefully flapping wings. Forty minutes later I descended the wooden ramp to Pigeon Key, fascinated by the chunk of highway that has been removed just beyond the island.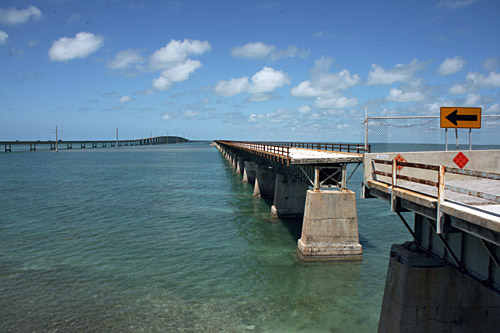 A few of the original structures used as the base camp and later for bridge maintenance have been preserved at Pigeon Key; one of the old houses contains a museum filled with fascinating collection of photos and memorabilia from the construction of the railway. The island is now owned by Monroe County and leased to the Pigeon Key Foundation, a non-profit entity dedicated to preserving the island and its historical significance.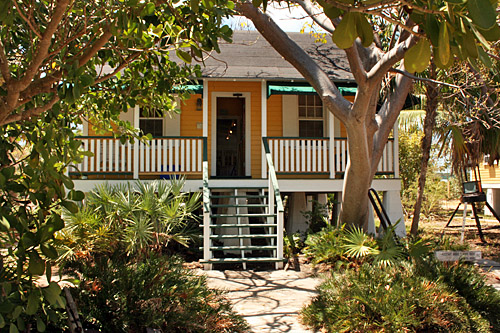 On the day I visited, a Marine Science Camp was in session. Through this hands-on program, participants learn about marine mammals, reef fish, the reef system, invertebrates, and hard and soft corals found in Florida and Caribbean waters. Another program allows visitors to stay in one of Pigeon Key's historic houses that sleeps up to ten; a $1,000 donation is accepted for a three-day weekend stay and $1,500 buys visitors a full week's stay. With an idyllic little private beach and excellent snorkeling, the price may well be one of the best bargains in the Keys when split ten ways.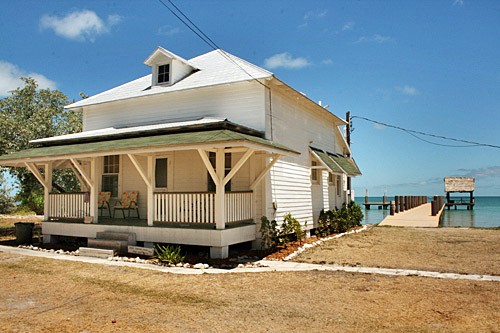 Boats to Pigeon Key depart daily at 10 a.m., 11:30 a.m., 1 p.m., & 2:30 p.m. Return trips depart daily at 10:30 a.m., 12 Noon, 1:30 p.m., 3 p.m. & 4 p.m. Admission includes a guided tour upon arrival and visitors are encouraged to bring swimsuits, snorkeling gear, and picnic lunches and spend the entire day.