Whenever evening skies are swathed in shades of pink, gold, and violet, I pause to absorb the exquisite beauty before me. As the sun dips below the horizon I focus on being fully present and in the moment, turning my attention away from the stresses of the day. Nature also seems to shed stress at sunset. Squawking birds make one final flight before roosting for the night. Brisk daytime breezes become gentle whispers. Even the ocean seems to lap more gently after dusk. In most places around the world, the setting sun is a time of calm and reverence. But not sunset in Key West.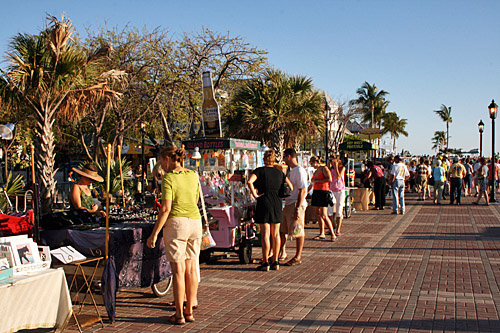 Just before sunset each night, acrobats, jugglers, musicians, cyclists, and animal acts begin arriving at the waterfront boardwalk in Old Town's Mallory Square, where Duval Street meets the Gulf of Mexico. As the golden hour approaches, locals and tourists alike congregate, stuffing their bellies with fast food and shopping bags with trinkets while the acts are busy setting up. Soon, the first performer is hawking to the crowd.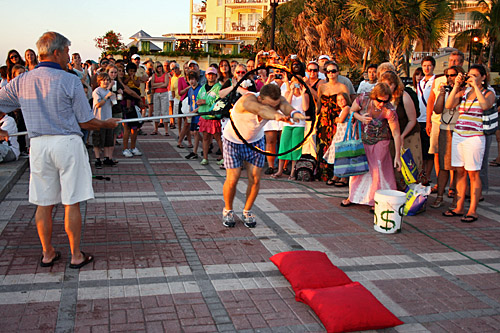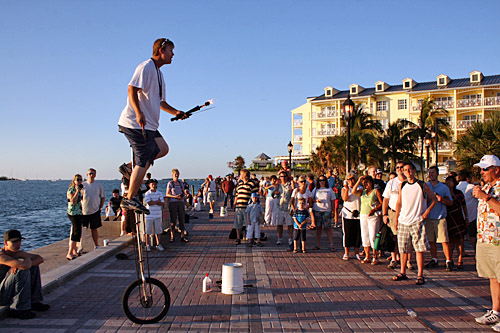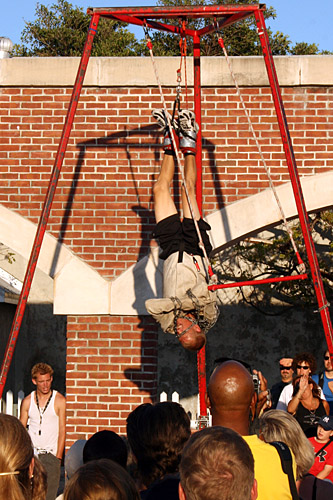 "Gather round folks – watch me juggle flaming torches from atop a ten foot high unicycle," he promises. The crowd presses in, delighted with his patter. At the end of his act comes the inevitable pressure for tips: "Now folks, no one pays me to do this. I work for tips. You may ask, what is a good tip. And I would tell you $20 is a good tip. Make me happy folks. Tell me you enjoyed the show."
Before the spectators have a chance to disperse the next performer is hollering. "Come on over here folks. I need two strong guys to tie me into a straight jacket, wrap me in chains, and hoist me upside down onto this here contraption," he says, motioning to a red metal superstructure. Like sheep to the slaughter, the crowd shifts to performer number two. Having worked out an elaborate system that guarantees each a time slot when no other acts are occurring, performers inexorably draw spectators from one end of the boardwalk to the other, promising ever more astounding feats.
I have attended dozens of Sunsets in Key West over the years. The event has always been entertaining, if a bit crowded for my tastes. But during this visit I noticed a change. The performers are more derelict and the pressure for tips much more blatant than ever before. Some of them are obviously homeless – I had to hold my breath as I passed one particular musician because he reeked.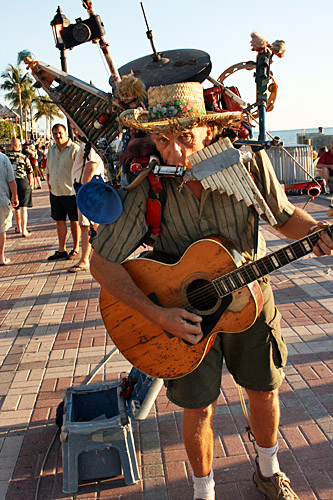 Still, any visitor to Key West should see this homage to sunset, if only to witness the sheer craziness of it. Afterward, stroll the quaint brick-paved streets of historic Mallory Square, where you can watch shoemakers hand-tool leather sandals, shop for Key West souvenirs at big-wheeled wooden carts and chow down on delicious Cuban cuisine or fresh seafood in one of the area's many fine restaurants. Key West is quirky, delightful, and yes, even irreverent. But it is never, ever boring.