Beneath the I-24 exit sign for Metropolis, Illinois, a second sign read "giant Superman statue." I'd been driving for five hours by this time and was hoping to make it to Atlanta before dark, but my curiosity got the better of me. I just had to find out more about that statue. Whipping the car off the highway, I followed a series of signs emblazoned with the familiar "S" logo to a bronze statue of America's Super Hero standing in Superman Square, located at the junction of Market and 5th Streets.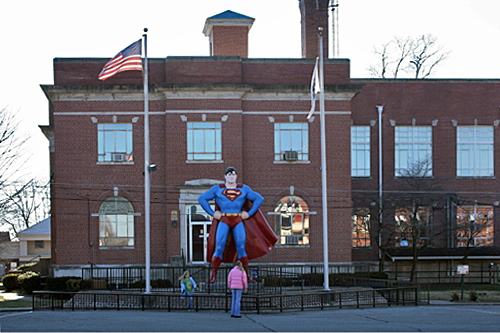 The tiny burg of Metropolis has built an entire culture around the legend of Superman. In addition to the statue, a Kryptonite meteorite is located on the southwest corner of Third and Ferry Streets and giant cut-outs of Superman and Lois Lane can be found in front of several stores and businesses around town. Across the street from the statue, The Super Museum is filled with a $2.5 million collection of more than 20,000 items spanning 60 years of Superman memorabilia.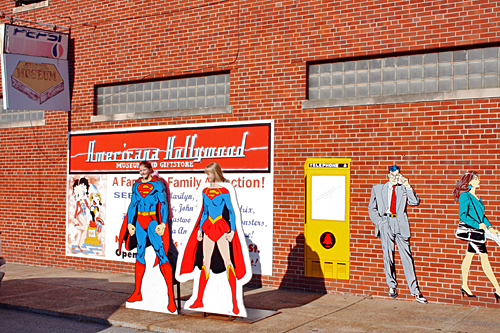 For the past 30 years, the town has even held an annual Superman Celebration. Last year's four day event drew more than 30,000 visitors who enjoyed events including a Superfan Baseball game between the Metropolis Marvels and Smallville Meteors, a 1940's Gala-Ball, a carnival, an autograph session with Superman celebrities, a Superman auction and dinner, and a costume contest where the town attempted to set a Guinness World Record for the "Most People Dressed as Superman." This year's celebration is scheduled for June 11th – 14th, 2009.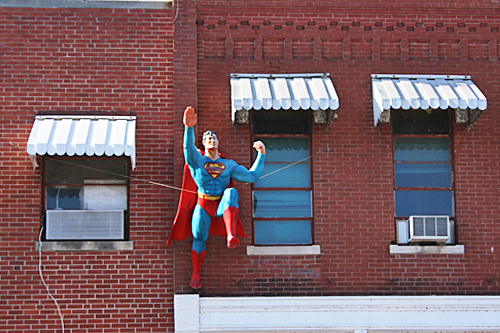 Despite the present day success of the event, Metropolis' Super Hero connection was slow to catch on. The current Superman statue wasn't erected until 1993. Its predecessor was a seven-foot high statue crafted of fiberglass that was used for target practice by local youths who apparently wanted to see if Superman really was bulletproof. But there's no messing with today's Superman; this 15-foot tall bronze Man of Steel is indestructible, although I couldn't resist the urge to "pull on Superman's cape" as I stood behind the behemoth and peered down the town's deserted main street on this cold Sunday afternoon.
Not long afterward I was again on my way south, vowing to return at some future date to more fully investigate the area. Unlike the rest of Illinois, the southern part of the State is blessed with gently rolling hills that wrap around the broad Ohio River. Fort Massac State Park is one of the area's most popular destinations, especially during its monthly living history weekends, when re-enactors bring the late 1700s to life at the historic fort. Other attractions in this part of Illinois include historical and archeological sites, revival period mansions, natural springs, unique shops, and even Las Vegas-style gaming at a Harrah's Casino, located along the banks of the Ohio River in downtown Metropolis. Southern Illinois offers a wide selection of accommodations for all budgets, ranging from camping sites to cozy bed and breakfasts.