Although I was born and raised in Chicago, I left the moment I was old enough to be on my own. I couldn't wait to get out of the city; I wanted nothing to do with it. Though the city offered myriad cultural amenities, Chicago in the winter was a deal breaker. Over the years I moved frequently, always choosing fairly remote areas. Several years ago, however, I started to miss the kind of cultural opportunities that only cities can provide and, following a two-year long search, moved to Sarasota, Florida.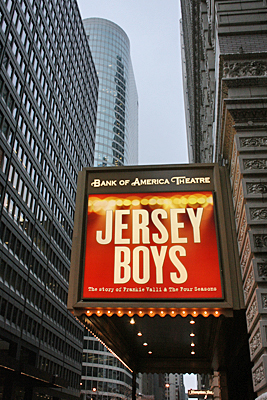 While I like Sarasota – it's a delightful mid-size city with a strong arts and culture community – I find I am more and more drawn to the big cities, and so I was really looking forward to my annual holiday trip to visit my family in the greater Chicagoland area. I had plans. I wanted to go to the blues clubs and the comedy clubs. I wanted to attend the theater in Chicago's Loop. I wanted to walk around the incredible new Millennium Park on Michigan Avenue. I contemplated walking the Magnificent Mile on north Michigan Avenue and hoped to visit the world class Museum of Science and Industry, Field Museum, Art Institute, Shedd Aquarium, and Palomar Observatory. I had everything figured out. Everything, that is, except the weather.
Since my arrival on December 15th, we've suffered freezing rain, ice storms, multiple snowstorms, 45 mile per hour winds, and a week-long stint of sub-zero temperatures. With my departure looming, my two sisters, my niece, and I decided to take the train into the Loop to see Jersey Boys. We arrived in the city by 8 a.m. and stood in line to buy one of ten $25 front row seats that are released each morning for that day's matinee and evening performances. Since we were waiting outside for two hours in 28 degree temperatures, we were chilled to the bone by the time the doors opened, but because we were first in line we got front row center seats.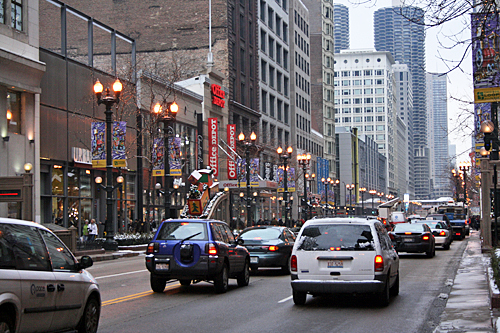 With our Jersey Boys tickets secured, it was time for some serious shopping, so we hoofed it over to Macy's. We three sisters have fond memories of this department store, although in those years it was Marshall Fields rather than Macy's. Every year, Mom would take us downtown to see the Christmas windows in the department stores. For a couple of hours we'd walk along State Street, stopping each time we came across another spectacular set of windows. Our noses and hands pressed to the glass, we watched the animated characters, oohed and aahed over the giant model train set-ups, and picked out what we wanted Santa to bring us from a mountain of toys surrounded by a million twinkling lights.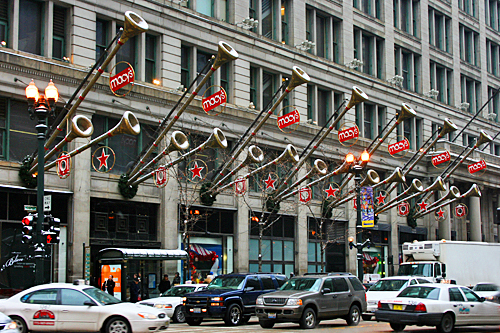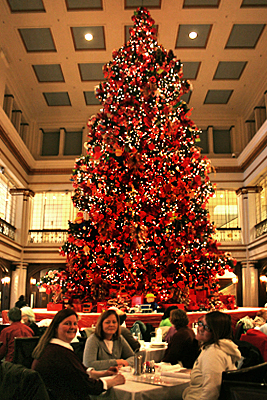 Sadly, Macy's seems a little worn around the edges. The marble floors are cracked and pitted. Some of the escalators do not work. Little attention has been paid to seasonal decor; not only were the interior Christmas decorations sparse but the exterior display windows were lame. The only spectacular decorations were a row of giant bugles suspended above the entrances on State Street. I was saddened that Macy's does not seem to understand the emotional connection that Chicagoans have to the spectacular displays that were mounted by Fields each year.
Still hoping to rekindle fond memories, we decided to have lunch at Walnut Room on the seventh floor of Macy's. Each year Mom would treat us to lunch at this glitzy restaurant and each year we spent the entire meal ogling the enormous two-story Christmas tree in the center of the dining room. The Walnut Room still serves excellent food – our meals were delicious and reasonably priced – but again the facilities are in poor repair. Among other things, we spotted bare wires hanging from the ceiling, missing slats in doors, and peeling paint.
After lunch we walked the couple of blocks to Chicago's Millennium Park where I got my first glimpse of Cloud Gate, the 110-ton elliptical stainless steel sculpture that reflects the city's famous skyline and the clouds above. It is absolutely spectacular!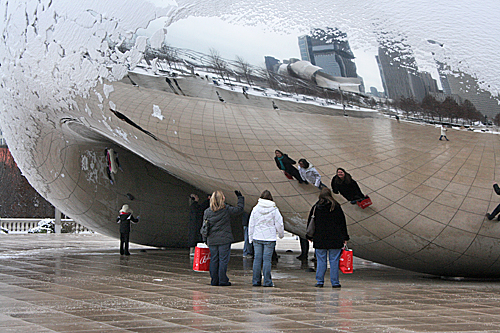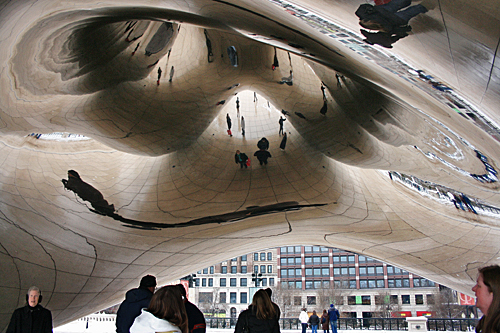 The park is also home to the Jay Pritzger Pavilion, where performances and concerts are held during the spring, summer and fall, as well as the McCormick Tribune Plaza and Ice Rink.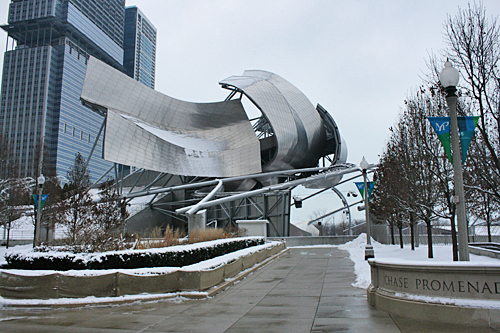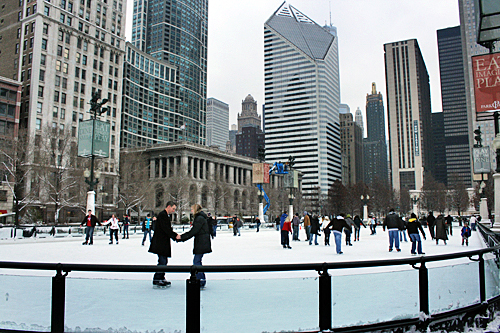 With little time to spare, we raced back to the theater to see Jersey Boys, which was one of the best plays I have ever attended. By the time the theater let out it was dark, which allowed us to see some of the remaining Christmas displays around the Loop, including the humongous Christmas tree and famous Picasso sculpture in Daley Plaza.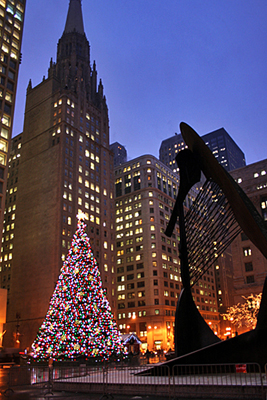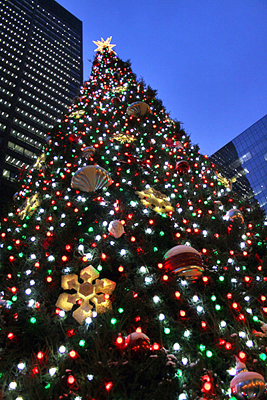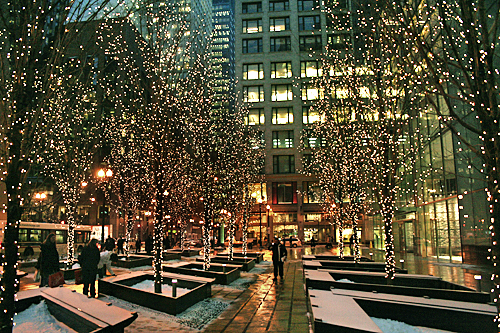 "Maybe I could move back here," I thought. Maybe Chicago in the winter wasn't so bad after all. Then the winds picked up and the snow began to fall again. In the 18 degree temperatures my toes and fingers grew numb and I came to my senses. As we walked the mile to the train station I realized that instead of rekindling old traditions we had created new ones, which suited me just fine. I also began planning my escape to warm, sunny Sarasota.