My car is headed south now, as I gradually make my way back home to Florida. However I am still traveling in an unstructured manner, so when I came around the long curve of Route 1 leading to Penobscot Bay and spied the Penobscot Narrows Bridge, I just knew I had to stop for a photo. I pulled off Rt. 1 and discovered that there was a visitors center for the bridge. To my surprise, the tallest upright of the bridge houses an observatory in the upper tip of "the needle." Five dollars bought me the right not only to ride to the top of the tower, but also entry into the adjacent Fort Knox.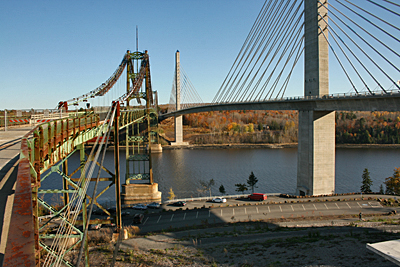 I started with the tower, which just opened in 2007. The fastest elevator in Maine, New Hampshire and Vermont carried me to the top of the Penobscot Narrows Observatory, the tallest public bridge-observatory in the U.S. At the conclusion of the one-minute ride the elevator door slid open at a height of 420 feet and I climbed an additional two stories for a dizzying view of the Penobscot Valley.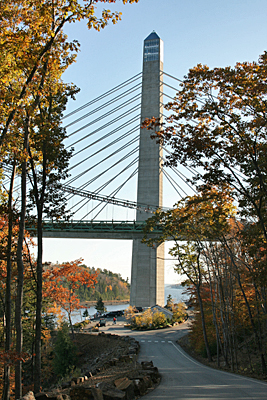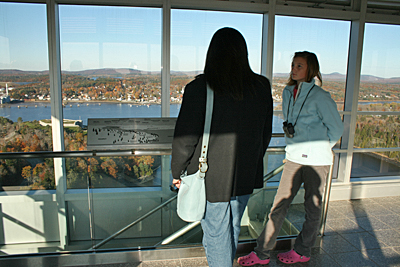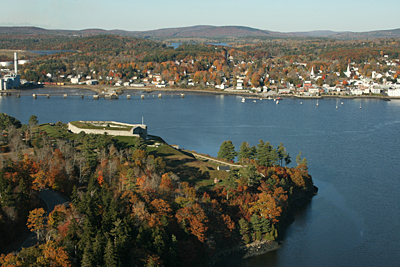 Back on the ground, I walked over to the Fort (shown on the peninsula of land at the bottom left in the above photo) and spent a brief time exploring its old gun batteries and cold, dark rooms. As I left the park, I stopped to tell the ticket lady how much I had enjoyed my diversion.
"I always thought Fort Knox was in Kentucky," I said to the woman in the ticket both.
"Oh, it is, but this is also Fort Knox; named after the same fella – Major General Henry Knox," she explained.
"It was great," I smiled. "Fantastic views from the top today."
"Ayeh. It's a great day to visit the TAH-wah," she agreed.
That's when I knew for sure I was still in Maine.