John Mayer is tired of his own music; that much was obvious at last night's concert at Tampa's Ford Auditorium.
Mayer's was the first concert I have attended in quite some time. The previous one was a joint Kiss/Aerosmith concert at Madison Square Garden in New York City in, I believe, 2001, and before that was a 1994 James Taylor concert in Indianapolis. James Taylor has always been one of my favorite artists. His music is timeless and he does not disappoint, despite the fact that he has been doing this for many more years than Mayer. Kiss and Aerosmith? Although they are performers from my era, they are not exactly my favorites, but I happened to be in NY when they were scheduled to appear, and so I went just for kicks. Again, their show did not disappoint.
During the past couple of years artists like John Mayer and Jason Mraz have gradually climbed to the top of my all time favorite list, sharing honors with the likes of James Taylor, Eric Clapton, Joni Mitchell, and Seal. So, last night, with previous concerts as my frame of reference, I was prepared to be blown away by Mayer. I got to the amphitheater two hours early and stood on line for more than an hour, undaunted by the steady rain that eventually soaked through my hip-length raincoat and drenched the back of my jeans. Forty minutes past the scheduled opening time, the facility personnel finally opened the gates. Of course, shortly after we were allowed inside the canvas-roofed open-air auditorium, the rain stopped. Oh well, I thought, it will all be worth it.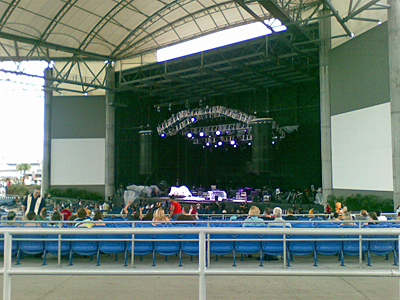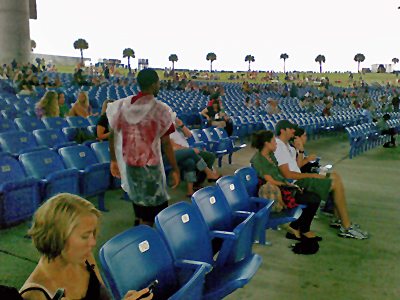 I found my third tier, front row, $75 seat and plunked my soggy butt into the cold plastic seat to await the start of the concert, amusing myself by people-watching as the stadium filled to its 20,000 capacity. One young man walked by wearing a T-shirt emblazoned with a serious environmental message: 'Save water…shower with me.' Two young women walked by, each wearing one of the other's shoes; on one foot a tan canvas sneaker, on the other a bright yellow croc. They walked in sync – tan, yellow, tan yellow. As the place dried out, people with tickets for the budget section (the elevated lawn at the very rear of the amphitheater, which, incidentally, is not under roof), began to set up lawn chairs and canopies or simply spread blankets on the damp grass.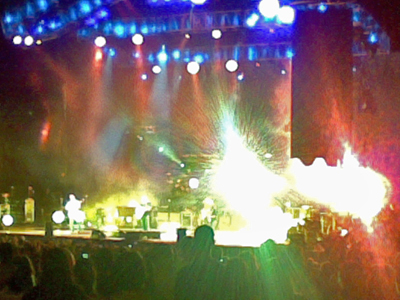 Finally the concert began. Following an unimpressive front act by One Republic, Mayer appeared to thunderous applause. As the concert progressed, it became increasingly evident that it was going to be lackluster. In addition to acoustics that were less than ideal at this outdoor facility, my disappoint- ment stems primarily from the fact that Mayer did not perform his biggest hits. He did a medley of a couple of songs that included Why, Georgia Why, cutting off at least the first third of the song, and he did not perform Your Body Is A Wonderland at all. It seemed as if he would not sing Gravity, but he did close the show with it, during his one and only curtain call, for which he made the audience clap and scream an inordinately long time before deigning to reappear on stage. The last time I saw James Taylor, he did THREE curtain calls and seemed overcome with gratitude by the support of the audience. Mayer, on the other hand, seemed to be pained by the whole process. In his defense, I do acknowledge that this was the second to last concert of his current tour, which took him throughout Europe and Southeast Asia. I'm sure he's tired, physically and emotionally, and tired of singing the same songs over and over again. But I wish I could get a message through to him: "You may be tired of singing your same old hits, but we, your loyal fans, are NOT tired of hearing them."
Don't get me wrong. Mayer is incredibly talented and he put on an enjoyable show. He is an awesome blues guitarist and lyricist and at times he carried me away with long blues riffs and improvisations. But the show in its entirety lacked the intensity that I have previously experienced at concerts, or, as Mayer himself might put it, the stirrings of my soul. This is the Mayer I expected to see:
Mayer will continue to be one of my all time favorite artists, but it is questionable whether I'd ever again shell out $75 to hear him perform live.