Yesterday I went golfing with my sister, Nancy, and my niece, Kelly. And by that, I mean I rode in the golf cart while they golfed. For a Monday afternoon, the course was especially busy. Just as the foursome in front of us teed off, Nancy realized she was missing her nine iron and went back to the car to find it. As Kelly and I were waiting for the foursome to finish off from the fairway, a single male golfer with golf bag slung over his shoulder walked up to our cart, looked at Kelly, and challenged, "Are you playing alone?" When she explained that we had another golfer in our party, he reluctantly left, griping about having to wait in line to play.
We were soon on our way. The first hole was a short, quick play. At the second tee, Nancy sliced to the right and landed in the creek. She reached for another ball and as she bent to set it on the tee, we heard yelling from behind us on the first green. The same guy who had veritably accosted Kelly was waving his arms and yelling at us.
"What's his problem?" I asked.
"Oh, we're probably not going fast enough for him," Nancy explained. "I can just hear him groaning about having to play behind a couple of women." But of course, he kept yelling. This guy obviously does not know my sister. Or me, for that matter. Because neither one of us take a lot of crap from anyone. Instead of finishing her shot, Nancy waved Kelly over to tee up, jumped in our cart, and raced back to confront the guy.
"Sir, is there a problem?" she asked icily. The guy got flustered and could hardly put two words together. "Well, sir, if you're in a hurry why don't you just play on through – we certainly don't mind." Ice wouldn't melt in her mouth. I was proud to be her sister.
"No, no….not necessary," he mumbled. It wasn't until we were headed back to the second tee that the guy found the guts to yell, "No second balls off the tee!"
Have you ever heard the wheels on a golf cart screech?
Nancy slammed on the brake, turned around, and acidly replied, "You can wait for me to take a second shot or you can wait for me to fish my ball out of the creek!" Suffice it to say he never bothered us again the rest of the afternoon.
Nancy and Kelly are both learning to play golf and it can be pretty intimidating when you are surrounded by good players who are itching to get on with their game, so I give her a lot of credit for standing up for herself.
Throughout the day there were great shots, like this beautiful one that left Nancy well positioned in the center of the fairway: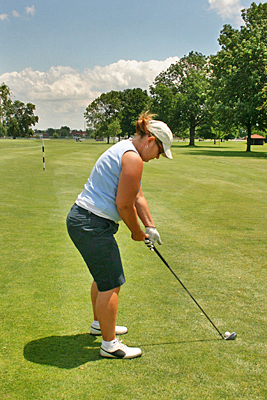 Or Kelly's great putt at the 18th hole: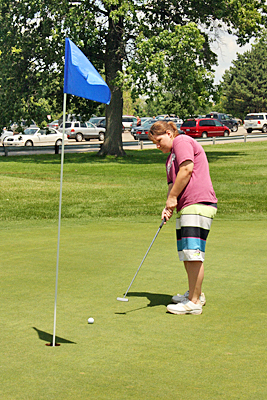 And there were not-so-great shots, like this one that landed in the rough:




And this one in the sand trap:




And this one behind a cart path bridge: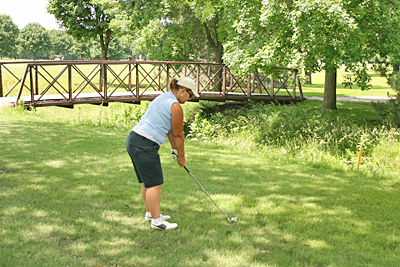 At one point, Nancy took a shot and the golf ball landed behind her, like a tipped foul in a baseball game. She turned to me and said, with a completely straight face, "The ball does not often end up behind you. In fact, that's really quite unusual. I did that just for your benefit."
Please don't think from this that I am making fun of my sister and niece's ability to golf. Quite the opposite. I am in awe of their tenacity. Especially since, toward the end of the afternoon, Nancy offered me the opportunity to try my hand at chipping the ball and I couldn't even hit it. I did hit something – several times. There's now a deep divot in the spot from where I was trying to chip. On the next hole I tried to tee off and that, too was a dismal failure. Putting was my only saving grace.
Putt-putt golf is definitely my game. Either that or riding in the golf cart for moral support, which I thoroughly enjoyed. My family is SO great.