I eat a lot of yogurt. I stick to organic brands, my favorite being Stonyfield Farm, and I have always wondered why their containers are made from #5 plastic, which is not recyclable, rather than #2 plastic, which IS recyclable. Recently, I decided to investigate and discovered that the issue is not as simple as I thought.
Aware that the manufacturing of million of cups annually has an enormous impact on the environment, Stonyfield Farm began examining their packaging issues in the mid-80's. Although they initially assumed hat the most important criteria was recyclability, Stonyfield discovered that it is just one of the issues that must be considered when lookiƒng at the impact of packaging on our environment.
Stonyfield compared the various packaging options available to them, using a Life Cycle Assessment (LCA), a tool that determines the cradle-to-grave environmental impact of a product from its manufacture and use, through its re-use, recycling and/or disposal. After examining their options (including glass, poly-coated paper, and plastic), they chose the lightweight plastic for the following reasons:
#5 plastic is the lightest weight plastic whose thinner walls protect their product and actually use less plastic.
By using #5 plastic instead of #2, Stonyfield Farm prevents the manufacture and disposal of over 100 tons of plastic, resulting in environmental savings from decreased air emissions and resource depletion for the manufacture and distribution of the packaging.
Polypropylene manufacturing uses no chlorine, thus eliminating the hazards of deadly toxin releases during manufacture and incineration, which occur with certain plastics.
Recently I learned that Stonyfield has taken yet another step toward sustainability. They have partnered with Preserve, a company that produces eco-friendly products for the home. Since 2001, Preserve has collected cups and scrap plastic from Stonyfield's manufacturing facility in New Hampshire and turned them into Preserve Toothbrushes, Tongue Cleaners and Razors. Not only does company partner with the National Wildlife Federation to support efforts to protect and restore the environment, it also recycles its used toothbrush handles to create these cool park benches: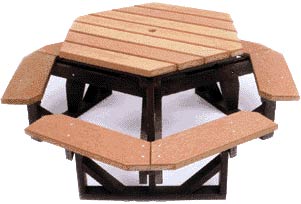 The next time you are thinking about throwing your Stonyfield Farm yogurt container away, think again. Consider instead returning your used and cleaned containers to Stonyfield Farm Take Back Program, Ten Burton Drive, Londonderry, NH 03053. And if you've never tried the Stonyfield Farm brand, or if you're a loyal customer like me, visit their website, where you can print out valuable coupons that can be used on a variety of their yogurt products.