A sixty-two year old woman who earns half her income from the sale of sprouts and microgreens at the Sarasota downtown Farmers Market was shut down today by the Florida Department of Agriculture. The greens she sells are grown in sprouting trays on shelves on her screened porch. Each week she cuts the shoots that are ready for sale, fills plastic baggies with her nutritious, organic greens, and carries them to the Saturday Sarasota Farmers Market for sale to the public. Today she learned that she cannot continue to do so because the greens are not packaged in a commercial kitchen.
My brief investigation of the incident elicited some interesting comments from vendors at the Farmers Market. One of them told me that the issue is the packaging of the microgreens, which the Department of Agriculture considers "processing." If the greens had been laid out in bulk for customers to fill their own bags, there would have been no problem. Even more bizarre, if the vendor had placed the cut greens in a plastic bag but NOT SEALED THE BAG, this would not have constituted processing, and would not have been a violation of their regulations.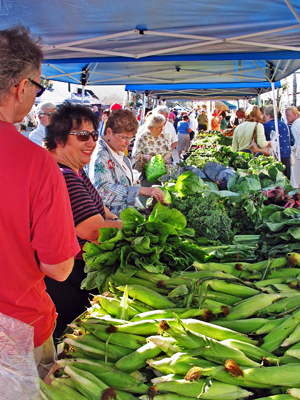 I don't see any difference between between microgreens that are cut and placed in a plastic baggie and a tomato or a cucumber that is picked off the vine and placed in a wooden basket for sale. Frankly, whether I carry home a tomato or a bag of sprouts, I'm going to wash the produce before I eat it.
Either the regulations within the food industry have become so convoluted as to be devoid of common sense, or there is some corruption afoot. Not long ago I wrote about a farmer in Minnesota who became entangled in a Catch-22 situation when he leased 25 acres to boost his production of fruits and vegetables for the local downtown farmers market. The ridiculous regulations that created that situation came about because the powerful farm lobby has worked to create legislation designed to protect the giant corporate fruit and vegetable farm operations, which are predominantly located in Florida and California. Seems these corporate giants are threatened by the small farmers who are supplying the increasingly popular Farmers Markets around the country.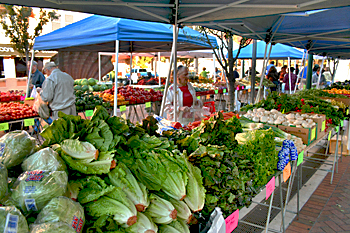 I spent a couple of hours researching the Florida Department of Agriculture rules and regulations online and simply couldn't make sense out of them. In many cases, the rules are contradictory from one section to the next. I have to wonder if they are written in such a manner as to be indecipherable by the general public. While it is entirely possible that this whole incident is based upon stupidity and bureaucratic red tape, it is also possible that this is just another example of a governmental agency bowing to pressure from a powerful, well-organized, well-funded lobby.
Unfortunately, the main person hurt by this is a sweet little lady with the most dazzling smile I have ever seen. Now, not only do I worry where I will find organic microgreens, I also worry about how she will support herself now that half of her meager income has been eliminated.