Yesterday I drove 15 miles north to the Bishop Planetarium in Bradenton Florida, which is open late the first Saturday of every month. My plan was to attend the various shows that run throughout the afternoon and maybe grab a bite to eat before heading home. I got WAY more than I bargained for. Upon arriving, I found the town's annual Seafood Festival in full swing.
Since I arrived at 11 a.m. and the first show at the Planetarium was not scheduled until 2:15 p.m., I strolled along the river and wandered around the town's quaint little downtown, listening to live music at several stages set up around town and checking out the food booths. Mmmmmmm! Rarely have I seen such a display of succulent fried seafood.
One booth offered a plate heaped with hush puppies, french fries, fried whitefish, fried clams, fried shrimp, stuffed crabs, and a skewer of five giant coconut fried shrimp. My mouth watered. Although I am basically vegetarian, I will occasionally make an exception for good seafood. But in this case, it was fried – also a NO-NO for me – so I resisted.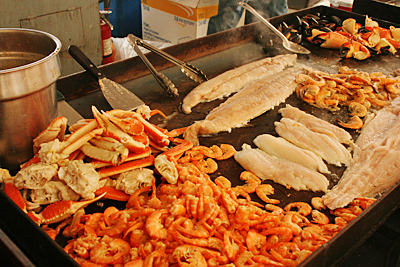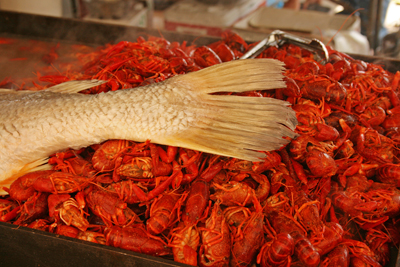 Back at the Planetarium I discovered that the facility also houses the South Florida Museum and the Parker Manatee Aquarium. Even better, I was just in time for the 1:00 feeding of the aquarium's star resident, Snooty, a 60-year old West Indian Manatee. Snooty is the oldest manatee living in captivity. Currently he has three tank mates; juveniles that were sent to the Aquarium for rehabilitation after being wounded. These three will be fed and cared for until they reach a weight of 300 pounds, at which time they will be released back to the wild.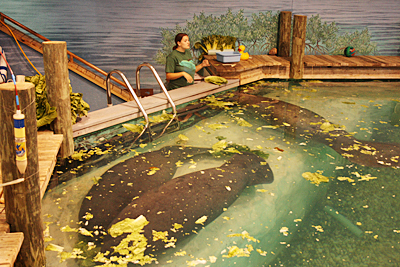 Snooty, however, will always live at the aquarium. One of his handlers explained that, unlike the younger manatees, Snooty will not graze on the lettuce that is spread in the tank. He will only eat what he is hand-fed because he was hand-fed for so many years that he came to expect it. Some years ago they decided to stop hand feeding him to force him to graze like the other manatees. Snooty refused to eat for 28 hours – extreme measures for a manatee – and the handlers finally relented and returned to hand feeding.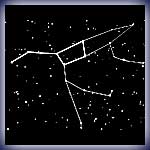 After watching the manatee for more than an hour, I sought out the Planetarium auditorium, with its starry skies display on its rotating dome. I watched the program titled "Infinity Express," an exploration of the Universe that discussed the latest breakthroughs in our quest to understand the Cosmos. I stayed for "Live Star Talk," an old fashioned planetarium show that demonstrated how to find the stars, planets and constellations that are visible from this area of Florida.
I had also planned to stay for the final program, "Black Holes," however I discovered that the auditorium had been preempted by Ringling College of Art and Design for its program entitled "Cosmix: A Multi-Directional Synthesis of Art and Technology." I figured that sounded interesting too, so I stuck around. The presentation, which was a celebration of the four cardinal directions (north, south, east, and west), as well as Up, Down, and Inward, was an intriguing mix of video, performance art, interpretive dance, and live music, all integrated with images and starry skies that were projected on the giant dome.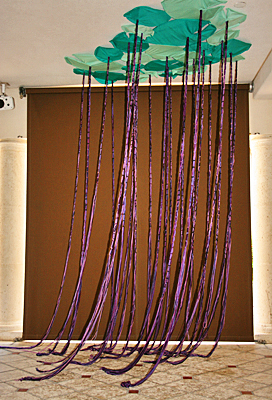 After the final show I walked through the museum one more time to see the modern art pieces that the students had interspersed throughout the facility. My favorites were the giant water lilies hanging from the ceiling of an outdoor breezeway, its purple tentacles swaying in the breeze, and a mixed media globe on the second floor that the artist has titled "Orientation."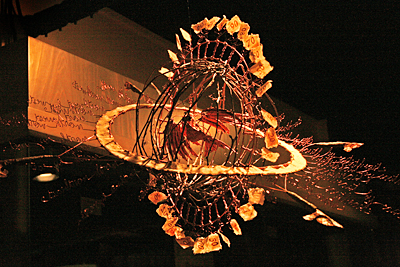 When I'd finally had my fill of education, enlightenment, and art, I went back to the Seafood festival for some good 'ole fun. I listened to country music, I met a father and daughter carrying around a four foot Boa Constrictor. At one booth I watched a woman walk on the back of a man who was sprawled on a massage table, stripped of his shirt but still wearing his cowboy boots. And yes, I ordered the seafood platter and am not ashamed to say I ate every last bite of it. It was deeeee-licious! rock bands, and bluegrass.
Who knew that such a little town could throw such a great party!