A cold front descended upon Sarasota yesterday, bringing with it strong winds that whipped up waves in the Bay and bowed the palm trees. For some reason, these winds made me restless. I've been working hard on several writing projects all week long and had promised myself that I'd take the weekend off and do something fun – sort of travel in my own backyard, if you will. But try as I might, I couldn't figure out what I wanted to do or where I wanted to go. I thought I might drive out to the Big Cat Sanctuary and see the animals they've rescued, but when I called for a reservation they were sold out for the entire weekend. I considered driving down to Spanish Point but decided it was too cold to spend the entire day walking around an outdoor museum located on blustery Sarasota Bay. By noon, I was beside myself with indecision, not to mention hungry. I headed for the coffee shop and grabbed a salad from the cooler, but there wasn't an available seat anywhere in the cafe. Instead I decided to drive to the Lebanese takeout place for falafel and hummus, but the traffic was so horrendous I couldn't even make a left turn onto the main road.
I knew I had to do something to change my mood, so I drove up to the John and Mabel Ringling Museum of Art. If the Ringling name seems familiar, there is good reason; John and Mabel founded the Ringling Bros. Circus, and Sarasota was for years the wintering grounds for the circus. The Ringlings used their great wealth to amass an impressive collection of European paintings, Cypriot antiquities, Asian Art, American paintings, and contemporary art. Today, in addition to being home to the Circus Museum, which houses the world's largest miniature circus, the facility displays the Ringlings' extensive art collection.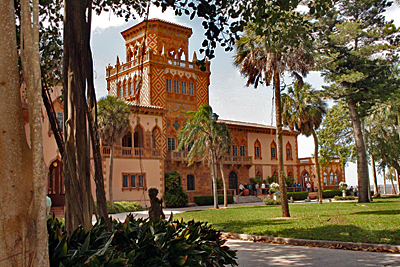 However I was not interested in spending my day in a museum. I needed to walk off my restlessness and it was the 66 acres of exquisitely landscaped grounds that beckoned. I wandered along the paths, stopping to admire the sculptures that dotted the grounds and sitting at picnic tables scattered throughout the massive groves of Banyan trees. Along the way I discovered the Ca d' Zan (House of John) mansion.
Built specifically by the Ringlings as their personal home and modeled after the Venetian Gothic palaces they so admired, the mansion hosted lavish parties, becoming the center of culture in Sarasota until the devastating stock market crash of 1929, which brought about the decline of the Ringling empire.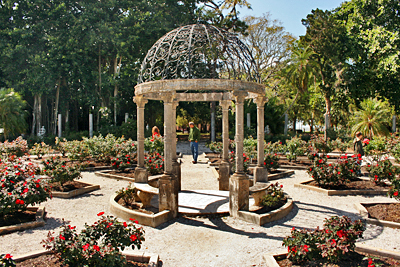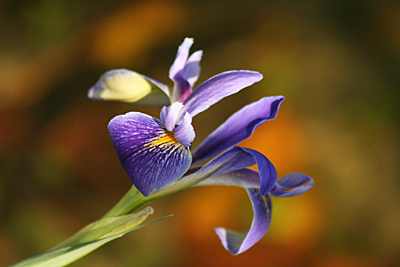 My wanderings eventually led to the Mable Ringling Rose Garden. Completed in 1913 and designed in the classic European wagon wheel motif, the garden has 1,200 rose plants and is the only All-America Rose Selection and American Rose Society Award of Excellence rose garden in Florida. I am not particularly a fan of roses – in fact I dislike their fragrance – but this rose garden, even out-of-season, contains such exquisite specimens that I couldn't help but admire them. Before long, I found that my miserable mood had fled. Whatever evil spirits the wind had whipped up were banished in the presence of such beauty. Best of all, wandering these lovely grounds is free, so if you're visiting the Gulf Coast of Florida, the John and Mabel Ringling Art Museum is a good site to add to your list of places to visit. For those of you who can't make it to Florida, check out my photo of the roses (and one lone Iris), below. I hope they'll be a bright spot in your day, as they were in mine. Enjoy!