There is no direct route between the Outer Banks and northern Illinois. National Parks and the Smoky Mountains block the way, thus the major Interstates drift either either north or south, and I always struggle with which route to take. This time, since the forecast called for no ice or snow, I decided to go over the Smokies in West Virginia. The foothills of the Smokies began in northwestern North Carolina as I approached the twin towns of Pilot Mountain, with its distinctive knob-topped mountain, and Mount Airy. The signs here are a dead giveaway: Route 52 is "Andy Griffith Parkway" and the most famous diner in town is "Aunt Bea's." If you haven't figured it out by now, the town of Mayberry on the Andy Griffith Show was modeled after Mount Airy, and when Andy occasionally made reference to "going down to Mount Pilot," he was referring to Pilot Mountain.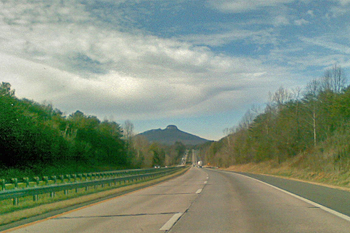 The hills began in earnest as I drove across the 90 or so miles of western Virginia, and by the time I approached the Big Walker Tunnel that carried me from Virginia into West Virginia, the evergreens at the very top of the mountain were dusted with powdery white snow. On the other side of the tunnel I drove into an enchanted forest, where fairy trees stretched out their bony arms, beckoning me to admire their snowy coats. They perched atop the road cuts, clinging to the jumble of misshapen rocks left by the volcanoes that formed the Smokies so many eons ago. Icicles from a recent storm dripped from their toes. It was an ethereal experience that lasted until I finally came down the mountain and into Charleston, West Virginia.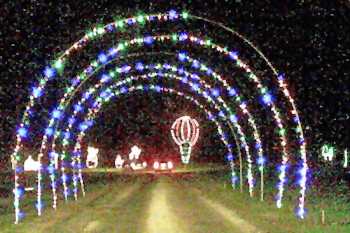 As the sun set, I drove into Point Pleasant, West Virginia for the night. I have been here before. I like this little town. The people are friendly and there's a great Bennigan's Restaurant and an even better coffee shop here. As I rolled into town I saw a roadside sign advertising a Christmas light show at the town park, so I took a mile detour to ride through the park. The lights were set up around a large lake, their colors and sparkles reflecting into the water. Illuminated archways dotted the roadway; I show one here, using my low-quality camera phone, since my regular camera is in the shop for repairs. Altogether a lovely experience, once again, in Point Pleasant.
Tomorrow I make the second half of the trip and I am SO excited to be going home to see my family, despite the fact that they live in cold, COld, COLD, COLD!!!!! Illinois.