Many years ago, in one of my previous incarnations, I was the marketing director for a large enclosed shopping mall that had a 10-plex theater attached to it. Although they screened the Rocky Horror Picture Show every Friday night, somehow I never managed to drag my butt into the theater at midnight to watch this campy horror flick. Yes, I was a Rocky Horror virgin!

I never knew what all the fuss was about until a couple of years ago when my friend Patti told me that the film is all about audience participation – people yell back lines at the screen during the extended pauses between dialogue, dress up in costume, act out the scenes, and throw props during the film. But even knowing this ahead of time didn't prepare me for the Rocky Horror experience.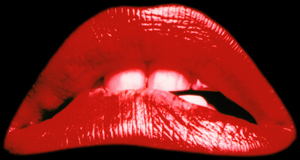 Yesterday, Sarasota held its Halloween celebration. It began early in the afternoon with a cute kiddie pumpkin painting contest and hundreds of kids hitting the downtown merchants up for trick or treat goodies. Live bands, theater troupes, and dancers performed continuously on four separate stages. Two haunted houses promised scary experiences. And food vendors lined downtown streets that were blocked off to traffic for the evening. But the highlight of the evening was the Rocky Horror Picture Show, staged in the center of downtown on a big outdoor screen. As I discovered, any given performance of this cult classic is a spectacle, but one held at midnight during a massive, town-wide Halloween party is a feast for the eyes – especially for a virgin.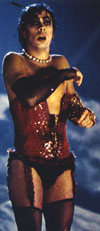 Lots of people were dressed as characters from the film. Since the plot is loosely about transvestite aliens from the planet Transexual, you can just imagine the weird costumes on display- lots of guys dressed in black net stockings and garter belts, for starters (they all had better legs than me, darn it). During the scene when the mad doctor Frank 'n Furter steps to the lighted window of his ominous mansion, the audience en masse held up anything that had a light – cigarette lighters, glow sticks, cell phones. When two young lovers leave their broken down car in a rainstorm to walk to the mansion they cover their heads with newspaper to keep from getting wet – simultaneously members of the audience covered their heads with newspaper. At other points in the film, decks of playing cards are thrown, rubber gloves are snapped, rolls of toilet paper are thrown. During a transvestite ballroom dance scene the crowd danced along with precision. When Frank proposed a toast at dinner, members of the audience threw toast into the air (hopefully unbuttered). Even squirt guns were employed.
This flick has been playing in theaters around the world since 1975 and when I checked the official Rocky Horror official fan site online I discovered that this month alone there are hundreds of screenings all over the US, as well as in Australia, Canada, France, Germany, Israel, Italy, and Spain! It doesn't surprise me that Rocky Horror is an enduring phenomenon that has achieved cult status. Last night was a raucous, rollicking good time and I can't believe I waited so long to see it. But, at least I'm not a virgin anymore!