My friends Ruthie and Keith will especially enjoy the bumper sticker I saw yesterday here in Sarasota:
"Paddle faster…I think I hear banjo music"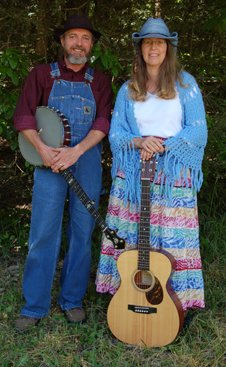 Ruthie and Keith left their traditional jobs a while back and went in search of something that made them joyful (sound familiar?). They stayed tuned in to the Universe with faith they'd be shown the path they were supposed to take. Both had worked in offices but both were accomplished musicians and their love of music eventually led them to the discovery of "Old Time Music," which is the music of Appalachia that preceded bluegrass.
Initially they were hired by the City of Gatlinburg, Tennessee to play on the streets for the tourists but along the way they kept learning more and more about "Old Time Music" and eventually formed their own band, Boogertown Gap Old-Time String Band.
Recently, they produced their first CD and they now play at venues all around the Gatlinburg area. It's amazing what can happen when we pursue what we love. You can read Ruthie and Keith's story, discover what Old Time Music is all about, and even listen to some of their songs here. Enjoy!