Were it not for the fact that my family lives in Illinois I would never go there. I believe that every person, place and thing has a unique frequency. As we interact with other people, places and things these frequencies come into contact with each other. Sometimes they resonate with one another and other times they are completely out-of-sync. In my case, my frequency is completely out-of-sync with the entire State of Illinois. The moment I enter Illinois my energy starts to ebb. I become more sedentary. I gain weight. It's as if a heavy, dark blanket has been thrown over my head. This is always such a gradual process that I'm usually not aware it's happening – at least not until I leave the State, and then I tend to immediately forget it ever happened. This time was no different. I knew I wasn't feeling one hundred percent when I hit the road this morning but I had no idea what was wrong until I crossed the State line into Indiana. Within a few miles my head and neck stopped hurting and I felt as if a heavy weight had been lifted from my shoulders.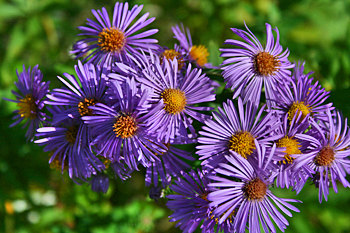 If this was an occasional occurrence I would credit it to coincidence but it happens to me every single time I visit. It's a shame, really, because Illinois has its own special beauty: mile after mile of verdant farmland; country roads lined with spectacular wildflowers, like these purple daisies I discovered on a walk one day last week; clean rivers that attract boaters and fishermen; birds and wildlife; virgin prairies that have never felt the blade of a plow; and spectacular summer sunsets, like this one two days ago at my Dad's house along the shores of the Kankakee River in Illinois: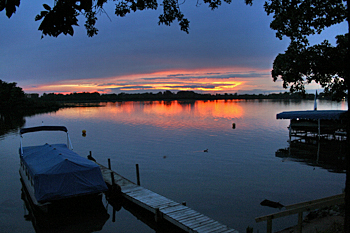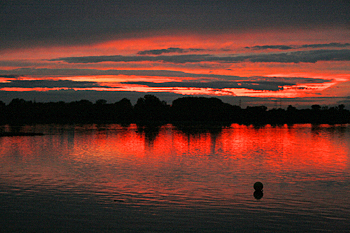 These days, each time I leave my family it gets more difficult – somehow as I get older, family has become more important to me. But I'm never sorry to get out of Illinois. There is no disputing that the "road" calls to me. I love to be on the move. No matter where I go there is something new, exciting, or interesting to see. This evening at dusk, as I drove through southeastern Ohio on my way back to North Carolina, an enormous golden Harvest Moon rose in the sky, illuminating the Appalachian foothills surrounding me. It was so beautiful that I decided to stop in a little town named Point Pleasant, West Virginia, just across the Ohio River and south of the Ohio State line. The main street is about three blocks long and is lined with old, lovingly restored buildings that are home to cafes, shops, and bars. At the only hotel in town (Lowe's Hotel) I rented a room for only $64 and am snuggled in thick down comforters on a feather-soft bed, in a room furnished in antiques and decorated with rose wallpaper, crystal lamps, and lace curtains. The hotel owner tells me there is excellent hiking in the area so I've decided to stay an extra day and see if I can kick-start my metabolism after two weeks of being a slug in Illinois. North Carolina can wait until Monday – it's not going anywhere.