When the Dune Rider pulled up to my hotel at 7 a.m. I knew that this was not going to be your typical tour. This purpose-built, four-wheel drive, air conditioned Mercedes coach sat atop giant tires designed to negotiate the quicksand streams of 90-Mile Beach, traverse rocky outcrops, and barrel through surf on its way to Cape Reinga, the northernmost tip of New Zealand's North Island. I was thoroughly intrigued and planted myself firmly in the front seat.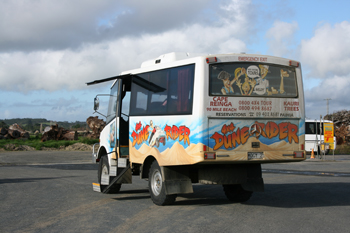 Our route took us past some of the most stunning scenery yet. The problem is that tours cannot stop every ten minutes for me to take a photo, so I did the best I could through the window of the vehicle as we were bumping down the pavement, attempting to show the lush green hills that dominated the landscape, although the photo really does not do justice to the beauty of the place.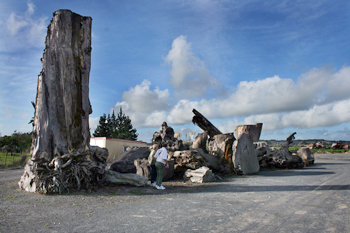 The first stop was the Kaori Forest, the last remaining stand of these ancient trees. Over the centuries Kaori wood has been used by the Maori Tribe to build their long canoes, as well as by white settlers to produce furniture, carvings, and trinkets. In the nick of time the government realized that the Kaoris were disappearing at an alarming rate and moved to protect the remaining trees. Today, Kaori trees are no longer cut down. Instead, today Kaori tree trunks are excavated from wetlands where, eons ago, they were felled by storms or disease and subsequently sunk in the swamp. This photo shows some of the recovered stumps, stored in the yard of a factory, awaiting artisans who will turn them into tables, chairs, bowls, jewelry boxes, and a myriad of other products.
Not long afterward the pavement ended and we shot out onto the sands of 90-MileBeach. The name from the fact that camels were originally used to transport goods up and down this beach. It was believed that a camel could traverse sand at a rate of 30 miles per day and it required three days to get to Cape Reinga, thus it was dubbed 90-Mile Beach.
That was all well and good until someone actually measured the beach and found it was only 64 miles long. This caused some consternation in the Northlands. Should they rename it 64-Mile beach? Finally they decided to keep the original name – because Australia has 80-Mile Beach and New Zealanders wanted to have a beach longer than Australia, if only in name (note of interest here – Australia's 80-Mile Beach is only 72 miles long – I suppose there's a story behind that one, too).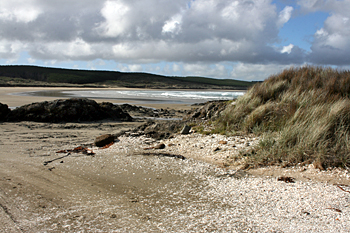 Driving along this beach was eerie for me. It was so similar to the four-wheel drive area north of Corolla on the Outer Banks that it was as if I had been magically transported back to North Carolina, especially when our driver detoured into the dunes in search of wild horses. Alas, there were no horses to be found, so we headed back down the beach, where the landscape changed yet again to a jagged lava shoreline – there was no doubt about where I was, now. We stopped to climb one rock outcropping for a prime view of the surf. I couldn't help thinking about my surfer friends on the Outer Banks – they would have drooled over these swells that batter the shore day after day, year after year.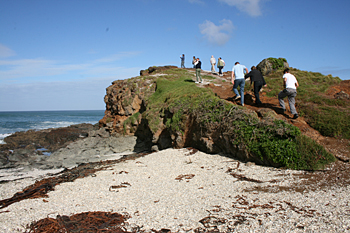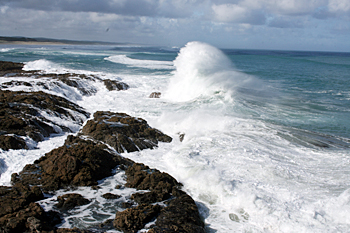 The rocky landscape segued to giant dunes, beckoning to anyone brave enough to sandboard down their faces. Did I try this? No. I had to stay at the bottom to take photos – at least that was my excuse… And lucky thing I HAD an excuse. Our tour guide failed to mention that anyone who sandboarded would likely end up in the river at the foot of the dunes. Almost everyone who sandboarded was drenched and covered in sand, with no change of clothes available.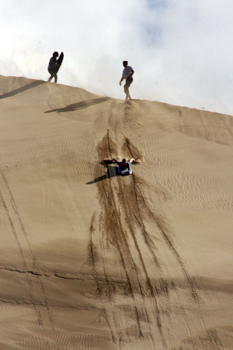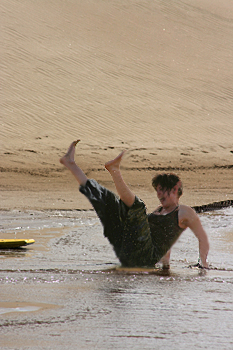 Our wet and sandy group clambered back into the Dune Rider and we continued to Cape Reinga, the northernmost tip of the North Island and site of the lovely Cape Reinga Lighthouse.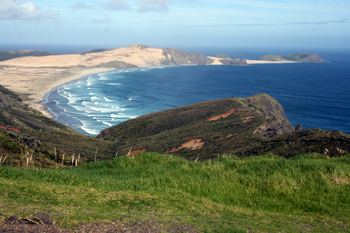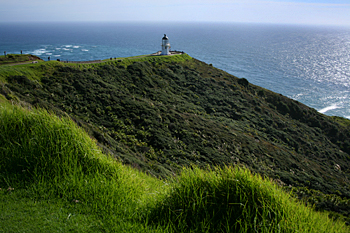 Late in the afternoon we stopped for a picnic lunch at Tapotupotu Bay. With its near white, sugar-fine sand, this was perhaps the prettiest beach I have seen so far on my trip. Instead of sitting down at the picnic tables, I walked to the far side of the beach and wandered up a crystal-clear turquoise stream that emptied into the ocean.
Back in the 4X4, we headed back south, deterred only momentarily by a flock of sheep being herded down the road. We made one final stop for dinner at a "famous" fish and chips shack in Mangonui Bay, where we filled up on fresh batter-fried bluefish, dripping in grease, but delicious nonetheless. We rolled back into Paihia around 7PM – a long day but well worth the $99 ticket. I feel I've had about the best overview of the Northlands I could possibly expect in the short time I have here.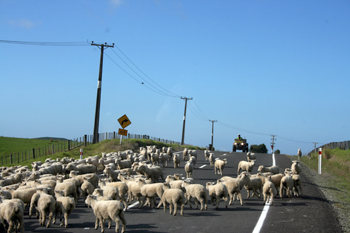 Tomorrow I return to Auckland for one more night before flying to the Queenstown in the South Island. Everyone says the South Island is so much more beautiful that the North Island, but it'll have to go a long way to beat what I've seen so far.