A happy Fourth of July to you all. I am spending my holiday at my favorite motel in the whole wide world, the Cape Pines Motel, located in the tiny fishing village of Buxton on Hatteras Island on the Outer Banks of North Carolina. Why, you may wonder, am I staying at a motel, when I could be staying in my own home on the Outer Banks? Can you guess??? After 18 months on the market and two long months under contract, I finally closed on my house yesterday. It was what is known as a "dry closing," since it happened too late in the day for the attorneys to make it to the courthouse to record the deed prior to 5 PM. Recording will take place on Monday and it is then that I will officially be able to say my house is sold.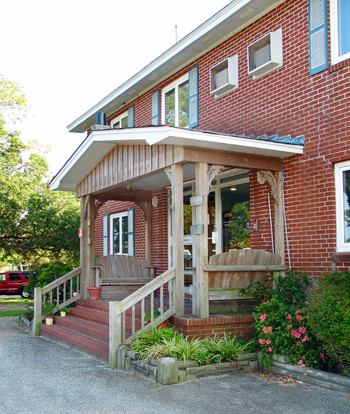 I had to proceed as if the recording would take place yesterday, so I cleaned the house, right down to stripping the linens off the bed and washing everything on Thursday morning. When I learned that recording would be delayed until Monday, I couldn't bear the thought of messing up the house, so I imposed on my good friends, Bill & Angie Rapant, owners of the Cape Pines, who have graciously made their personal guest room available to me. Sometimes I wonder how I got so lucky to have friends like them.
For the past nine weeks I have been running around like a chicken with my head cut off, handling the various tasks required to bring the contract to closing. I have been so busy that I have only been to the beach once, and then only for 20 minutes with friends who were taking their dog for a walk. It really would have been disgraceful to admit that I was on the Outer Banks for more than two months and never spent a day at the beach.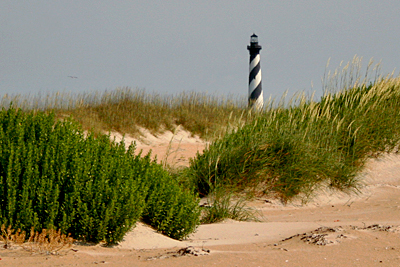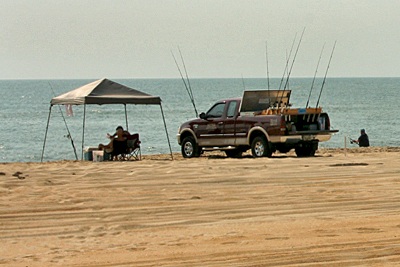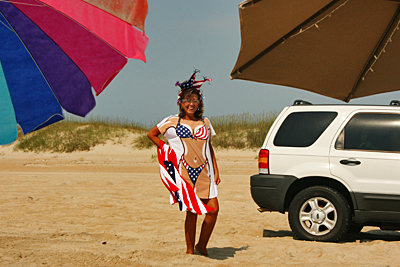 Fortunately, I have nothing to do this entire holiday weekend and I spent most of today at Cape Hatteras National Park. I walked from the park entrance to the campground, crossed over the ocean dunes, then headed out onto the beach. Along the way I discovered some fabulous vantage points from which to take photos of the Cape Hatteras lighthouse framed by golden sea oats and untouched dunes. Further down the beach I encountered dozens of fishermen surf casting from the shore, as well as this woman, who was celebrating the Fourth of July in style.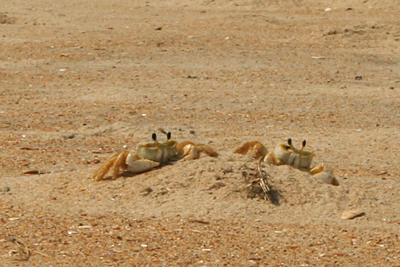 When I tired of walking, I spread my towel on a seemingly deserted stretch of beach and let the warmth of the sun soak into my body, soothing muscles that ache from packing up and carrying everything I own down two flights of stairs. At one point I turned over to bake my back side and saw movement out of the corner of my eye. Apparently, this particular part of the beach was not quite as deserted as I had originally thought. As I lay there, not moving a muscle, dozens of ghost crabs had come out of their burrows to check me out. Because these weird crustaceans are the exact same color as the sand, they are hard to spot, but when I sat up they all scrambled back into their burrows and their distinct sideways movement gave them away. I laid back down and before long they reappeared, warily watching me as they slowly emerged from their holes. With a little practice, I learned to spot them by the two oval black eyes attached to slender antennae that poke up above their heads. At one point I counted about thirty watching me from all sides. Although they never came closer than a couple of feet their presence was a bit unsettling, and I watched them through slitted eyelids for the remainder of my stay on the beach.
By the time I got back to the motel I'd walked about five miles and felt like a new person. For me, the sun has amazing rejuvenating powers. By the time I leave the Outer Banks on Monday, I will be ready for my next challenge: heading down to Key West to oversee renovations on another property. But that's a story for another day. In the meantime, I am grateful for everything in my life, and I continue to turn my will and my life over to the care of the Universe, asking only for knowledge of its will for me and the power to carry it out.