I've known since the day I arrived in Chiang Mai that I would be leaving on the 8th of May. What I didn't know is where I would go from here. I considered Burma but then had second thoughts. I just couldn't bring myself to donate any more money to the corrupt communist regime that has held the rightful leader of that peaceful nation under house arrest for so many years, while they plunder the country, destroy the monasteries, and oppress the people.
I thought about going back to the south of Thailand – perhaps the island of Koh Samui this time to soak up a bit more sun. But the weather forecast all over the south was dismal. The monsoons out of China had dumped so much rain on the south that the ferries were not running and people had even lost their lives in the resultant flooding, so that was not an option. I even thought about staying put in Chiang Mai but I was getting restless here and needed a change of venue.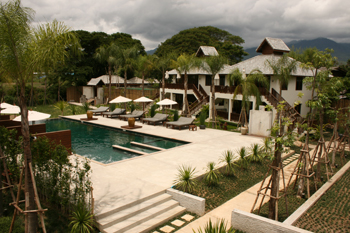 I had always planned to go to Vientiane, the capitol of Laos, but by now I had ony four days before I needed to be back in Bangkok. During my travels, someone had told me about Luang Prabang, Laos – how beautiful it was and how much better than Vientiane, so I had pretty much decided to go overland by bus from Chiang Mai to Chiang Khong, Thailand, then cross over into Laos and take the two day boat trip down the Mekong River to Luang Prabang. At least that WAS my plan until I read an article about the boat trip – how hot, crowded and uncomfortable it is, etc. Nope – not up for that at the moment.
On my last day in Chiang Mai I walked into a tour office and tried to make reservations to fly to Luang Prabang, spend four days there, then fly from there to Bangkok. Unfortunately, Lao Airlines (the State airlines of Laos) has a monopoly on the route and it is quite expensive. The clincher was when I discovered there were no seats left on the flight from Luang Prabang to Bangkok on the 12th of May. When things are this difficult I know they are just not meant to be, so I just gave up. I decided I would be shown what I was supposed to do. I walked over to the brochure rack and glanced through the propaganda there. I picked up one particular brochure for a place named The Quarter Hotel. The tour agent told me it was a really nice place (brand new, in fact), located in the town of Pai in the mountains of the far northwest corner of the country. I read further and discovered that they have a pool, Yoga, massage therapy, free wireless internet, and safety boxes in the room. At $65 per night it was more than I really wanted to spend but even at that price it was cheaper than going to Laos. Since I had been drawn to that particular brochure I took it as a sign that Pai is where I am supposed to go.
The next morning I boarded the bus for the four-hour trip along tortuously curvy mountain roads (having been forewarned, I took my Dramimine and sat in the front seat so I wouldn't barf all over the bus). I could see why it took four hours. Coming around one curve we encountered five cows, casually sitting in the center of the highway, chewing their cud. At another place they were paving the road, which until recently was dirt and gravel. The pavement ended at what appeared to be the hilliest section with the steepest grades – here we slipped and sloshed our way through mud and clay halfway up our hubcaps, crawling along until the pavement resumed. A half hour before reaching the town we were stopped by a government checkpoint, manned by military personnel with machine guns slung over their shoulders. In broken English our driver explained that they are searching all vehicles for heroin and opium. So much for the government's insistence that poppies are no longer being cultivated as a cash crop in Thailand.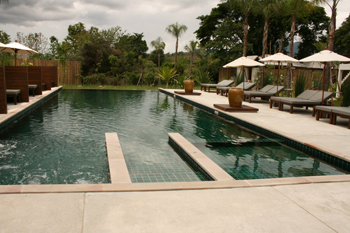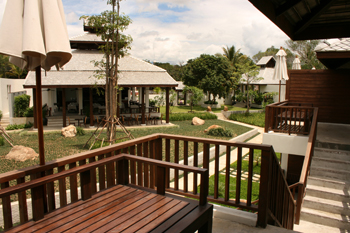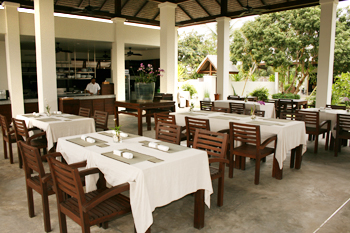 Finally we arrived. The hotel's driver picked me up at the bus stop and carried me the few short blocks to the resort. I knew immediately that this is a fabulous place. Far enough from town to be totally quiet yet close enough to walk to town. Nestled in a valley with mountains all around, the resort has 36 rooms that surround the pool and open-air restaurant. Strangely, I have learned that this is low season here. One would think that the resort would attract clientele who want to escape Bangkok's heat. Quite the opposite, the high season here is November through March. Their clientele is a mixture of people who come to trek and raft the whitewater rivers that abound in this part of the country, and the Bangkok socialite crowd who flock to the mountains when it is cold so they can wear the fur coats and boots that they have acquired on trips overseas.
I'm one of only six people here at the moment. The staff is absolutely doting on me and I am loving every minute of it. It's always interesting to sit back and watch what happens when you just allow the Universe to work things out rather than trying to exert your will against something that is obviously not supposed to happen. I can visit Laos next time, when I have more time to devote to that fascinating country.