What did I do today? Nothing much, and it was absolutely delicious! I slept in, then enjoyed a leisurely brunch at the restaurant while watching the long tail boats motor back and forth with their passengers bound for Long Beach and points north on Phi Phi Don Island here in the Phi Phi Islands of southern Thailand. I walked the dozen steps to the beach, taking only 17 photos, which turned out to be the only ones I took the entire day (this is no doubt a record – most days I take photos numbering in the hundreds). I then backtracked to the pool at the resort, where I whiled away the afternoon sipping fresh mango juice and iced lattes, dipping into the bath-water temperature pool whenever I got too hot. At 5 PM I walked along the shore to a nearby restaurant where I picked my dinner from the iced tray displaying the day's fresh catch (Sea Bass), which was cooked over a charcoal grill and served with buttered rice. Deeeeelicious!! I'm turning brown as a berry, I fit into a swimsuit I haven't been able to wear for a couple of years, and my hair has bleached out to almost white. I look ten years younger than when I left on this journey and I am happy as a clam.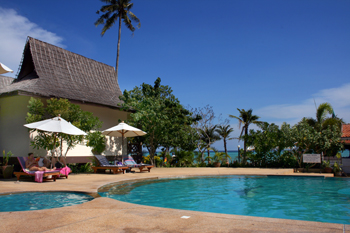 Today I also finished the book I've been reading, "A Fortune Teller Told Me," by Tiziano Terzani. Based in SE Asia for most of his career, Terzani is a writer for Der Spiegel, a well-known German magazine. The book is Terzano's true life story about being told by a monk that he must not fly for an entire year or his life will be in great danger. Terzani struggles with the decision whether or not to pay attention to the fortune teller but in the end decides not to tempt fate. He spends the year traveling on every means of conveyance other than airplanes, searching for stories that do not require him to be somewhere in a matter of hours. Much of his time is spent in SE Asia and his views on the cultures, economies, and traditions (and loss of traditions) in these countries are profound. I heartily recommend this book for anyone wanting to know and understand more about SE Asia.
I've decided that tomorrow I must have a bit more initiative, so I plan to rise at dawn and take photo of the limestone cliffs and crystal seas in the pink light of dawn. I may even make it to the top of the mountain for that crescent bay shot I promised you. In the meantime, here's a couple more shots to make you drool – one of the ocean just steps from the front door of our cabin and another of the resort's swimming pool, where I spent the majority of the day.