I slept 'til 9 AM this morning, then got up and rolled around on the floor with my Feldenkreis tubes, working out every last kink in my back and shoulders.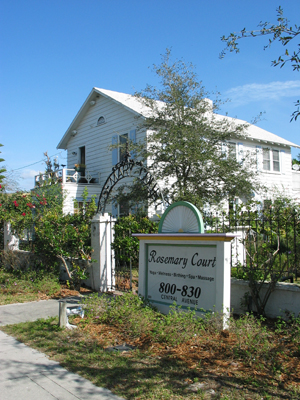 At around 10 AM, my roommate, Joan, and I walked a few blocks to the French Cafe in the heart of downtown Sarasota, Florida and dined on coffee and croissants at little patio tables set out on the sidewalk, watching the world go by.
After breakfast, a leisurely stroll took us to the book store – rich with the fragrance of new ink – where I picked up a couple of new novels. Any other day I would have plopped into one of their overstuffed chairs and vegged for a couple of hours over more coffee while I delved into one of the new books, but that will have to wait for tomorrow because we have other things on the agenda.
Off we went to the Vietnamese market, where we got a huge bag of bean sprouts for $1, three of the biggest grapefruit I've ever seen for $1, and an assortment of oriental sauces, rice noodles, etc. Yesterday it was the Latin market. Both are within walking distance.
My apartment is the top floor of one of the buildings in a wellness center that is located in a lovely historic neighborhood known as the Rosemary District, just blocks from downtown.
From here I can walk to the library, a 60,000 square foot Whole Foods Market, the bank, the Van Wesel Performing Arts Center, at least 5 playhouses, dozens of restaurants, and a 20-plex theater. From the apartment I can bike to the outer islands and their white sand beaches (Siesta Key, Longboat Key, St. Armands Circle). If I just want to stay home I can sunbathe on the deck that adjoins my bedroom or walk down the stairs to any number of daily Yoga classes at the wellness center. The apartment is small and that suits me just fine – less to clean and easy to shut up when I travel.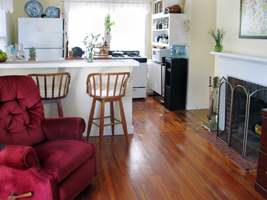 Tomorrow morning is the weekly Sarasota Farmer's Market just four blocks away in the center of downtown and tomorrow evening Rosemary Court is hosting a performance by the Blue Muse Trio (next weekend it's another group named Mad Agnes). The opera opens soon and I have a friend who plays the Bass for the opera – he says I'm welcome to come to any of the dress rehearsals and suggests I should choose Madame Butterfly. I've never been to ANY opera and am SO looking forward to it. The opera house is – you guessed it – also within walking distance of the apartment.
Sarasota is amazing and I LOVE it here. I'm obviously no longer feeling slimy!