Mother Nature put on a show today. It started this morning when I awoke to blessed sunshine pouring through my open bedroom windows. Normally my windows wouldn't be open in December, but we're having a mild spell (it got up to 75 degrees today) so I took advantage of it to enjoy the last hurrah before winter comes crashing in.
I finally made myself crawl out from under my nice warm down comforter and was stretching in the sunshine when I heard an unusual bird call. Perched in the very top of the tree closest to my rear deck was the largest Pileated Woodpecker I have ever seen. When I was younger I used to watch Woody Woodpecker cartoons. It wasn't until I moved to the Outer Banks and saw my first Pileated, with its big red head and pointed head feathers, that I realized the cartoon character was based on an actual bird. I've only seen one other Pileated Woodpecker, some years ago, but I should have recognized it from its call alone – Ha-Ha-Ha-HA-ha! – just like good ol' Woody. For those of you who are too young to remember Woody Woodpecker (am I dating myself??), here's a photo of a Pileated Woodpecker, although it is not a photo I took.
I must explain that there is much more than ocean and beach on the Outer Banks. Barrier islands such as ours are made up of three eco-zones: the beach on the eastern edge; the dunes in the center of the island; and the Maritime Forest on the western side of the dunes. Vegetation is scarce on the beach and the dunes because few varieties of plants are salt tolerant, but because the Maritime Forest lies behind the dunes it is sheltered from extremes of salt and wind. Here a myriad of vegetation thrives: tall Loblolly Pines, Southern Bay Laurels, Live Oaks, holly bushes, and even huge poison ivy bushes. Vines as thick as my thigh climb the trees and carpet the ground, weaving a living tapestry that can eradicate a trail in a matter of weeks if not kept cleared. Unlike the beach, in the Maritime Forest the land undulates, from dune tops to swamp ponds covered in green slime. And this part of the Outer Banks is filled with all types of creatures. This is where I live, on 12.5 acres of Soundfront property in the middle of the Maritime Forest. It's the thing I will miss most when I leave the Outer Banks.
After a nice hot cup of tea and a bagel I decided to go for a walk and soak up a little more sun. Lying smack dab in the center of my driveway was one of my favorite creatures, a three and a half foot Red-Bellied Water Snake. She lives under my deck and I know she is a female because I watched her mate this spring on top of the deck. The male came out of the forest, stayed for two days, and then left again when he had done his duty. Myrtle (yes, I named her; I couldn't help it) and I have become fast friends. Whenever anyone else is around, she slithers away, but she seems to like me. That's probably because I protect her. I discovered that the landscapers don't like snakes and that they kill them whenever they encounter them. I told them that, under no circumstances were they to harm any snakes on my property or I would find new landscapers. This species is not poisonous, but they can bite when provoked. So I was thrilled when, a few weeks ago, she let me kneel down right next to her and take photos. She's a beauty, and I don't have to worry about having any mice or rats when she's around.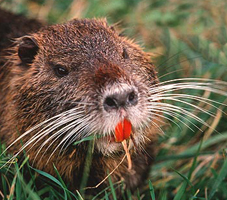 Further along in my walk I checked out one of the larger swamp ponds in the area. I have been watching this particular pond all year because it is filled with turtles who sun themselves on logs during the summer. Although there were no turtles were in sight I was just in time to see three fat, sleek Nutria waddle into the water and swim across the moss covered pond. A Nutria is a beaver-like aquatic rodent with a rat-like tail. It has Dorito-chip colored orange buck teeth (OK, OK, red teeth, I just can't get my mind off that cargo container of Doritos that washed up on the beach two days ago). It is native to South America and was introduced in the U.S. with an original population of 15 that quickly expanded to more than a million across the country. In most areas of the country the species is considered destructive because Nutria eat the roots of marsh plants. Once the marsh plants are destroyed by the Nutria, the underlying mud layer begins to erode, eventually replacing the marsh with areas of open water. I can't figure out if they are cute or repulsive. Here's a photo (not mine); judge for yourself.
I hadn't planned on posting today. Even with all the exciting wildlife adventures I just didn't feel like writing. Since returning from my walk I've been sitting in front of my computer, working on music. So it was a big surprise when I rounded the corner from my office into the living room, coming face-to-face with one of the most spectacular sunsets I've ever seen from my house. I ran for the camera and took some shots from my second floor deck. I knew I had to share the photo below and it just sort of morphed into this long, long post. But Mother Nature doesn't mind me bragging – that's rather the point of her putting on such a spectacular show!