My bed said it all. Using pieces carved from dried palm leaves, the housekeepers at Tahiti Pearl Beach Resort and Spa had meticulously spelled out "Ia ora na" across my king-size mattress. They added a dash of color with fresh flowers plucked from the garden and sweetened the offering with two bars of exfoliating soap made especially for the resort, using sand from its black beach. "Ia ora na" was a phrase I would hear repeatedly during my visit to Tahiti. Though technically it means "good morning" in Tahitian, I was greeted with it all hours of the day.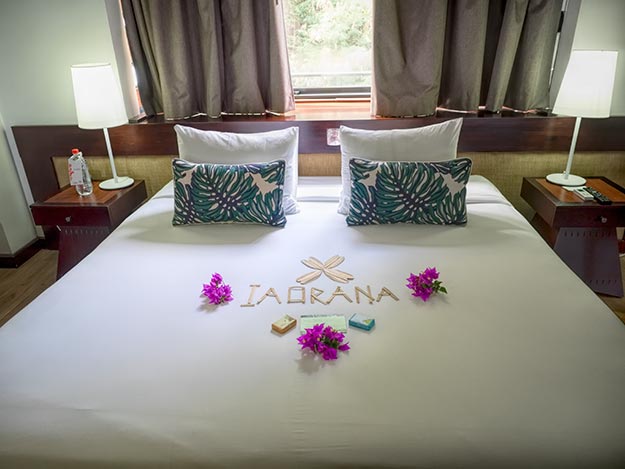 The rest of my deluxe ocean view suite was equally impressive. Fresh flowers and plush towels were scattered around my luxurious bathroom, which featured an enormous soaking tub. The spacious living room, which was divided into separate areas for relaxing and working, was decorated with murals based on indigenous Tiki designs. Details included two flat screen TV's, a custom pod coffee maker, a large safe, cotton robes and slippers, iron and ironing board, and super fast wifi.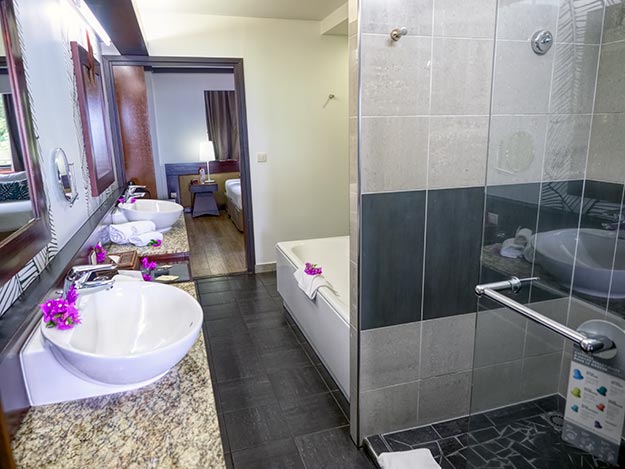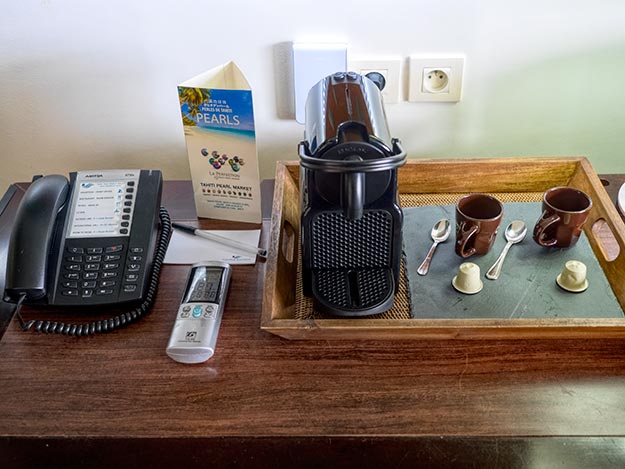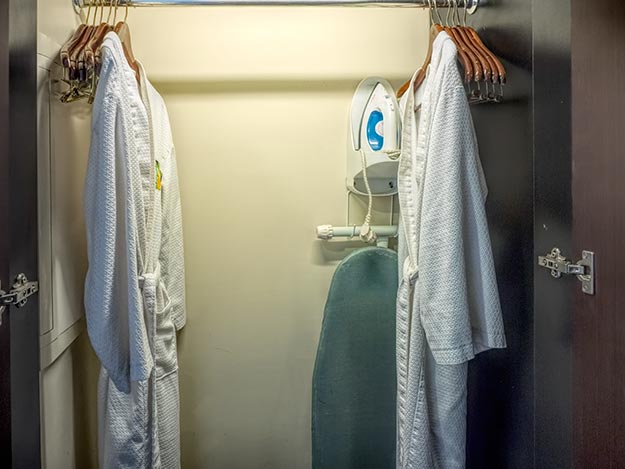 Perhaps best of all was my private balcony, which offered stunning views of Matavai Bay, where European explorers first set foot on Tahiti. The scene was an endlessly changing panoply. In the golden light of sunup, the black sand of Lafayette Beach sparkled like billions of infinitesimal diamonds and the tropical jungle oozed a green so rich it seemed to be lit from within. The jagged peaks of nearby Moorea island emerged from the mist at dawn and morphed through a palette of colors as the sun traveled westward.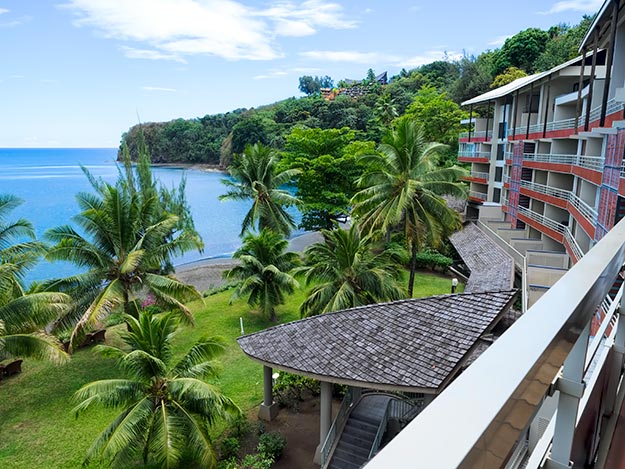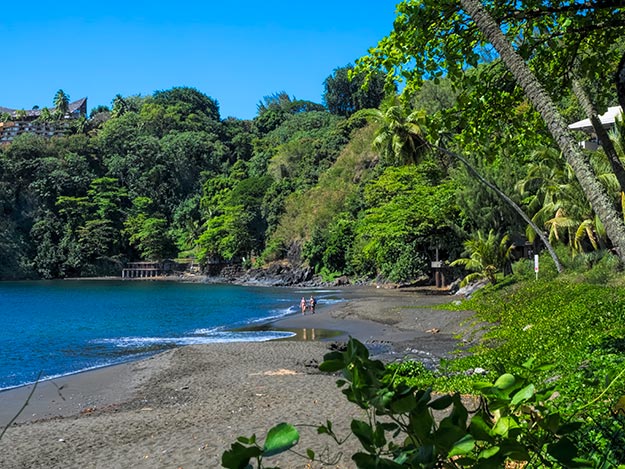 I didn't think it could get any more beautiful, but I was wrong. When the sun sank below the horizon, the sky lit up in shades of pink, orange, and purple that reflected on the waters of the bay. And this was an everyday occurrence. The original explorers were right when they declared Tahiti a paradise.
Eventually, I tore myself away from the comfort of my room to explore the rest of the resort. I didn't get too far. The resort's gigantic pool and poolside bar beckoned. Armed with a tall, icy-cold non-alcoholic fruit drink, I settled into a chaise lounge beneath a shady palm tree. Whenever the sun became too intense, I popped into the refreshing water. Sip and repeat. Sip and repeat.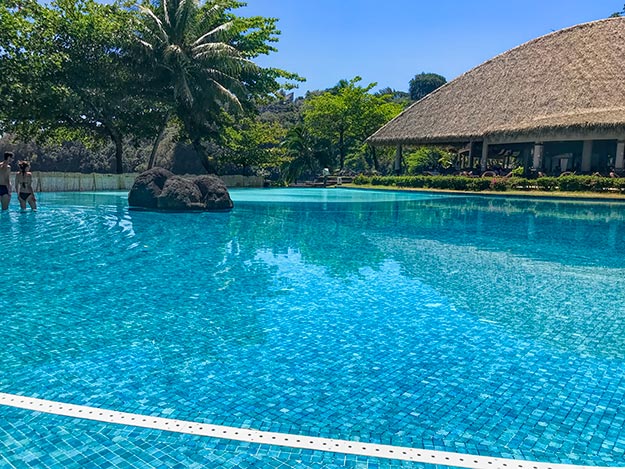 When I tired of the pool or walking on the beach, I checked out the resort's on-site shops. Its jewelry store features the famous black pearls that are found only in French Polynesia, while the chocolate store…well, what can I say…I gorged on my fair share of chocolate. Of course, meals were a welcome distraction, especially on the nights when the resort offered a free performance of traditional Tahitian dances, including the fierce war dance.
I was feeling so pampered that I debated whether it was necessary to explore the capital city of Papeete. Fortunately, Tahiti Pearl Beach Resort runs a free shuttle to the city center. The combination of convenience and free convinced me, so one morning I hopped aboard. For the next eight hours I walked from one end of the city to the other. I began with the local market, which features quintessential Polynesian products from tropical fruits to Monoi oil to hand-woven straw baskets.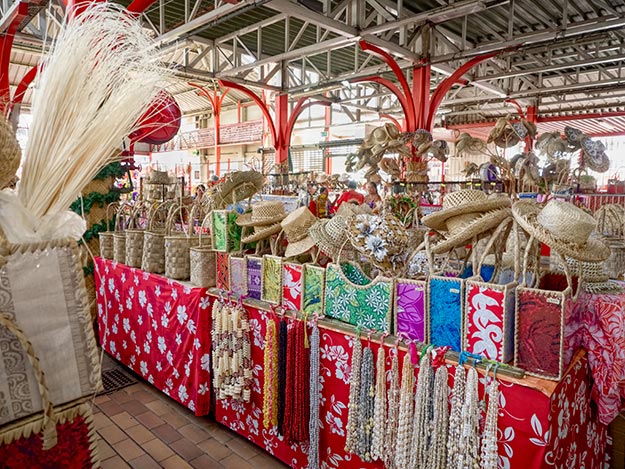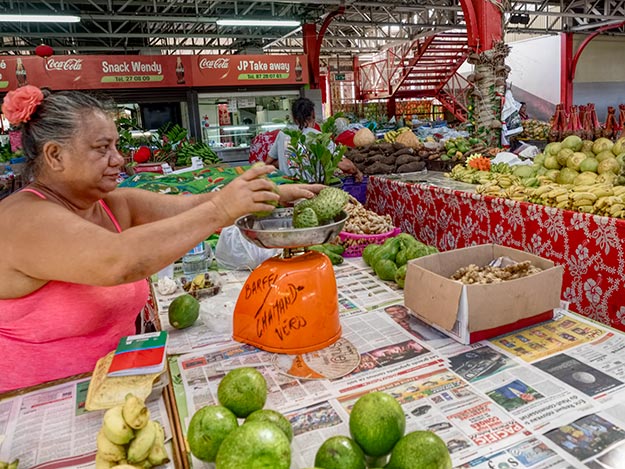 When the heat became oppressive, the cool interior of the Cathedral of Notre Dame offered a welcome respite. By the time I ventured outside again, there was music in the air. Just down the street, a pickup band of local musicians were performing traditional Polynesian songs.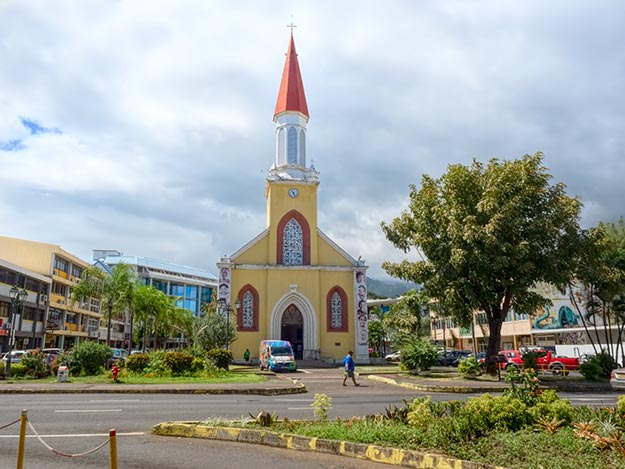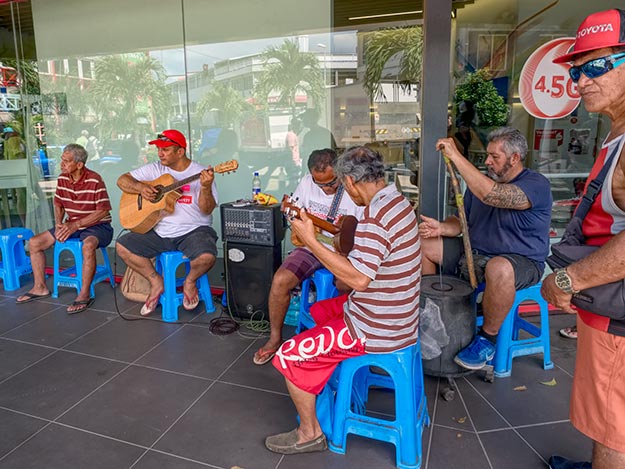 I loitered long enough to enjoy a few toe-tapping tunes, then pitched a few coins into the hat and headed for the marina. Beyond the fishing boats and multi-million dollar yachts I found Jardins de Paofai Park, with its pebble-strewn beach. It was pure luck that I arrived as local outrigger canoeing clubs was pulling their sleek, cigar-shaped boats out of the water after a morning of practice racing.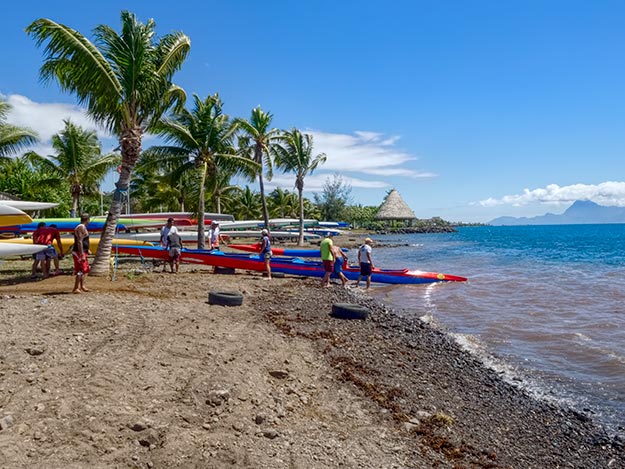 Again, the intense sun drove me to seek shelter. Behind the Assembly Building of French Polynesia, I found a lovely little park named Queen's Pond. It wasn't even on my map, which I found surprising, since it is home to the spring that gave the city its name. Some insist that Papeete can be translated as "gushing water." Others, perhaps the more romantic among Tahitians, promote the story that Queen Pomare IV, who ruled Tahiti during the mid-19th century, would only drink water (pape) that was drawn from the spring in a basket (ete).
Papeete was interesting, but it was also hot, noisy, crowded, and jammed with traffic. When planning my trip to French Polynesia I'd considered staying in the capital city, but after my day of discovery it was clear I'd made the right decision. By 5 p.m., I was more than ready to return to my idyllic resort, where the staff greeted me with broad smiles and a warm "Ia ora na." It felt like coming home.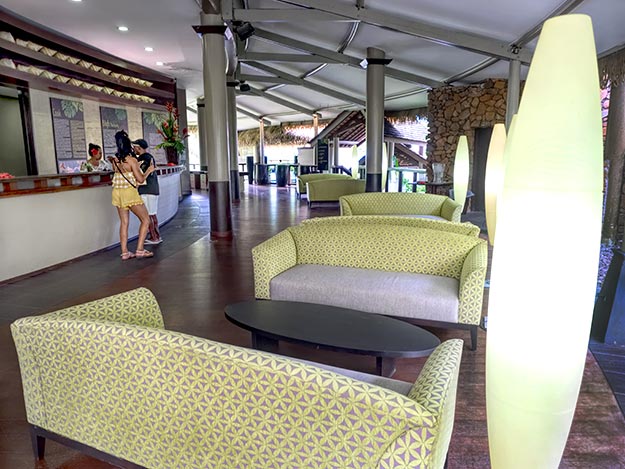 My week passed way too quickly. The smiling staff gathered as I rolled my suitcase to the waiting transport van. "Nana!," they exclaimed. "Goodbye!" The only other Tahitian word I had learned during my stay made me sad. "Don't be sad," they said. "Nana! may be used to say goodbye, but its literal meaning is 'until we meet again.'" Their kind words lifted my spirits. The people of Tahiti and the staff at Tahiti Pearl Beach Resort were so lovely and caring that I'm sure to visit again.
Author's note: My stay was partially sponsored by the resort and arranged through Tahiti Tourisme. However, the receipt and acceptance of complimentary items or services will never influence the content, topics, or posts in this blog. I write the truth, the whole truth, and nothing but the truth. To read more about the accommodations, facilities, and services at Tahiti Pearl Beach Resort and Spa, visit the resort's website.