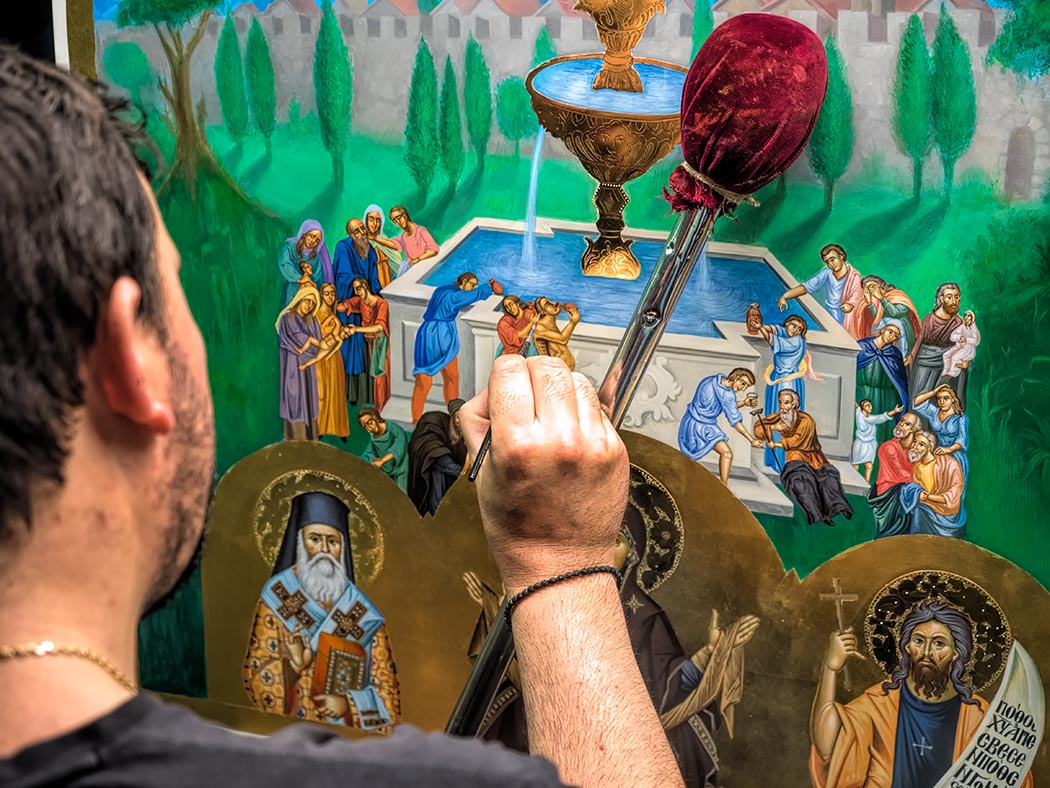 Pefkis Workshop of Byzantine Icons is a family affair. The shop was started by Father Pefkis, a master iconographer who began painting exquisite religious icons 32 years ago. In addition to being an artist, Father Pefkis is also an Orthodox priest (Greek priests are allowed to be married, have a family, and a second career). Unfortunately, he was attending to church business on the day my Collette tour group visited, but there was no shortage of family members on hand. His sister, Kiki, greeted us with a smile and a bowl of Loukoumi (Turkish delight), a gelatin candy covered with powdered sugar. I was still licking my fingers when Kiki led us into the back room, where the frames are made. Each frame is hand-carved from local wood – cedar, walnut, linden, or beech – then covered with a canvas made from cotton fabric and coated with a thin layer of plaster. Unlike other religious icons, those produced at the Pefkis workshop are painted on canvas rather than on wood.
Back inside the display room, we gathered around the middle Pefkis son, Theodore, who has been painting religious icons since childhood. That day, he was working on a large commissioned piece that was rich with 34-carat gold leaf inlays. He balanced his forearm on a metal rod topped by a purple velvet ball, which in turn rested on the painting. Using colors that are also handmade from minerals like cobalt and ochre, he mixed powdered pigments with egg yolk, ensuring that the colors will last for more than 600 years. When complete, the piece will sell for €2,000.
Pefkis Workshop of Byzantine Icons is located on the second floor of an an unassuming strip mall near the clifftop monasteries of Meteora, Greece. With barely a sign to identify it, I would have passed it by. There is no way I could have known that this small family workshop is so famous that the Vatican has contracted with them to make their Sweet Kissing Mary triptych. But this was one of the major benefits of choosing a Greece tour package with Collette; they know all the secret places that normal tourists never get to see.
Author's note: I was a guest of Collette during my "Exploring Greece and Its Islands, Featuring Classical Greece, Mykonos & Santorini" tour. However, the receipt and acceptance of complimentary items or services will never influence the content, topics, or posts in this blog. I write the truth, the whole truth, and nothing but the truth.