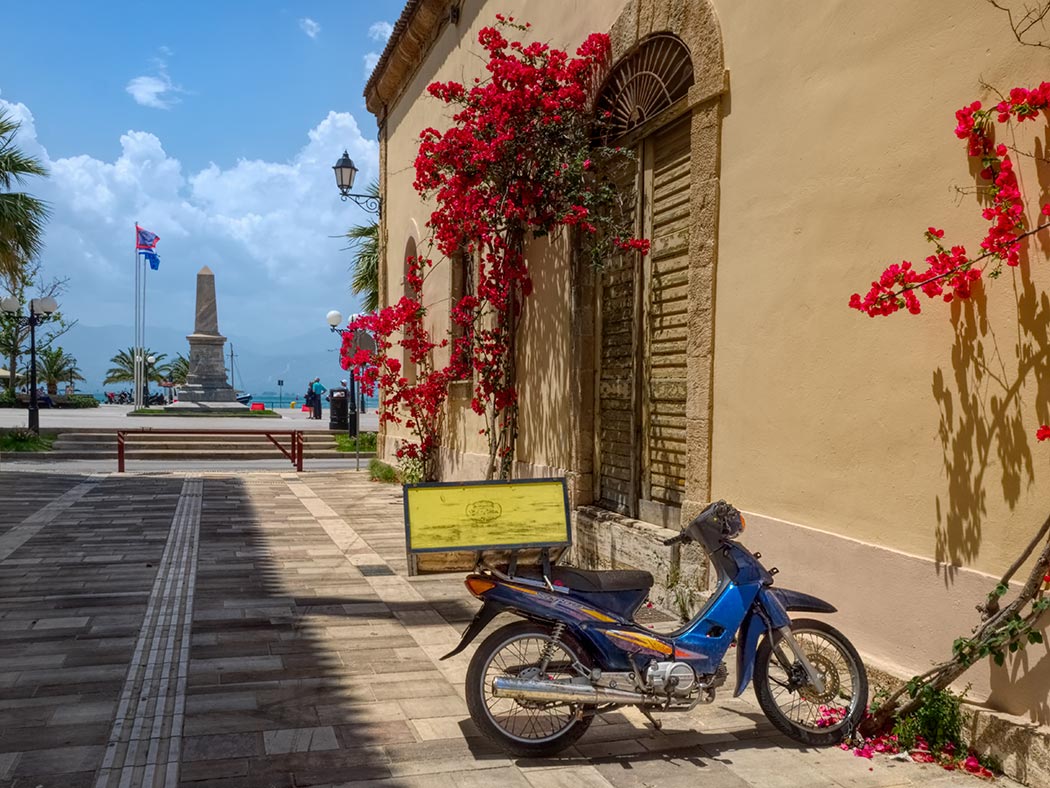 Scarlet Bouganvillas cascaded down ocher walls. A palm lined plaza led to a simple church so blindingly whitewashed that it made me squint. Wrought iron balconies peered down on street cafes where locals sipped Greek espresso so strong it was guaranteed to produce a perpetual state of wakefulness. At every turn, Old Town Nafplio, Greece, revealed another gorgeous street scene. I was entranced. I wanted to sit under a shade umbrella and stay forever. Unfortunately, I had only two hours, as my Collette tour of Greece and its Islands stopped here for lunch, so I did the next best thing. I power-walked through the streets of Old Town Nafplio, snapping shots like the one above, which looks toward Syntagma Square and the harbor. Then I settled in for a leisurely lunch at one of the many street cafes.
Though beauty is a big part of the attraction of Nafplio, it is also one the most historic sites in Greece. Said to be founded by Nafplios, son of the god Poseidon, the town's roots reach back to prehistoric Greece. Soldiers from here participated in the Trojan War, as well as the expedition mounted by Jason and the Argonauts to retrieve the Golden Fleece. Roman, Byzantine, Ottoman, Venetian, and Frank conquerors all left their marks on the architecture and culture. Originally built by Romans and Byzantines, Acronafplía Castle is the oldest of three historic fortifications in the city. Venetians later built the small fortress that stands on a rocky islet in the center of the harbor, as well as Palamidi Fortress, which keeps watch from the 700-foot high rock outcropping that rises behind the city. It even has an intriguing modern day history; in 1823, Nafplio became the first capital of the newly born Greek state. By the time I'd gorged on a tableau of Greek appetizers, I knew for certain that I would someday return to Nafplio, one of the most beautiful villages in the Peloponnese peninsula.
Author's note: I was a guest of Collette during my Exploring Greece and Its Islands, featuring Classical Greece, Mykonos & Santorini tour. However, the receipt and acceptance of complimentary items or services will never influence the content, topics, or posts in this blog. I write the truth, the whole truth, and nothing but the truth.