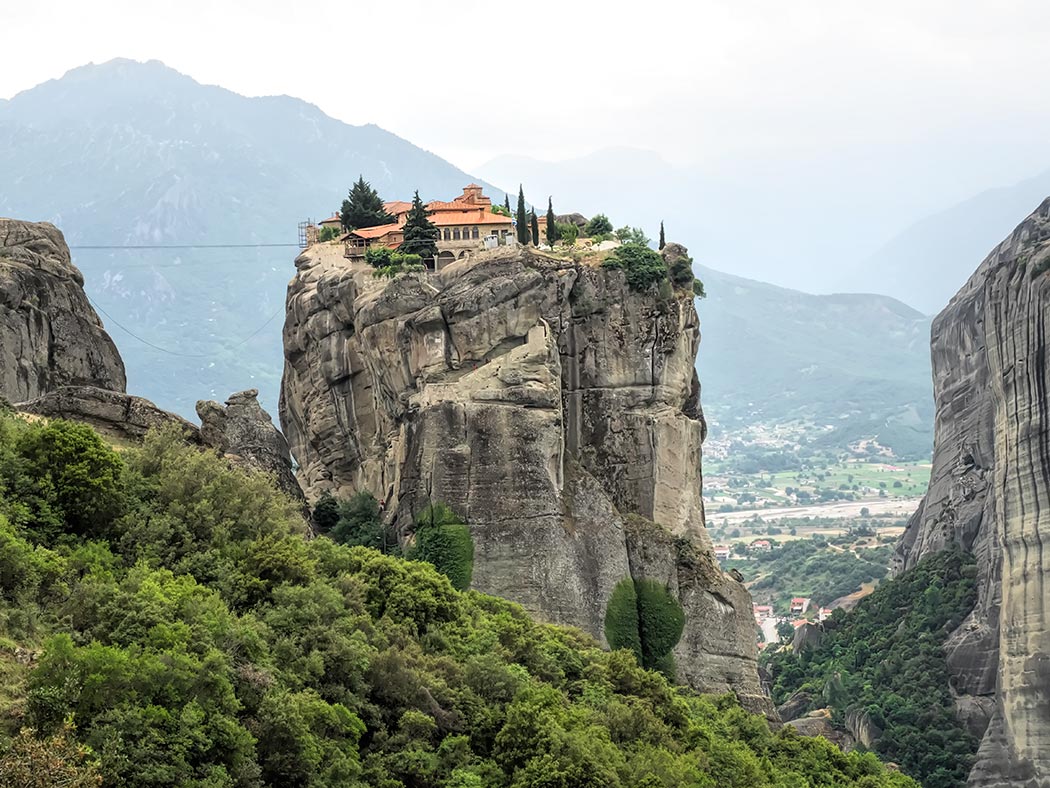 If the Monastery of the Holy Trinity (Agia Triada) looks familiar to you, you're likely a James Bond fan. The final scenes of the film, "For Your Eyes Only," were shot here. Originally numbering 24, only six of the original historic Meteora Monasteries remain. All of them were constructed upon rock outcroppings near the present day towns of Kalambaka and Kastraki, located in the Thessaly region of Greece. Once an extremely remote, unpopulated region, today the Meteora Monasteries are a UNESCO World Heritage Site and one of the most popular tourist destinations in the country.
Although the church was not built until the 15th century, documents indicate that Holy Trinity was already being used as a monastery by the year 1362, making it one of the oldest of the remaining of the Meteora monasteries. Its perch atop a free-standing sandstone pinnacle made it virtually inaccessible. Visiting required crossing a valley and climbing through the rock outcrop to reach the building's entrance. Supplies (and occasionally humans) were loaded into nets on the ground and hauled up, hand over hand. The nets were eventually replaced by a series of ladders, baskets and winches, and finally, a funicular. Today it is the most picturesque of the remaining six, however access is still difficult. A path leads to the foot of the rock, where tunnels and more than 130 steps lead visitors to the 1,300-foot high summit. But the climb is said to be worth the effort for the sweeping views from the top.
Author's note: I was a guest of Collette during my "Exploring Greece and Its Islands, featuring Classical Greece, Mykonos & Santorini" tour. However, the receipt and acceptance of complimentary items or services will never influence the content, topics, or posts in this blog. I write the truth, the whole truth, and nothing but the truth.