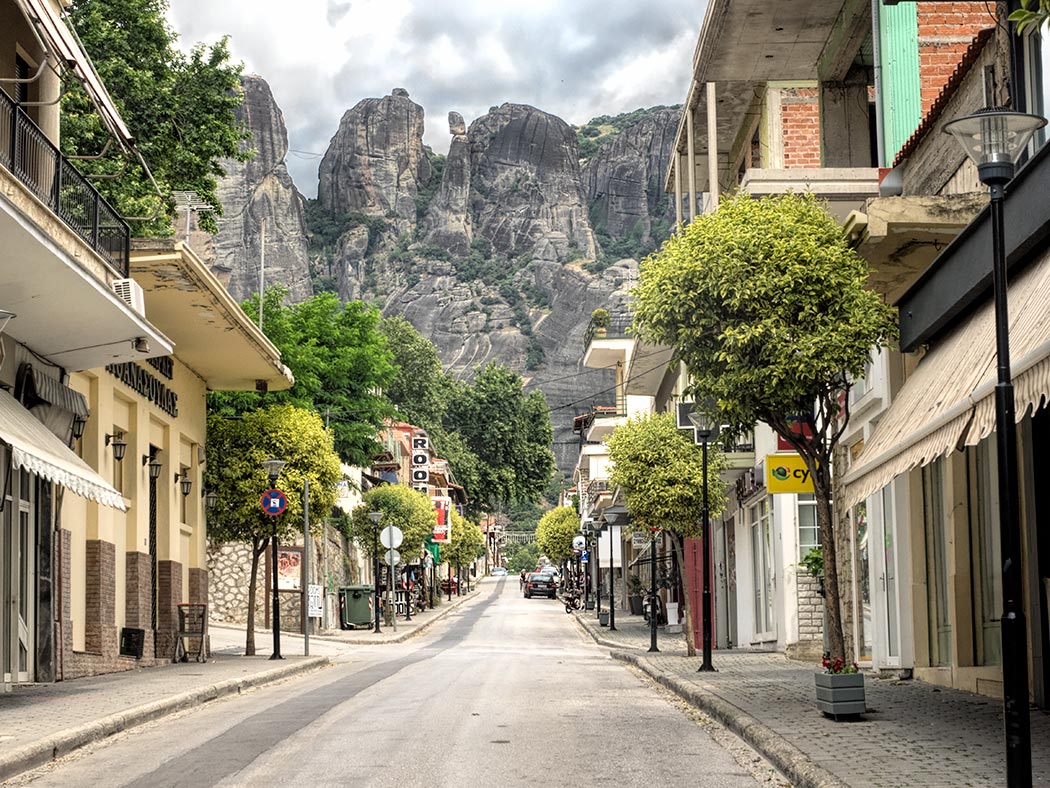 Though primarily known as the gateway to Greece's famous Meteora monasteries, the village of Kalambaka is exquisite in its own right. During a brief lunch stop during my two-week tour of Greece with Collette, I managed to squeeze in a walk around the old town area. Every corner I turned opened onto yet another spectacular view like the one in the above photo. The monolithic pinnacles that rise abruptly behind the town took my breath away. These startling brown sandstone pillars have been in use since ancient times. Initially, wind and water-sculpted caves in the formations served as shelter for locals during bandit and pirate attacks. Later, monks retired to these same caves to lead lives of seclusion and meditation. Shepherds drove their herds to the upper pastures each summer to take advantage of lush grasses that grow there.
By the 1970's, news of these strange formations had begun trickling out. The famous mountaineer, Dietrich Hasse, was the first to make the ascent. Before long, Meteora was attracting mountain climbers from across the globe. Today, more than 700 climbing trails and routes are available on 100 different pinnacles, and rock climbing has become a major source of income for the town of Kalambaka. Of course, rock climbing was out of the question for me. I was there to visit the historic monasteries that perch atop the loftiest of the pinnacles. But for me, the stunning scenery in and around Kalambaka was every bit as impressive as the monasteries.
Author's note: I was a guest of Collette during my "Exploring Greece and Its Islands, featuring Classical Greece, Mykonos & Santorini" tour. However, the receipt and acceptance of complimentary items or services will never influence the content, topics, or posts in this blog. I write the truth, the whole truth, and nothing but the truth.