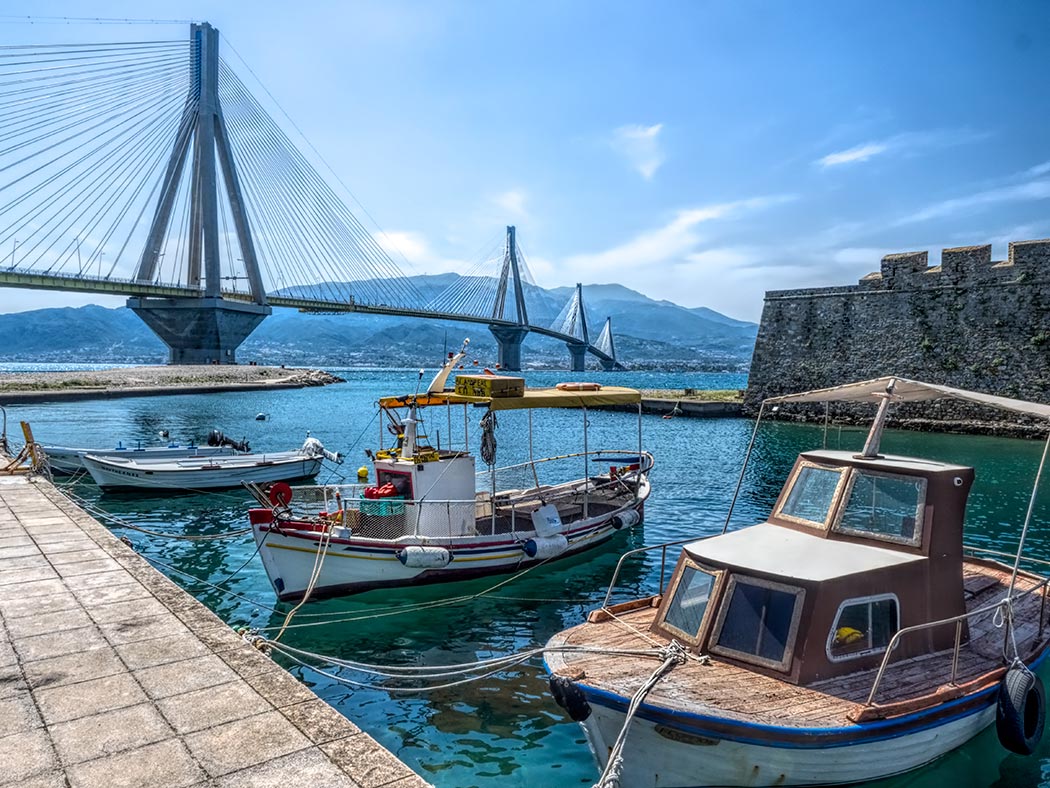 Following a remarkable visit to the ancient Oracle of Delphi on the mainland of Greece, our Collette tour headed for the Peloponnese Peninsula. Beyond a valley carpeted with thousands of gray-green olive trees we crested a rocky escarpment. I gasped. Hills carpeted with undulating grasses swept down to the azure blue Gulf of Corinth. Our bus wound down to the plain, each curve revealing yet another magnificent view. We followed the coastal road westward, past villages with sparkling white houses and fish farms, bound for the town of Antirrio. Not long afterward the Rio-Antirrio Bridge came into view, its blinding white cables looking like modern day pyramids floating on a gracefully arcing deck. Officially named the Charilaos Trikoupis Bridge, this marvel of modern engineering links mainland Antirrio with the Peloponnese town of Rio at the narrowest part of the Gulf of Corinth.
We pulled into the town's pretty harbor and stood beneath the massive structure. On the shady side, the bridge's cables were more blue-gray than glittering white, but that did nothing to minimize its immensity. At nearly 1.8 miles in length, the Rio-Antirrio Bridge is the second longest multi-span, cable-stayed suspension bridge in the world. Before its completion, the only way to access the Peloponnese Peninsula was by ferry or by making the long drive to Athens and backtracking. Not only has the bridge significantly shortened the travel time between the mainland and the peninsula, it has spurred tourism in the northern part of the country. Though the 630 billion Euros required to build it may seem exorbitant, Greece reaped an estimated 400 million Euros worth of economic and social benefits during the first 13 years of the bridge's operation, and it is expected to provide an additional benefit of more than one billion Euros by 2032.
Author's note: During my "Exploring Greece and Its Islands, featuring Classical Greece, Mykonos & Santorini" tour, I was a guest of Collette, an expert on things to do in Greece. However, the receipt and acceptance of complimentary items or services will never influence the content, topics, or posts in this blog. I write the truth, the whole truth, and nothing but the truth.