There is a saying in the real estate trade: "The three most important factors in real estate are location, location, and location!" During a recent visit to Luxembourg City, I realized that this motto is as important for cities and states as it is for houses. Luxembourg City is the capital of the Grand Duchy of Luxembourg, as it is officially known. It is one of the smallest countries in the world, yet despite its diminutive size, Luxembourg is one of the most important countries in Europe. Along with Brussels, Belgium and Strasbourg, France, Luxembourg City is one of three official capitals of the European Union. It is also the seat of several institutions of the EU, including the European Court of Justice, the European Court of Auditors, the Secretariat of the European Parliament, the European Investment Bank, and the European Investment Fund.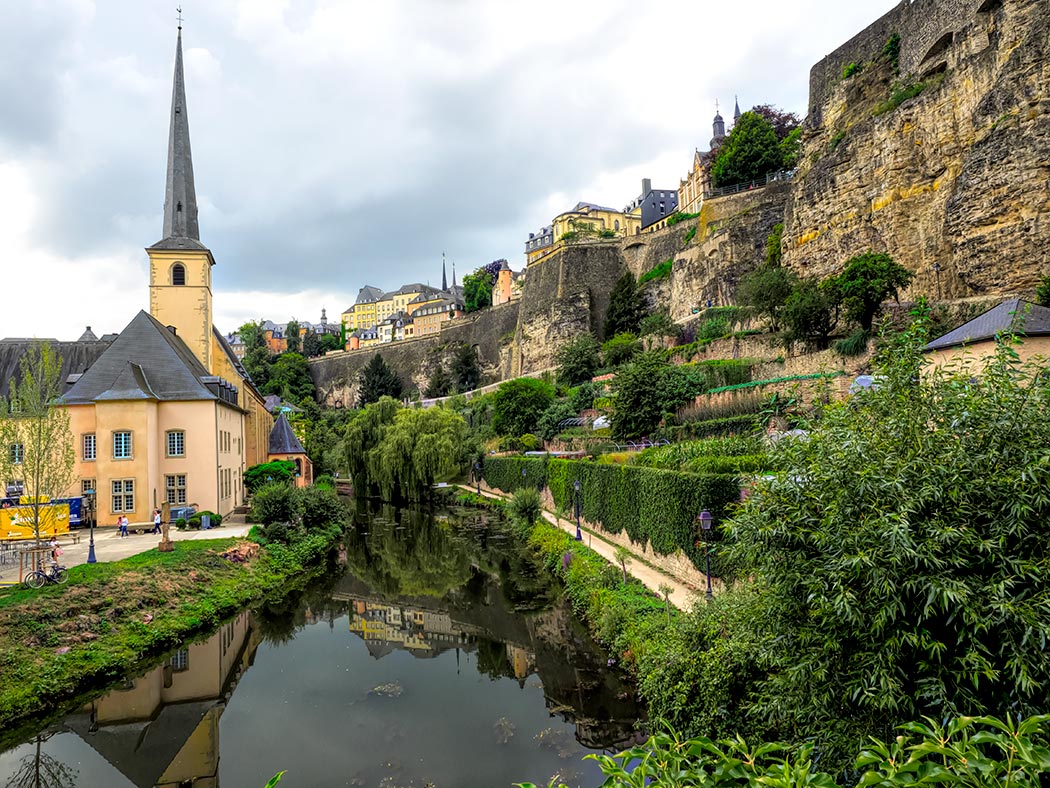 The city sprang up at the intersection of two Roman roads that were an important part of early trade routes. Located on a 230-foot high bluff that rises above the confluence of the Alzette and Pétrusse rivers, the site was considered to be impregnable. Count Siegfried built a fortified castle on the Bock Promontory in 963. Over the centuries, fortifications grew to include three fortified rings with 24 forts and 16 other strong defensive works. Beginning in 1644, the Spanish dug nearly 15 miles of tunnels into the face of the bluff. Known as the "Bock Casemates," they were perfect storing troops and supplies, while also providing an ideal location for large artillery emplacements. Unfortunately, the city's defenses made it all the more desirable. Over the centuries, it has been attacked and occupied by the Burgundians, Spanish, French, Austrians, Prussians, and the Germans.
The photo above shows Neumünster Abbey on the banks of the Alzette River in the lower city, known as the Grund Quarter. Perched on the natural bluff is the Old City, where the Ducal Castle and City Hall are located. In between are the fortifications, into which the Bock Casements were dug. The bunkers, tunnels, and caves no longer hold munitions, however they are open to anyone who wishes to explore the labyrinth.