Most visitors to Ghent, Belgium, will at some point wander through Sint Veerleplein Square, if only to walk through it on the way to Gravensteen Castle. My advice is to spend a little time in this square. Not only is it one of the oldest in Ghent, it is one of the most fascinating. Ghent is known for its many pubs and clubs, and some of the most authentic are found in Sint Veerleplein Square. The Old Fish Market opened its doors here in 1689, and the massive grey archway leading to the market is topped with imposing statue of Neptune.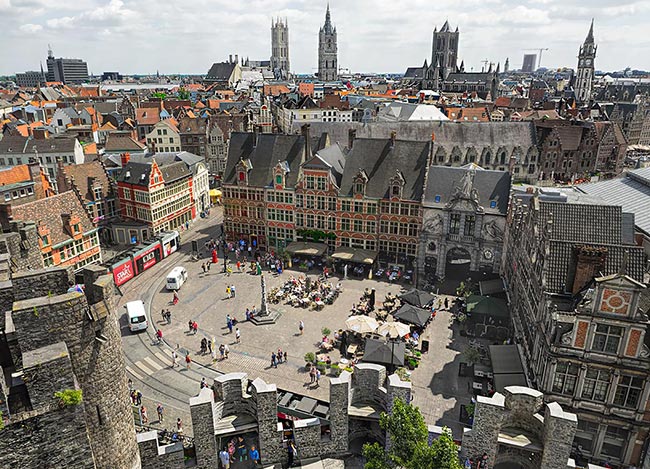 A closer look revealed even more intriguing sights. In the front of the square stands a sole column with a sculpture of the Flemish lion holding aloft the Flemish coat of arms. Both the lion and the coat of arms are symbol of the Flemish national movement, which has long struggled for recognition and autonomy within Belgium. Not far away is a single, old-fashioned streetlamp with twin lanterns atop a tall wrought iron pole. At first glance, it seemed out of place, incongruous even. But then I read the brass plaque embedded into the paving stones: "The streetlights on Sint-Veerleplein are connected to the maternity hospitals in the city of Ghent. Every time the light slowly flashes, a child is born. This work is dedicated to the newborn and to all children who are born today in this city."
I stood there a while, hoping that the light would come on, but nothing happened. Later that afternoon, I was looking down upon Sint Veerleplein Square from the ramparts of Gravensteen Castle when I noticed a wee flash of the lantern. I grinned and wondered whether it was a boy or a girl. I also wondered how many tourists had walked over the plaque without reading it, and thus had no idea that a new soul had just arrived in the world.