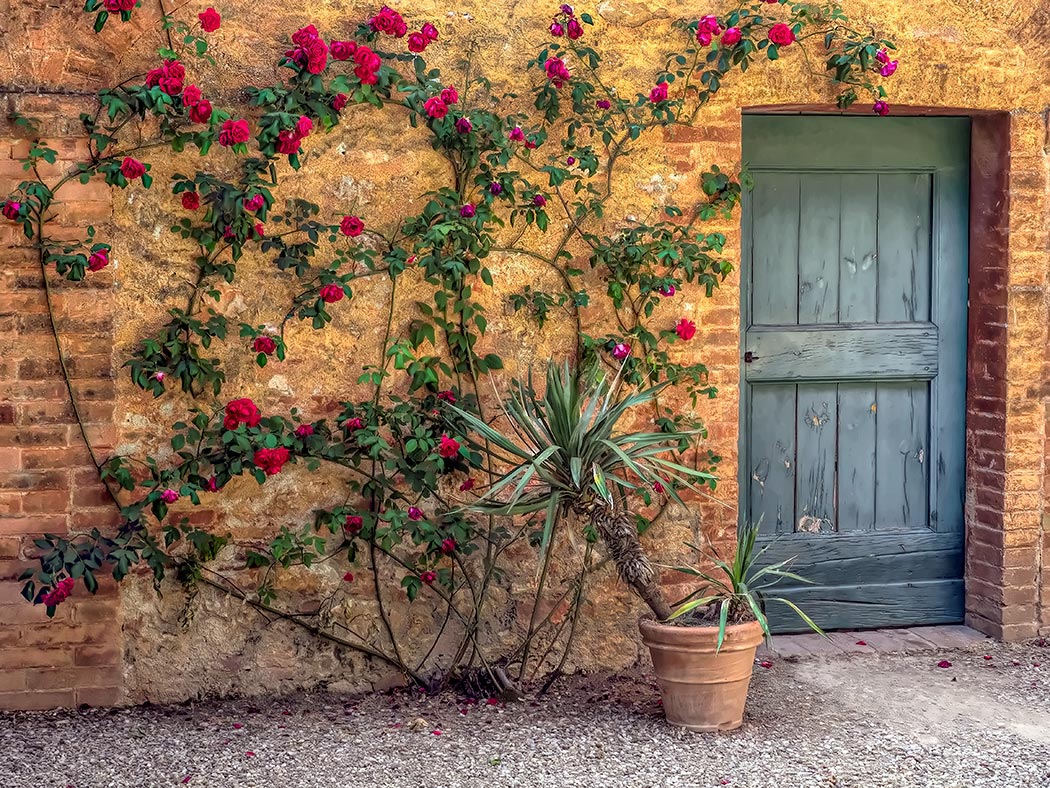 Roses climb a wall at Montestigliano holiday farmhouse in Tuscany, which offers stays at an authentic working farm in the Italian countryside. One of the joys of staying at this Tuscan retreat in Siena was exploring the grounds. The terrace below Casa Luisa, the gorgeous restored palazzo where I stayed, was perfect for watching the sunrise. On the opposite side of the hilltop estate, sling lounge chairs in the spice garden caught the last golden rays of the sun before it dipped behind the hills.
Each day I headed in a different direction. Uphill from the estate, rock-strewn trails pierced ancient rows of Cypress trees. On the downhill side, grassy paths led through fields of gray-green olive trees to an ancient well. The passage through the olive grove is a particular favorite with brides and grooms who get married at Montestigliano. Not only is it an elegant setting surrounded by the beauty of nature, it also leads past a palace where ivy growing on the walls has been pruned into the shape of a giant heart. In blissfully lazy moments, I lounged at one of two swimming pools. And everywhere, I was surrounded by lush greenery and exuberant blossoms like the roses on this brick wall. My stay was far too short.
Author's note: I was a guest of Montestigliano Farm Holidays during my stay in Tuscany. However, the receipt and acceptance of complimentary items or services will never influence the content, topics, or posts in this blog. I write the truth, the whole truth, and nothing but the truth.