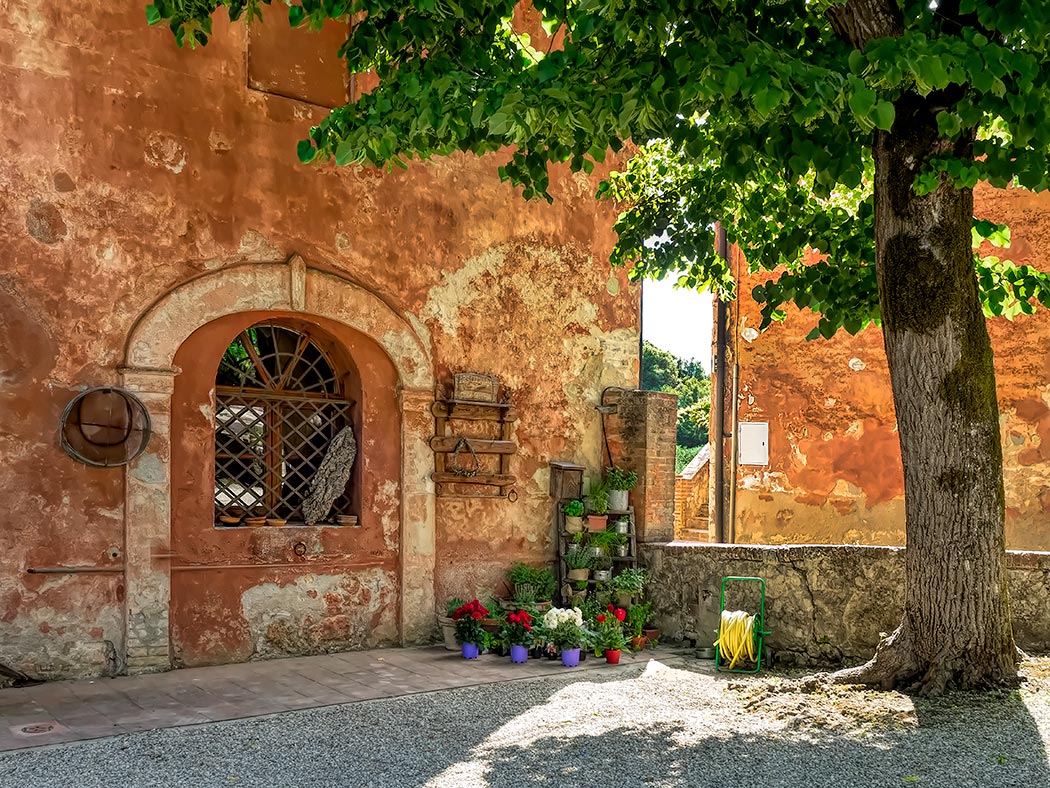 A centuries-old palace at Montestigliano luxury holiday farm in Tuscany, Italy, is drenched in shades of gold and burnt orange under the setting sun. Visiting the hilltop towns of Tuscany has almost become cliché, and many of the region's most popular destinations are overcrowded with tourists. However, there are still ways to have an authentic Tuscan experience, and Montestigliano Farm Holidays is one of the best. My stay at this 2,500 hectare working farm was a combination of pure relaxation and fascinating cultural experiences, the highlight of which were the communal open-air dinners held in this gorgeous courtyard.
Each evening, workers prepared meals in an antique wood stove inside the building shown in the above photo. My favorite was Pizza night, when the Pizzaiolo (pizza maker) prepared pizzas a dozen different ways. Of course, there was a traditional Quatro Formaggi (four cheese) variety. The next one to appear was topped with a mound of roasted vegetables. Fresh arugula, cherry tomatoes drizzled with virgin olive oil, and thinly sliced Carpaccio was mounded on a third. I thought that would be the end of it but no…the pizzas kept arriving until we begged the Pizzaiolo to stop. Even then, he insisted we try his dessert pizzas: one was topped with fresh fruit and the other (my absolute favorite of the night) was slathered in Nutella and topped with a layer of candied orange slices.
Author's note: I was a guest of Montestigliano Farm Holidays during my stay in Tuscany. However, the receipt and acceptance of complimentary items or services will never influence the content, topics, or posts in this blog. I write the truth, the whole truth, and nothing but the truth.