Had I not been on a mission to visit every country in Europe I surely would have bypassed the tiny Principality of Liechtenstein. But I needed it to complete my list, so I decided to ride the Bernina Express train up and over the Alps to Chur, Switzerland. On the map, just a few miles separated Chur from the Liechtenstein border. From there, I figured it would be a breeze to hop over to the capital of Vaduz.
I spent the next couple of evenings scouring the Internet for ways to get there. I could take the train to either Sagens or Buchs, Switzerland, then catch a bus into Vaduz. Alternatively, I could stay in one of the Swiss towns and visit Vaduz on a day trip, but given the sky high prices in Switzerland, I was anxious to leave. Unfortunately, when I searched for accommodations in Vaduz, the least expensive option was a hotel room for $150 per night. Yikes!
I threw myself on the mercy of the sympathetic manager of the Post Hotel in Chur. "There are not many hotels in Vaduz, so they're expensive. Have you thought about going to Feldkirch instead?" Back to the laptop I went. I learned that Feldkirch is a small village in Austria, located less than two miles east of Liechtenstein. Buses run every 10 minutes to Vaduz and take only 30 minutes to get there. Even better, I found a room in a historic hotel near Feldkirch's historic city center for $50, including breakfast.
The next morning I set off for Austria. Two trains and one hour later, I was in Feldkirch. After checking into my hotel I walked two blocks to the main bus station and caught a bus to Vaduz. I opened my wallet to pay, but the driver just smiled and waved me on. I had arrived on August 15th, National Day in Liechtenstein, and bus rides were free all day.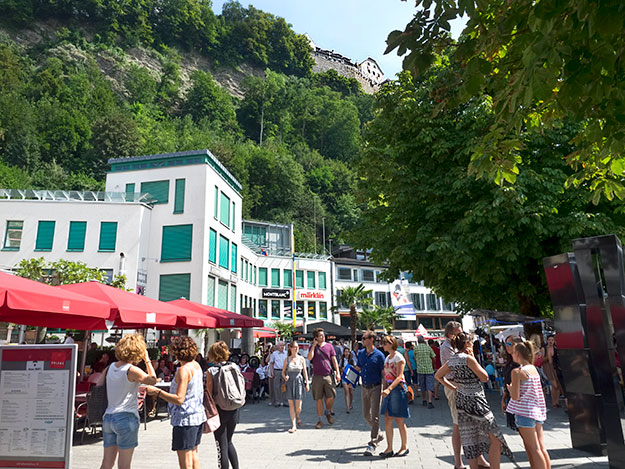 Words can hardly do justice to the staggering scenery along the bus route. Rugged mountains rose vertically from both sides of the narrow valley through which we rode. The lush green bottom land was dotted with farm houses, black and white spotted cows, and giant bales of hay. Green-black pine forests on the lower slopes quickly gave way to bald gray stone. Even in mid-August, patches of snow were visible on the craggy peaks.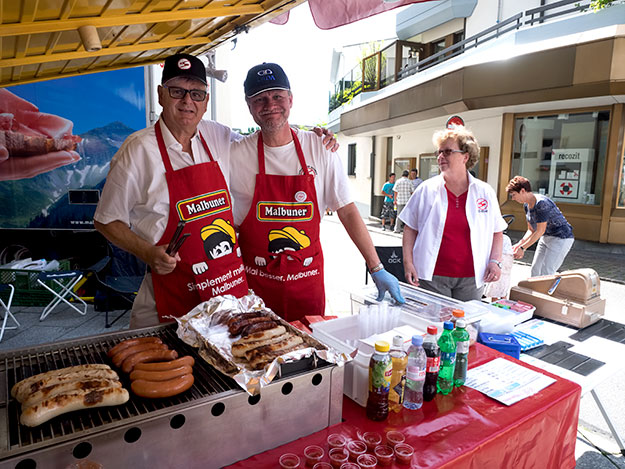 Once we'd crossed the Austrian/Liechtenstein border, the bus began to fill up with locals, all bound for the festivities in Vaduz. The holiday is a combined celebration of the Feast of the Assumption and the birthday of Prince Franz-Josef II, who was an extremely popular sovereign. He was the first ruling prince to live full-time in the Principality and was largely responsible for changing Liechtenstein from an agricultural backwater into one of the richest countries in the world. After his death in November 1989, the celebration assumed even more importance. Today it draws visitors from all over the world.
I'd read that Vaduz (pronounced VAH-dootz) is so small that it is possible to walk from one end to the other in 20 minutes. Not so, however, on National Day. The city's two main streets had been turned into a pedestrian mall, filled with stands selling trinkets and every imaginable kind of food. Five stages set up around the city offered live performances of Salsa, electronic, regional, folk, pop, and rock and roll music. Family entertainment included clowns, hula hoop workshops, and music for kids.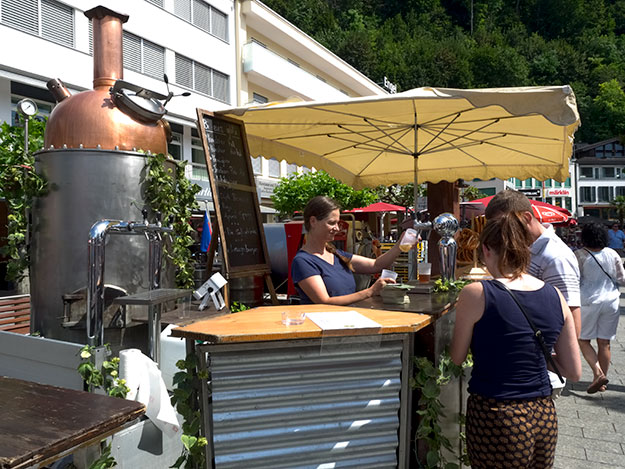 I wandered without a plan, stopping to enjoy music performances here and there, and popped into an open-air cafe for lunch. Having just arrived from expensive Switzerland, I was pleasantly surprised to find prices in Liechtenstein to be extremely affordable. I suddenly realized that the high hotel prices I'd seen reflected demand during one of the most important holidays of the year.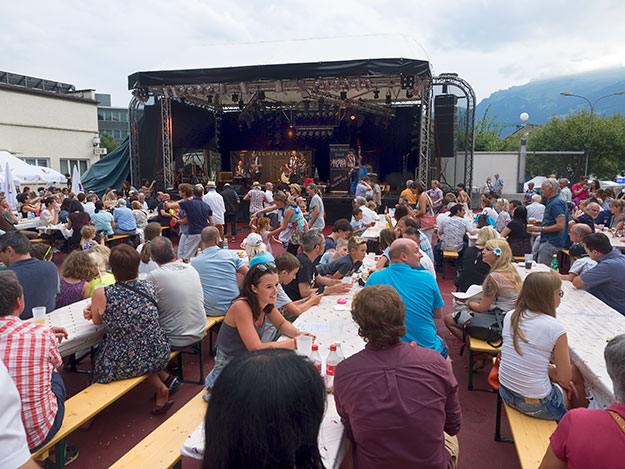 When I'd finally had my fill of crowds I hiked the trail up to Vaduz Castle. Prince Hans-Adam II, son of Franz-Josef II, lives in the castle, thus it is not open to the public. However the grounds are free to roam and its location on a rocky ridge directly above the town provides stupendous views to the valley below. I lingered a while, enjoying the cool breeze and watching people scurrying around like ants down below, but when dusk fell I headed back to Feldkirch. For free, of course.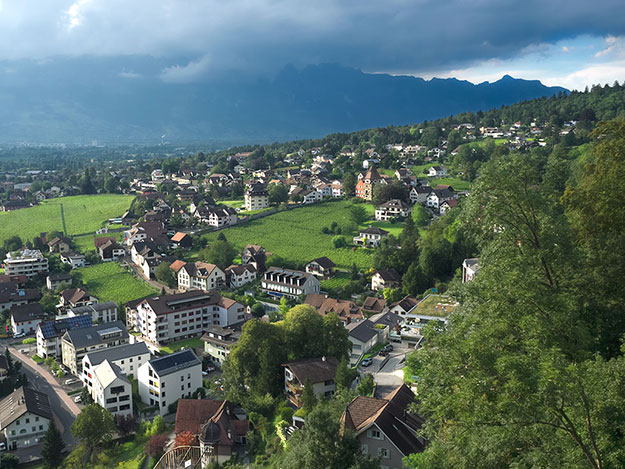 Between my train rides up the west coast of Liechtenstein and the bus trips from Feldkirch, I'd traveled through and around more than half of the country. But best of all was the opportunity to experience it during National Day, when Liechtensteiners flooded the streets to celebrate their tiny, but very intriguing country.