Of all the Irish cities I visited this spring, it was Galway that most captured my heart. It's small enough to be walkable, has a quirky Latin Quarter, plenty of history, lovely parks, and a fantastic waterfront. But what most impressed me was the music in Galway. It poured from every pub, and street musicians seemed to be performing on every other corner.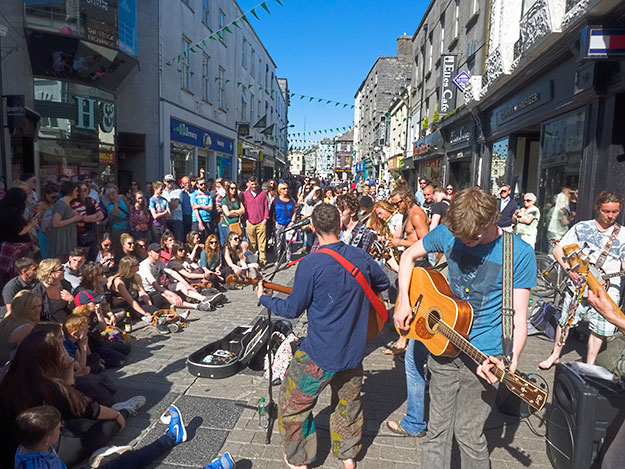 Early in the day my friend, Val, and I stopped into Tigh Fox Trad House Pub. Luckily, we arrived during a demonstration of Irish Step Dancing, performed by one of their servers. Still following the sound of music, we walked through the Spanish Arch. On a small plaza on the shores of the River Carrib, people were practicing the Tango. In the Latin Quarter, we stumbled upon the fantastic Galway Street Band, a motley collection of musicians who obviously played for the joy of it. The group included musicians young and old, male and female, and instruments ranging from guitars to washboards. It seemed anyone who could play an instrument was welcome to join in. They drew such a large crowd that the street was almost immediately impassable, but no one seemed to mind.
In the evening we returned to Tigh Fox Trad House Pub to have a bite while local musicians performed traditional Irish tunes. Like the street musicians, they weren't being paid, nor did they ask for donations. They just played and sang for the love of it. Much as I hated to leave, we had reservations miles away that same night, so we tore ourselves away around 7 p.m. On the way to the parking garage, almost every person we passed was carrying a musical instrument of some sort. I was astonished! I could definitely spend a lot more time in this fascinating city. With so many things to see and do in Galway, it's on my short list of places that deserve a return visit.