The stunning scenery along Ireland's Wild Atlantic Way is so forcefully etched on my memory that I can close my eyes and see it still. Unshorn sheep, fat like giant cotton balls, meander across green-carpeted bluffs. Waves smash at the feet of precipitous cliffs, while thousands of seabirds whirl and screech above. I can almost smell fresh salt air wafting up from remote coves where turquoise seas lap on alabaster beaches. History adds another dimension. Ancient religious buildings, burial mounds, beehive huts built of unmortared stone, and cottages that tell heart-wrenching tales of the potato famine combine with the natural beauty to make the Wild Atlantic Way Ireland's most remarkable self-guiding tour.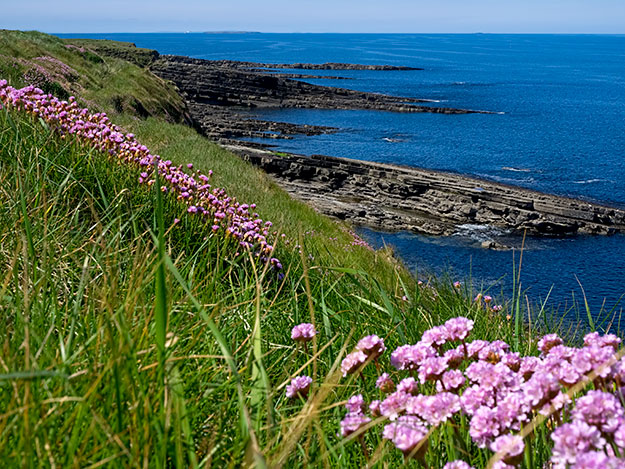 Stretching more than 1,500 miles along the west coast of Ireland, this longest defined coastal route in the world has been inspiration for more than the likes of me. John Lennon was so inspired by it that he bought the island of Dorninish, located just 15 minutes off the coast. Nobel laureate William Butler Yeats drew inspiration for his lyrical poems from the landscapes of Western Ireland. Of the island in Lough Gill, near the town of Sligo, Ireland, Keats wrote:
I will arise and go now, and go to Innisfree,
And a small cabin build there, of clay and wattles made:
Nine bean-rows will I have there, a hive for the honey-bee;
And live alone in the bee-loud glade.
And I shall have some peace there, for peace comes dropping slow,
Dropping from the veils of the morning to where the cricket sings;
There midnight's all a glimmer, and noon a purple glow,
And evening full of the linnet's wings.
I will arise and go now, for always night and day
I hear lake water lapping with low sounds by the shore;
While I stand on the roadway, or on the pavements grey,
I hear it in the deep heart's core.
(The Lake Isle of Innisfree, W.B. Yeats)
Yeats was buried in France, but on his deathbed he begged his wife, "If I die bury me up there [at Roquebrune] and then in a year's time when the newspapers have forgotten me, dig me up and plant me in Sligo." His wish was granted. Like many literary pilgrims before me I stood beside his grave in the churchyard in Drumcliffe and paid my respects.
Our journey along the Wild Atlantic Way began in the southern town of Cork. After a visit to the Titanic's last port of call in Cobh and an obligatory stop at Blarney Castle, my friend Valerie and I headed southwest toward some of Ireland's most jaw-dropping scenery. With so much to see and do in Killarney, had been on our wish list, as had been the town of Skibbereen and the Beara Peninsula. But we found ourselves diverted again and again by historic sites and Ireland's spectacular scenery. It soon became obvious that we couldn't see everything in just 17 days, so we decided to focus on the Ring of Kerry and the Dingle Peninsula.
In Kenmare, we were lured out of the car by the town's multi-hued shopfronts and a street market. We strolled down a lane that might have come out of a 19th century lithograph, complete with old row cottages and a wooden steeple in the background. At the end of the road stood the Kenmare Stone Circle, a low mound where 15 stones are arranged in a circle around a massive center stone.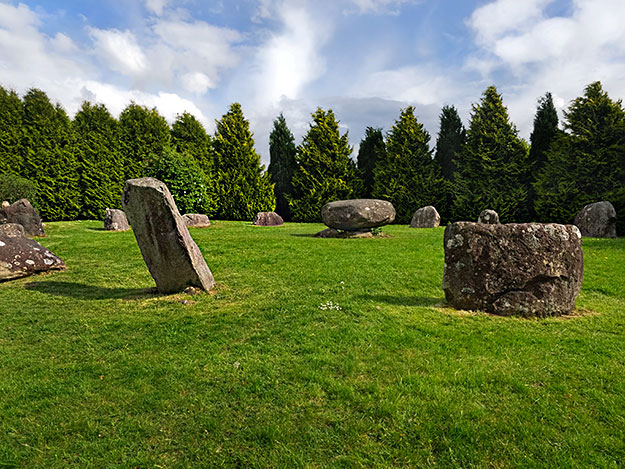 The purpose of this 3,000-year old monument is unknown. It may have been used by Druid priests during their rituals, hence the local's name of "The Druid's Circle." Others speculate that it was a primitive calendar or a burial site. Whatever its purpose, I felt a throbbing energy the moment I stepped inside the circle. Curious, I placed my hands on the center stone. The rock tingled, as if a low electrical wattage ran through it. Even the rocks themselves are mysterious. They are carved from varieties of greenstone and brownstone that are not available locally. Whomever built it hauled these stones from a site several miles away.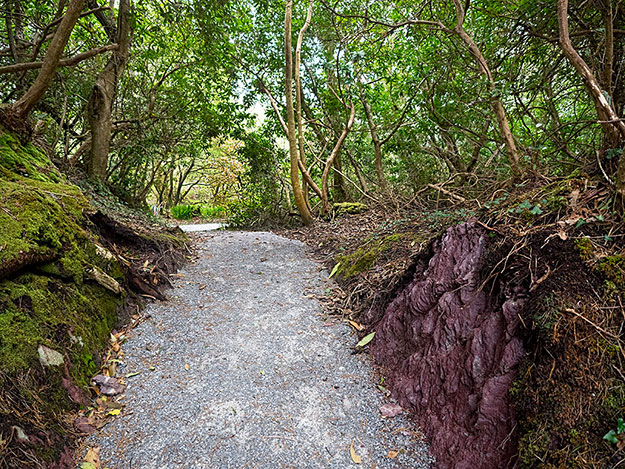 We hoped to make it to the Skellig Ring on the far western tip of the Kerry Peninsula, but halfway there, our curiosity was drawn to a sign for Parknasilla Resort. What started as a quick stop to check out the view from their terrace became an overnight stay when we saw the resort's hiking trails. Soon we were snuggled into overstuffed chairs in front of a cozy fire in the lounge, where guests took turn playing a grand piano. The following morning we were rewarded with up-close views of seals frolicking in the sea and a wonderland maritime forest where eerie purple rocks bracketed the trail.
By late morning we were on our way to the town of Dingle. If the Kerry Peninsula had been pretty, the Dingle Peninsula was spectacular. From the infinite expanse of Inch Beach to windswept headlands thrusting into the North Atlantic, every inch was breathtaking. Beyond the scenery, the history of Ireland's devastating potato famine was remarkably illustrated at Slea Head Famine Cottages, and the Blasket Island Center provided a fascinating glimpse into the lives of those who lived on the remote islands until their evacuation in 1953.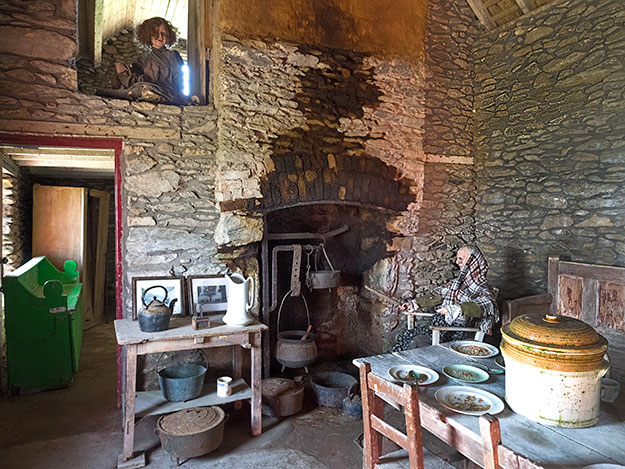 Tired and famished, we pulled into a hilltop cafe and settled into rocking chairs in the front yard. I savored every bite of my scone with jam and clotted cream, while drinking in the magnificent panorama of Coumeenoole Bay and Dunmore Head that spread below us. I might have stayed forever, had there not been so much more of Ireland to see.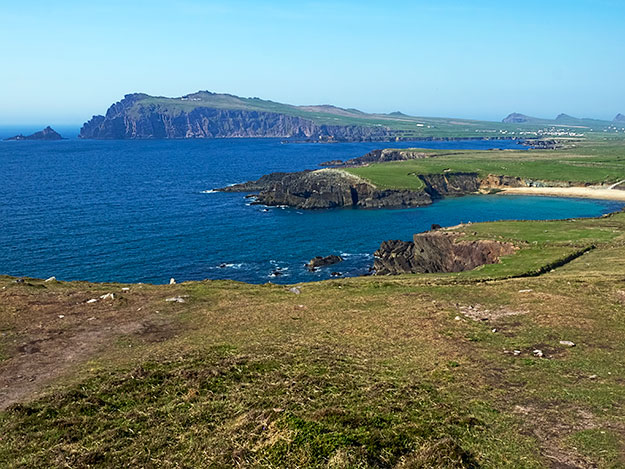 The following morning we crossed over to County Clare by car ferry, bound for the Cliffs of Moher. Considered to be one of the major sights along the Wild Atlantic Way, these soaring sea cliffs are home to an estimated 300,000 nesting sea birds. Among the more than 20 species that call the jagged shale and sandstone formations home, perhaps the most famous is the Atlantic Puffin. Each year, these ungainly orange-beaked birds return to the Cliffs of Moher, where they dig a burrow and lay a single white egg. About six weeks after hatching, the chicks swim off one night and stay at sea for the next several years. Once the chicks have fledged, the adult Puffins also depart en masse for the open ocean. Val and I were disappointed to learn that the Puffins had left three days before we arrived.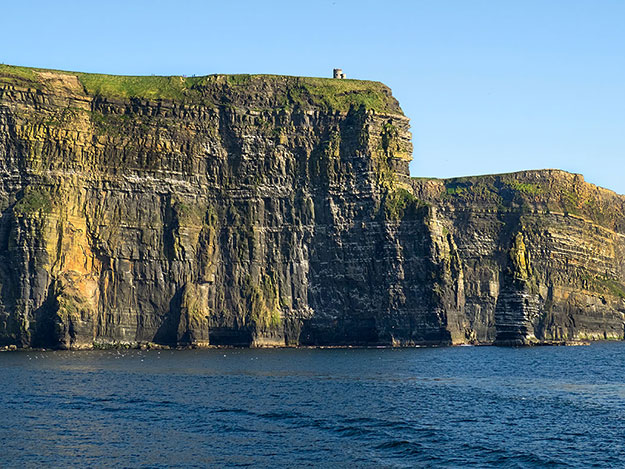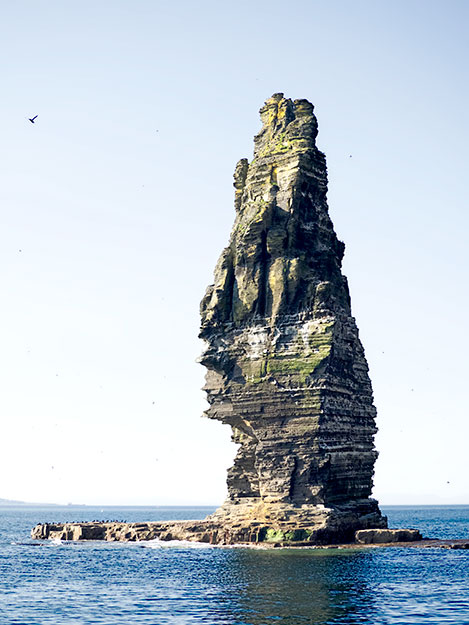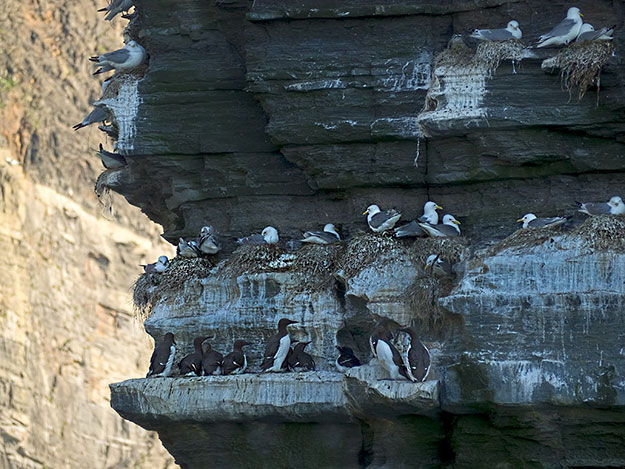 Still, there were many other species to see, so we caught the last tour boat of the day out of Doolin. We cruised beneath 700-foot high cliffs sculpted by wind and water into fantastic shapes. At the heart of the nesting area our boat made a 360-degree circuit of a sea-stack that stands just off the mainland. Out of the reach of humans, this soaring pinnacle is a sanctuary for Guillemot, Razorbill, Kittiwake, and Fulmar. Even some endangered species, like Choughs, make these cliffs their year round home. We were chugging back to port when the man next to me pointed excitedly out to sea. "Puffins!" The three fat black and white birds were paddling away, but their chunky orange bills marked them as undeniably Puffins.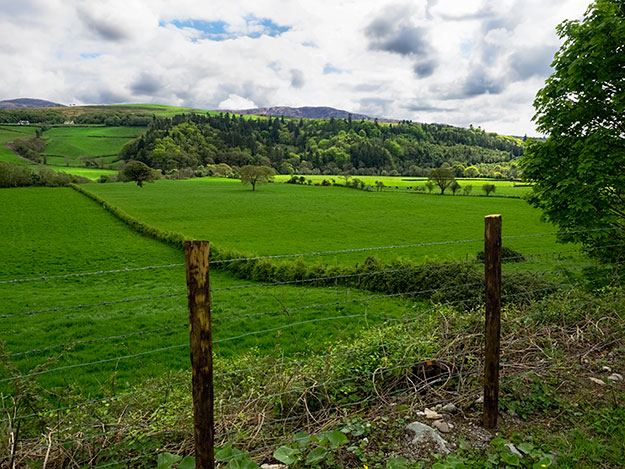 Val and I had arrived in Ireland with few plans and the will to wander. In two weeks, we barely scratched the surface, but whether by luck or chance, we were fortunate to spend most of it exploring the Wild Atlantic Way. It made me fall in love with the Gaellic landscape and culture and realize that I could spend a lifetime and still not see all that Ireland has to offer.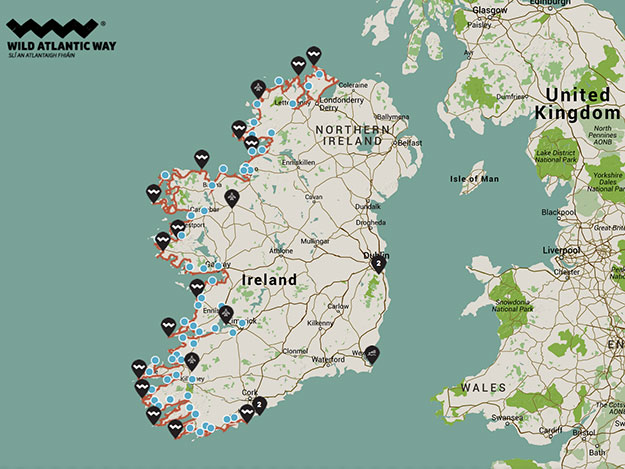 Author's note: The west coast of Ireland has so much to offer that visitors will find the choices mind boggling. However, a good place to start is the official website.