The sun was setting when our tour boat arrived at an area of Inle Lake frequented by the famous one-legged fishermen of Myanmar. We drifted up to a young man in a grey and red track suit who was balancing on the front tip of his flat-bottom boat. From his birds-eye perch, he navigated through dense vegetation in the shallow lake, using a paddle strapped to his other leg as the only means of propulsion. Using his free hands, he pulled a gossamer net into the boat, pausing only to retrieve tiny fish that had become tangled in the netting.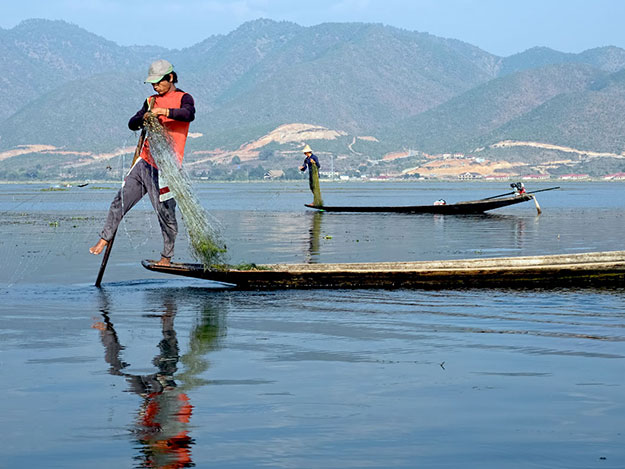 The fishermen of Inle Lake have been perfecting this remarkable feat of balance over generations. Unfortunately, the lake itself is teetering on the brink of imbalance. It has always experienced severe fluctuations in depth over the course of each year. During the dry season, the lake ranges from 7-12 feet deep, but summer monsoons can increase the depth to as much as 17 feet. The surface area of the lake also expands significantly during the rainy season, as flooding inundates surrounding low-lying lands.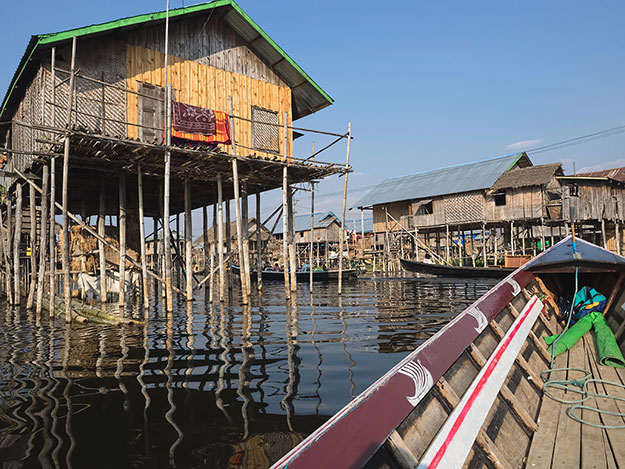 Over the past few years, this bust and boom cycle has become even more pronounced. Changing weather patterns produced less rain, resulting in even lower water levels. The surface of the lake has reportedly shrunk from 104 square miles in 1934 to its current 44.9 square miles. Less surface size and depth means warmer water temperatures, which negatively impacts the reproductive cycle of fish. In recent years, fishermen have been finding it increasingly difficult to survive on their daily catch, yet they continue to take fish of any size, even during spawning season. At the same time, tons of silt laden with chemicals from fertilizer flow into the lake each year from slash and burn farm operations along the shore, as well as floating gardens on the lake. In 2010, all these factors combined with extremely high summer temperatures to create a perfect storm; the lake nearly disappeared during the dry season.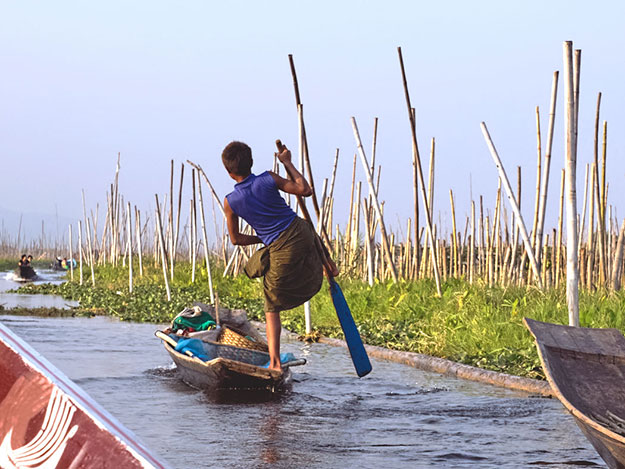 Though the majority of area residents are fishermen and subsistence farmers, they are hardly the only ones affected. Inle Lake is home to an estimated 400,000 people, nearly half of which live on the lake in homes of wood and woven bamboo mats, perched on stilts that soar high above the water. In addition to individual homes, floating communities include general stores, restaurants, monasteries, and even a series of traditional handicraft businesses that produce silk textiles and silver jewelry. Without intervention, Inle Lake's unique way of life was on a path to disappearing.
Fortunately, progress is being made toward reversing the trend. Since 2012, Norway has collaborated with the United Nations Development Programme (UNDP) on the preservation of Inle Lake. Currently, UNDP is implementing the Inle Lake Rehabilitation and Conservation project with the financial support of the Government of Norway. Partly as a result of this collaboration, UNESCO declared Inle Lake a Man and Biosphere Reserve in June 2015.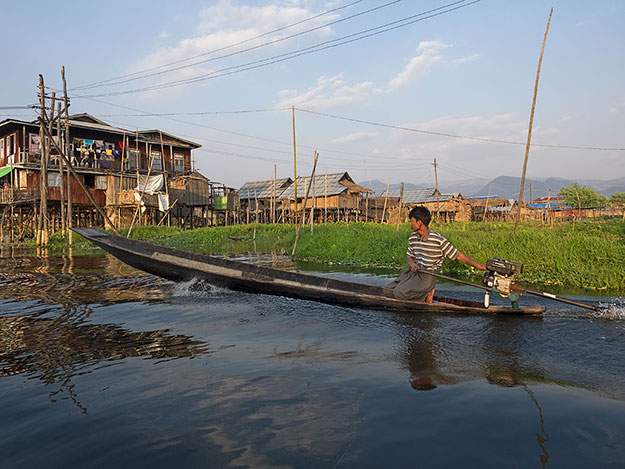 Perhaps crucial to the turnaround will be proper management of tourism, which has seen strong growth since Myanmar emerged from its military dictatorship in 2011. From 30,000 visitors in 2011, the number grew to more than 93,000 in 2013, and each year attracts greater numbers. Inlay Lake Conservation Project: A Plan for the Future, a report released in November 2012 and developed with funding from Norway, pointed out that increased tourism would generate new income but could also have serious environmental consequences for the already-stressed lake. The challenge, as the fishermen of Inle Lake have known forever, will be in finding the proper balance.
Author's note: Getting around Myanmar can be a challenge, especially when trying to reach more remote locations. For more information, check out this article on the best way to get from Yangon to Inle Lake, Myanmar.
Disclosure: Viking River Cruises sponsored me on their Myanmar Explorer cruise/tour however the receipt and acceptance of complimentary items or services will never influence the content, topics, or posts in this blog. I write the truth, the whole truth, and nothing but the truth.