I explained why I don't like living in the U.S. anymore to the manager of Hostel Val in Piran: the work, work, work; money, money, money; buy, buy, buy mentality that has become so pervasive in American culture. She reflected on my comment for a moment before replying, "But it is becoming the same for us."
Later, after dealing with a sneering woman in the Slovenia tourism office, who might as well have thrown brochures at me, I fled to a place in this enchantingly beautiful village where I knew I could find friendly people: Pirat Restaurant. In a lull moment, the owner  asked how I was enjoying my stay in Piran. Sadly, I had to say that I was disturbed by the unwelcoming attitude and indifference I had experienced from most of the tourism offices around the country. He grimaced and set down his tray on my table. "Life here used to be different," he explained.  "We did not have a lot, but we had enough. And we enjoyed life. Now we are a tourist destination and we must work much harder. We have less free time, less time to be with friends and enjoy life."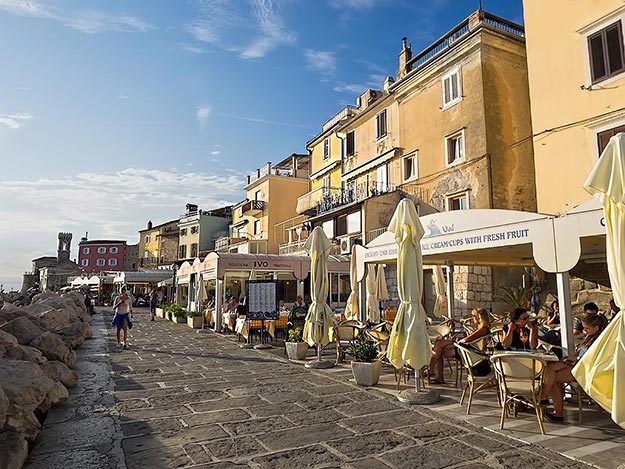 The town of Piran, on the cost of Slovenia, was my final stop on a two-and-a-half week of tour of Slovenia. I had begun in the eastern part of the country, in the village of Ptuj (pronounced Pah-TOO-ee), an ancient town on the Amber Trading Route, where cobblestone streets spiral uphill to an historic castle that has withstood untold sieges over the centuries. I'd chosen Ptuj rather than nearby Maribor, the second largest city in Slovenia, after more than three weeks of waiting, unsuccessfully, for a reply from any of three tourism officials I'd emailed. I wasn't asking for free accommodations, meals, or transportation. I simply asked for their assistance in planning a concise itinerary around the country, as I had only 17 remaining days in the Schengen Zone, of which Slovenia is a member. I just didn't want to miss anything important.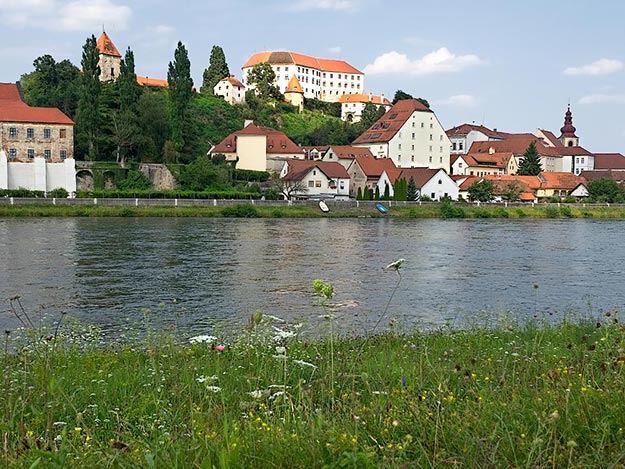 My email was forwarded around to different agencies, and replies trickled in with apologies that this or that person had been on vacation, but I received no answers to my question. I followed up, and subsequent emails made suggestions for high priced resorts, located in areas that would have been difficult to access without a car (I had made it clear that public transportation would be my only option). When I pointed this out in my replies, it was suggested that I deal with the local offices once I arrived.
The problem was getting to these places to begin with. When I expressed interest in making a day trip from Ptuj to Maribor, the woman at the Maribor tourism office sent me the link to the website for the local bus company. I typed Ptuj in the "From" box, and was presented with more than 20 choices for bus stops around the town. Ditto for Maribor, which offered more than 30 stops. I had no way of knowing which to choose, and no map was available, so I started trying different combinations, to no avail.
I finally gave up on the Maribor contact when she suggested I do the search backward, from Maribor to Ptuj, in order to figure out what stops to choose. Thoroughly disgusted, I turned for help to the owner of Hostel Sonce, where I was staying. I felt much better when she also couldn't figure it out, not even on the Slovenian version! It all worked out in the end, but only because the tremendously kind owner of Hostel Sonce invited me to go to Maribor with her one day, and spent hours showing me around.
I was faced with similar challenges when it was time to travel from Ptuj to the capital, Ljubljana. The only direct train to Ljubljana arrived after dark, something I never do when visiting a city for the first time. All other trains required two transfers to travel 80 miles! Buses were even worse; not a single bus runs directly from Ptuj to Ljubljana. Again the Hostel Sonce angels came to my rescue, driving me to the train station and explaining to the ticket agent that I wanted to make as few changes as possible but still arrive during daylight hours. She sold me a ticket that required one change of trains, in Pragersko, where I picked up the EC train traveling between Vienna and Ljubljana. This train, though it makes the trip daily, is not shown on any Slovenian train schedule because it does not originate and end in Slovenia.
The extent of kindness I was shown by the people of Slovenia was remarkable. In Ljubljana, when I asked the bartender at Slamic B&B if they had any Elderflower drinks, he apologized that they didn't, but the next day he brought me a bottle of Elderflower nectar he'd made at home. In Lake Bled, when nausea forced me to get off the bus and stay the night, the owner of a local B&B went out of her way to make sure I was comfortable, and the next morning helped me figure out how to hike stunning Vintgar Gorge. In Piran, the owner of Pirat Restaurant refused to charge me full price, insisting I was already part of the family, and introduced me to a fellow ex-pat from the Chicago area who, with his lovely wife Sassi, later met me for a fascinating five-hour lunch.
By the time I left Piran on a bus bound for Croatia, I was conflicted about Slovenia. Did I like it or didn't I? Would I come back? I was pondering these questions as we arrived at the border. I handed my passport over to the immigration official and remarked that because I am an American, I needed to be very sure I got stamped out of the Schengen Zone.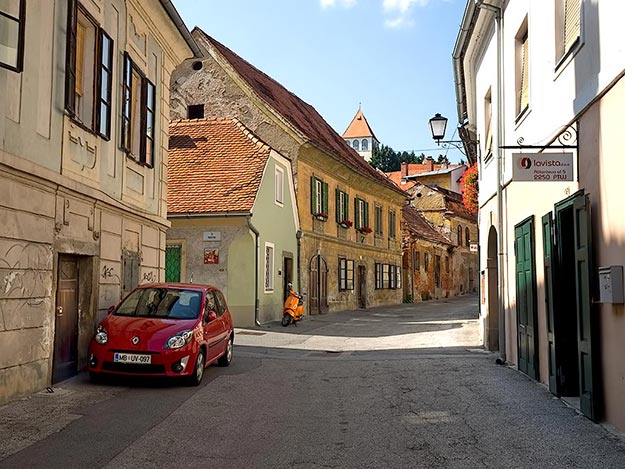 For anyone planning extensive travel in Europe, understanding Schengen is critical. Largely equivalent to the European Union (EU), which was created to facilitate trade, the Schengen Zone is a second layer that was later added to provide for ease of crossing borders. Prior to Schengen, travelers had to obtain a visa upon entry into every European country. After Schengen, the border controls between member countries disappeared. Americans (as well Canadians, Mexicans, Australians, and many others) obtain a stamp in their passport when they enter the first Schengen country, after which they can pass freely between any of the 26 member countries with no border stops.
The problem occurs because Americans are only allowed to stay in Schengen countries a total of 90 days out of every 180. That does not mean I can leave for a day and come back in for another 90. It means that once I have been in the Schengen Zone for 90 days, I must stay out of any Schengen country for the next 90 days.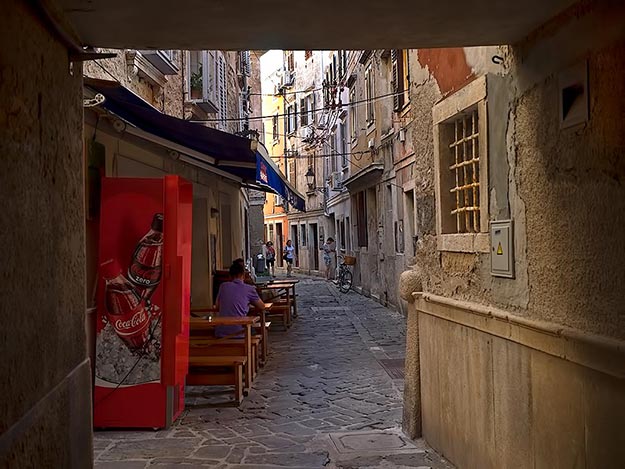 Complicating matters even more, some members of the EU are not Schengen (England, Ireland, Croatia, Bulgaria, and Romania, for example), while some non-EU countries have opted in to Schengen (Norway, Iceland, Switzerland). That means I must carefully count my days in Schengen so that I don't accidentally overstay, and the regulations make it very clear that it is my responsibility to make sure I get a stamp in my passport upon entry and a stamp out when I leave Schengen. Thus my remark to the border official.
He climbed back on the bus a little while later and returned passports to all the other passengers, leaving mine for last. With my passport clutched in his hot little he hand, he demanded, "Where are you going? "To Rovinj," I answered. "When are you leaving?" Now I was confused. I was at the border, about to leave Slovenia. Perhaps he meant the EU? I shrugged and said, "I don't know; I'm just traveling around Europe." He pushed the issue. "You do not have many days left." "Yes, I know. Today is my 77th day in Schengen. I entered Netherlands on May 20…" He cut me off in mid sentence. "Yes, and you went to Ukraine and came back into Hungary the same day. You have only 13 days left." Now I was aggravated. He was making sure I knew that he'd examined my passport closely, and being completely passive-aggressive about it. "That's why I'm going to Croatia, which is NOT Schengen," I said sharply. When he repeated one last time that I had only 13 days left, I was tempted to tell him I knew how to count, and that if Schengen countries wanted me out so badly, I'd be very happy to spend my money in more welcoming countries. But I held my tongue, knowing that a petty official with too much power and too few brains could cause me grief.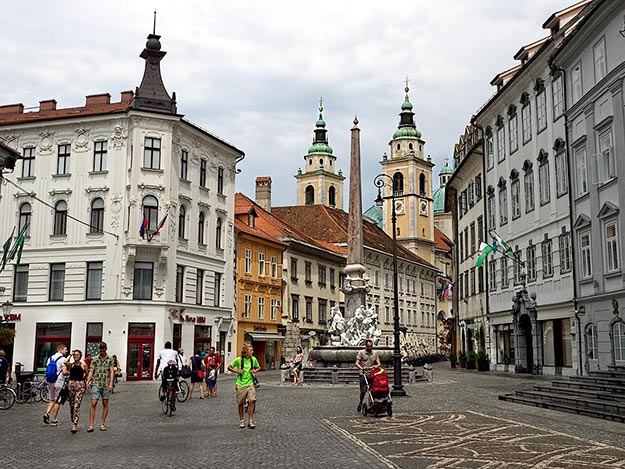 Even so, the whole incident worried me. Croatia joined the EU a couple of years ago and was scheduled to join Schengen in June of this year, but their application was delayed until June of 2016, because EU members are concerned that Croatia's borders are not yet secure enough. But it had been a couple of months since I checked. I was worried something had changed in the interim, so once I was settled in my rental apartment in Rovinj, Croatia I stopped by the local police station.
I explained the situation to the officers and asked if Croatia was Schengen. "You are American?" I nodded. "When did you arrive?" I told them I'd just gotten off the bus from Slovenia. "Ever been here before?" I said it was my first time ever in Croatia. "Don't worry, don't worry! Croatia is not Schengen. You can stay here 90 days out of every 180 days. Have a good time in our country." And with that, they smiled and waved me out of their office.
My next stop was the local tourist office to get a map and find out what was happening around town. Not only was I provided with a selection of brochures, the woman who assisted me spent 15 minutes describing things to see and events to attend in Rovinj. So, back to my conundrum. Am I glad I visited Slovenia? Absolutely. It's a beautiful country. Will I ever go back? Let's just say it wouldn't be my first choice.