His real name is José Fuster, but in the hood he's known as the "Picasso del Caribe." It was easy to see how he got the nickname Picasso of the Caribbean. From the top floor of Proyecto Fuster, I gaped at acre upon acre of art that Fuster had created, using millions of multi-colored ceramic shards.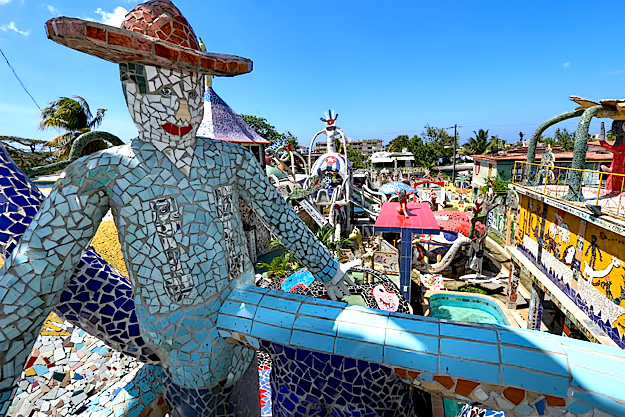 As a young man, Fuster had studied the work of Picasso, Gaudí, and other contemporary artists in Europe. Upon returning to Cuba he bought a small wooden house on the outskirts of Havana to use as his studio, and began transforming it into one colossal work of art. Today, every inch of the walls, columns, benches, and even the roofs within the compound are covered in mosaic scenes that, more often than not, depict the peasant life he knew as a child. A giant sombrero-wearing campesino looms over roosters, fishermen, palm trees, and scenes from Santaria religious ceremonies. Whimsical giraffes mingle with stick figures that resemble Navajo gods.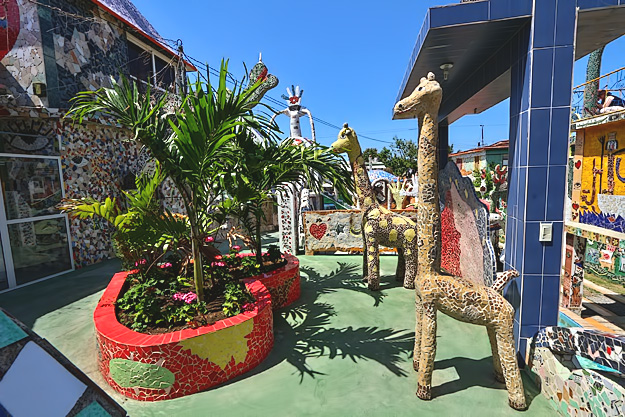 When Fuster ran out of space inside the compound, he moved into the neighborhood, gradually winning permission to decorate the homes of more than 80 of his neighbors with his unique brand of Cuban art. In the early years, some accused him of creating a monument to himself, but Fuster is quick to point out that he has used money from the sale of his paintings and sculptures to turn what was an impoverished fishing village into an international art destination. These days there is little grumbling from residents, who have a new-found pride in their community.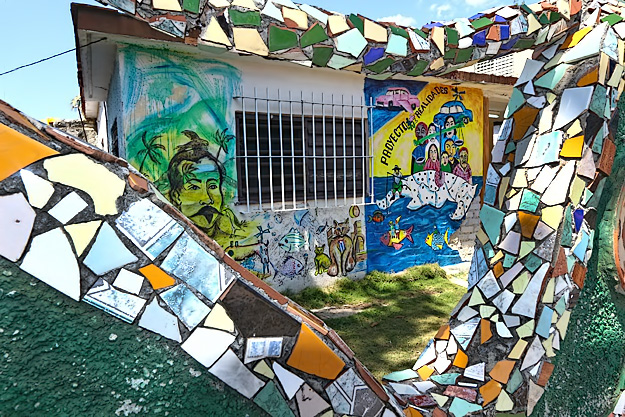 Muraleando, another grassroots community project, has used art to transform a blighted, apathetic barrio on the outskirts of Havana. In 2001, local artists Manuel Díaz Baldrich and Ernesto Quirch Paz bgan teaching kids how to paint murals. Before long, murals began appearing along the main streets. Sculptors added their touch, creating art out of trash they scavenged from the piles of junk strewn throughout the neighborhood. Today the garbage is gone and apathy has been replaced by a tight-knit community that hosts a block party every six weeks, providing a stage for artists, poets, dancers, singers, musicians, and actors to perform and display.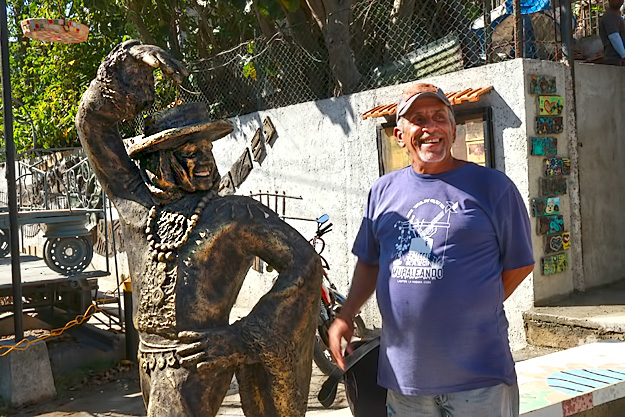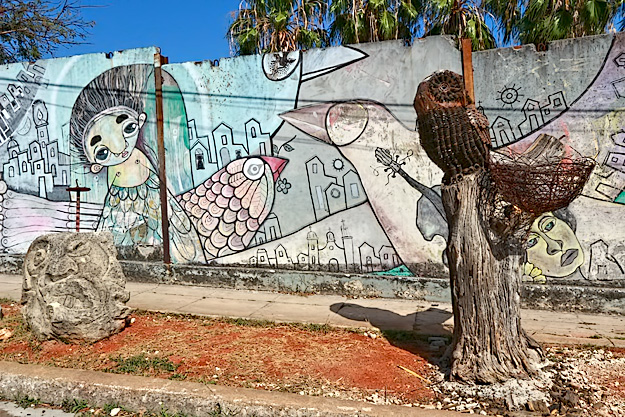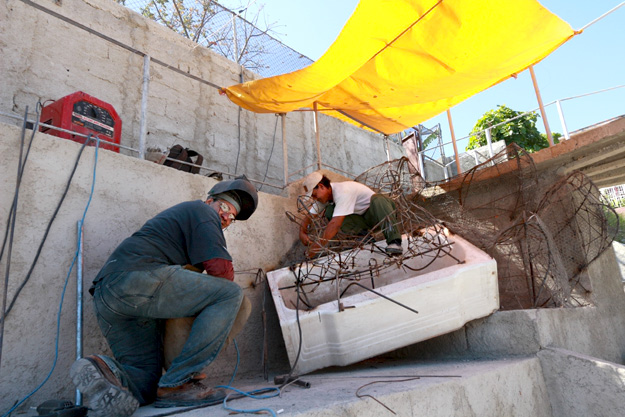 In the small colonial town of Cienfuegos, artist Santiago Hermes Martínez welcomed us to the Trazos Libres cultural project that he founded in 2009. I eyed him warily, keeping my distance as he roamed, palette in hand, searching for face painting victims. Cannily, he trapped me in a corner and drew tiny circles in the air with his brush, seeking my permission. I relented. "Si, pero un pequeño, por favor." His coal black eyes flashed mischievously as he began to paint. "I think it is not a small one," I said, as his brush swept from the corner of my eye down to my chin. He grinned. "Pero, soy inspirado!" But, I am inspired. No matter; it gave us an opportunity to chat.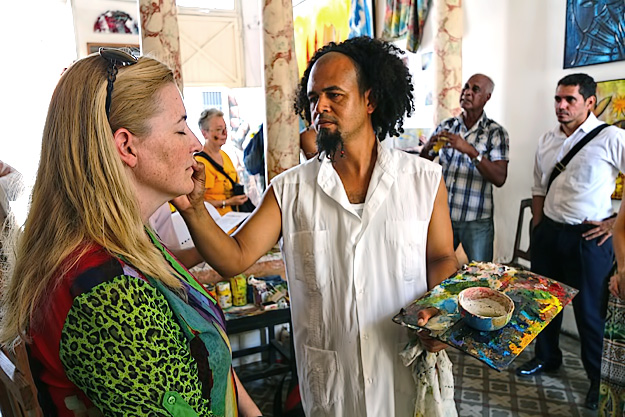 Santiago converted his family home into an art collective in order to support and collaborate with artists who would not otherwise have the space or funds to pursue their craft. On the ground floor, paintings, photographs, and collages hang over twin beds where starving artists often spend the night. His efforts have been so successful that they have spilled out of the house. Not only have artists covered the facades of neighborhood homes with murals, Trazos Libres now sponsors monthly street festivals that bring the whole community together to enjoy Afro-Cuban dance and music.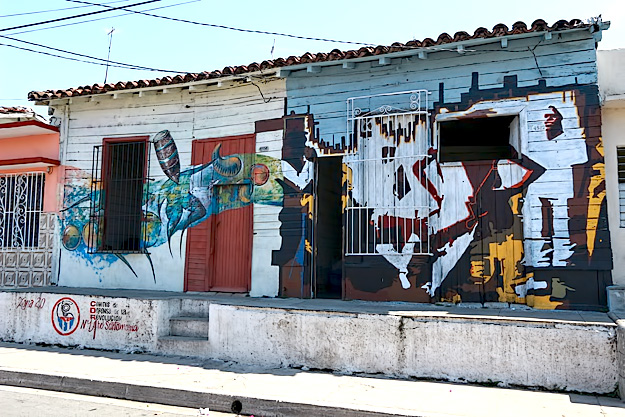 Thanks to Discover Corps' people-to-people program, I was able to immerse in Cuba's vibrant art scene, providing me with insight into Cuban art that would not have been possible on a typical tour. At the end of my eight day stay, I was struck by the realization that, while the American educational system is cutting back on art in the schools, Cubans are embracing art in its many forms as a tool to foster understanding, create a sense of belonging, and build strong communities.
Disclosure: I was a guest of Discover Corps during my stay in Cuba. However, the receipt and acceptance of complimentary items or services will never influence the content, topics, or articles in this blog. I write the truth, the whole truth, and nothing but the truth.