Because I delve deeply into local culture during my travels, I tend to stay places for longer periods. As a result, I've never tried to visit a city during a long flight layover. Recently, however, I was flying back to the U.S. on Aer Lingus, the national airline of Ireland. I choose them whenever possible, as Aer Lingus is the only airline in the world that allows passengers to clear U.S. Immigration and Customs on Irish soil, rather than at end of the flight, when I'm dead tired. Even though I had flown this route before, I'd never managed to visit Dublin; this time I was determined to carve an extra day out of my busy schedule between flights.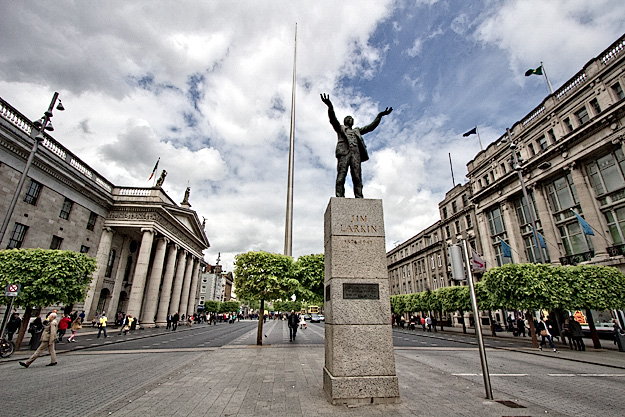 Effective use of time was most important, so I chose a hotel near the airport that also had access to the city center via public transportation. Bright and early the next morning I took the hotel shuttle back to the airport and caught the Airlink Airport Express Bus into Dublin, about a 40 minute trip. The Express Bus deposited me half a block from O'Connell Street, the main thoroughfare in Dublin, where I jumped aboard the Hop-on/Hop-off sightseeing bus and climbed to the upper, open-air deck. These buses are available in many large cities around the world, and whenever possible I take this tour on my first day, as it provides an invaluable orientation to the city.
I was particularly lucky in Dublin, as our driver was a loquacious fellow. Everyone riding the bus spoke English, so he turned off the pre-recorded program and treated us to a running commentary full of historical details, mixed with a liberal dose of humor. The sun peeked in and out of clouds as we rumbled down the road, chuckling at his jokes. We zipped past the Spire of Dublin, a 394-foot high stainless steel monument topped with a beacon that has earned the pin-like sculpture the nickname "Monument of Light."
Across the River Liffey we slowed in front of Trinity College, Ireland's oldest and most famous college. The writer in me perked up when I heard the litany of famous authors who had attended Trinity: Jonathan Swift, Oscar Wilde, Bram Stoker, and Samuel Beckett, and I noted the drivers' insistence that if we had time to do only one thing in Dublin, we must see the Book of Kells at the college.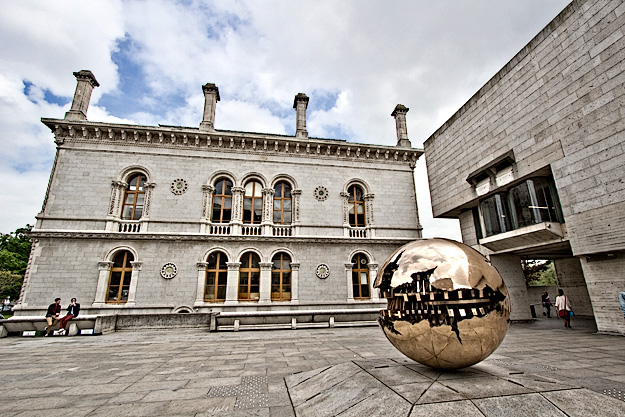 We had a brief glimpse into the lush landscape of St. Stephen's Green, the largest city square in Europe, before turning into the Grafton Street area, where buskers perform along pedestrianized shopping avenues. A few seats emptied at Dublin Castle, and another few at St. Patrick's Cathedral, but the real exodus came at the Guinness Brewery, and again at the Old Jameson Distillery, where tours include free samples.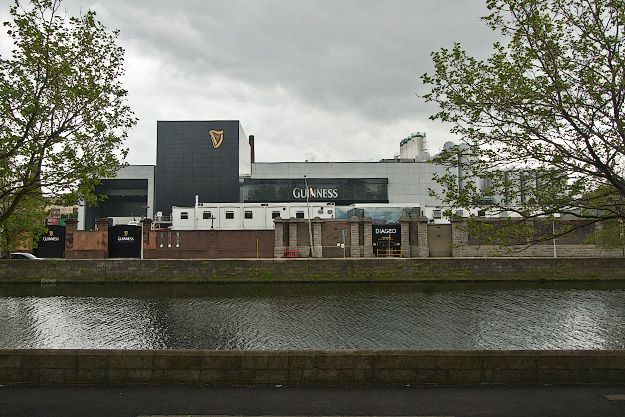 The driver paused his amusing monologue at Kilmainham Gaol to strongly suggest this old prison turned museum, with its resident ghosts, was another must see. A couple dozen churches, museums, and municipal buildings later we returned to our starting point, where I hopped off and headed for Trinity College on foot.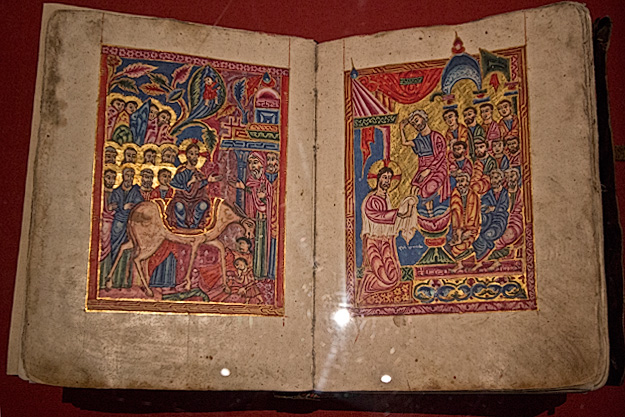 The Book of Kells lived up to its reputation. This illuminated manuscript, which contains the four Gospels of the New Testament (Matthew, Mark, Luke, and John) is believed to have been created around 800 A.D. in a monastery that was located in either Britain or Ireland. Extravagant illustrations that combine traditional Christian iconography with the ornate swirling motifs are sprinkled among pages of western calligraphy. Human figures, animals, and mythical beasts are intertwined in gold-leaf Celtic knots, swirls, and mazes. The 340 folios of calf vellum were bound into four separate volumes in 1953. Today they sit under glass in a darkened room, with only two books on display at any time, one opened to a page of calligraphy, the other to an illustration. The books and pages are rotated regularly to protect against damage from light, and the room where they are kept is locked down whenever the cases are opened for rotation. No chances are taken with Ireland's finest national treasure.
It took my eyes a few moments to adjust when I stepped from the exhibit room into the college's stunning Long Room Library. The 200,000+ books contained beneath its gleaming wood barrel ceiling are sorted by size rather than Dewey decimal system. Marble busts of historic Irish figures stand along its 213-foot long corridor, along with the Brian Boru Harp. Though incorrectly associated with the great Irish King Brian Boru, who died in 1014, it is the oldest surviving Irish harp and model for the emblem of Ireland.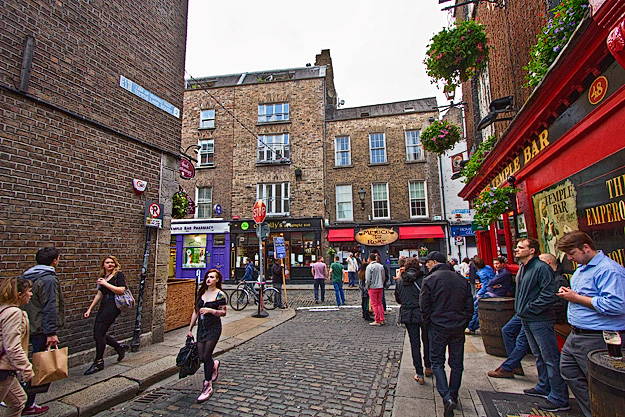 Book lover that I am, I could have stayed for hours, but there was so much more to see and so little time. I walked through the party district of Temple Bar and down Grafton Street (thankfully immune to the lure of designer fashions), on my way to St. Stephen's Green. After a leisurely stroll around the lake I reversed direction, pausing briefly to admire the Victorian red brick Asia Market on Drury Street.
I had hoped to hop back on board the bus for the second route along the Grand Canal to see the U2 Graffiti Wall at the Docklands, but I missed the last bus of the day. Back in early 2007, when I first set off on this life of perpetual travel, a fellow traveler advised me to "leave each place before I was ready." It was great advice, which I continue to follow to this day, and Dublin was a prime example. One day was entirely too short to experience everything the city had to offer, but my interest was whetted enough to know that I must return for a much longer stay.
Best Dublin Bus Tours Deal:
If you are staying at a hotel near the airport, the best hop-on/hop-off deal is the Airlink Combo Ticket, which combines the Airlink bus from the airport to Dublin city center with the sightseeing bus tour. The price is 20 Euro one way and 24 Euro return ($26 and $32 USD, respectively), and allows unlimited hopping on and off between the hours of 9:30 a.m. and 5:30 p.m., on both the Dublin City and Docklands tours. You can purchase on board the bus or in advance online, but tickets purchased online must be picked up at the Travel Information Desk in Terminal One of Dublin Airport, or at the offices of Dublin Bus, 59 Upper O'Connell Street.