In my windowless hotel room in Kuala Lumpur, I sat propped up in bed, a pillow wedged between my back and the wall. Outside, a late season monsoon pounded the hostel's tin roof like a herd of galloping horses. Determined to use the inclement weather as an opportunity to catch up on writing, I balanced my laptop on outstretched legs and tried to ignore the cacophony. Thirty minutes later a blank screen still stared back at me.
Frustrated, I jiggled my legs awake and reached back to plump the pillow. It was soaking wet. What on earth? I jumped up and discovered the seat of my pants was also soaked. Rainwater had silently run down the wall behind my bed, soaking the pillow and mattress. Worse, the hostel had no other room available. In the deluge I packed up and moved to the hotel next door, happy to have found clean and dry accommodations with fast wifi, despite having to pay triple what the hostel was charging.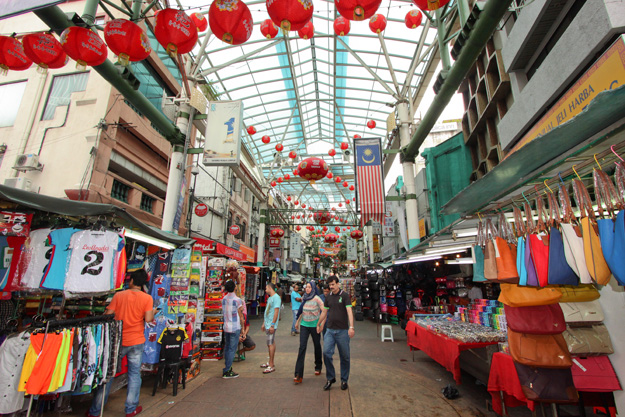 I had scheduled this five-day stopover in Kuala Lumpur in order to get my two-month visa for Thailand. The previous week, however, I'd applied for and received my Thai Visa in Istanbul, so when I arrived in the Malaysian capital I was fancy free for five whole days. It was not my first time in KL, but on previous visits I'd just been passing through on my way to somewhere else. This time I was looking forward to seeing some of the city's sights. The rain slackened enough for me to venture out into the Chinatown neighborhood where I was staying. Seeking shelter beneath the high canopies that arch over Petaling Street, I browsed through market stalls and fended off hawkers until the sun finally set and hundreds of crimson paper lanterns were set aglow.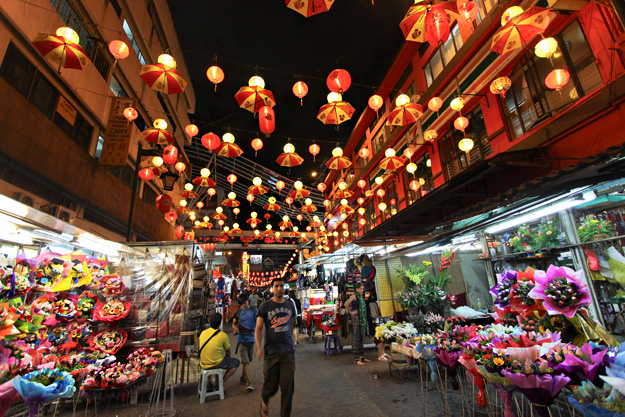 The following morning dawned equally dismal with spattering rain and leaden skies. I whiled away a couple of hours over breakfast in the hotel's lobby restaurant, hoping for a change in the weather. Unfortunately, my prayers to the weather gods were not sufficiently specific. The weather changed – for the worse. By mid-morning, sprinkles had become Niagara. Glumly, I headed back to the room, telling myself that I needed to write anyway.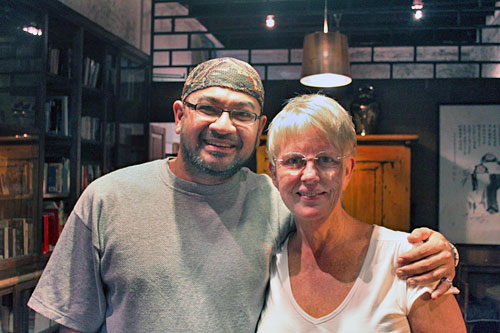 By the third day the rain was making me stir crazy. I had to get out. Fortunately, David Hogan, Jr., a friend and fellow travel blogger who authors the blog Malaysia-Asia lives in Kuala Lumpur. I alerted him that I was in town and a couple of hours later he pulled up and whisked me off to the Little India neighborhood. Struggling to keep our balance on slick tiled walkways, we dodged fat raindrops and ducked into a local Mamak stall, where the delicious aroma of Indian spices made my mouth water.
Many of these tiny eateries started as street carts and evolved into permanent restaurants that serve traditional South Indian cuisine brought to the west coast of Malaysia by Tamil immigrants in the 10th century. David ordered up plates of Dosa, a thin crepe made from pounded rice and lentils that is fried golden-brown on one side only, along with a variety of sauces for dipping. Over the next three hours we compared notes about blogging and brainstormed ways to attract more readers while stuffing our faces and washing it all down with endless cups of tea.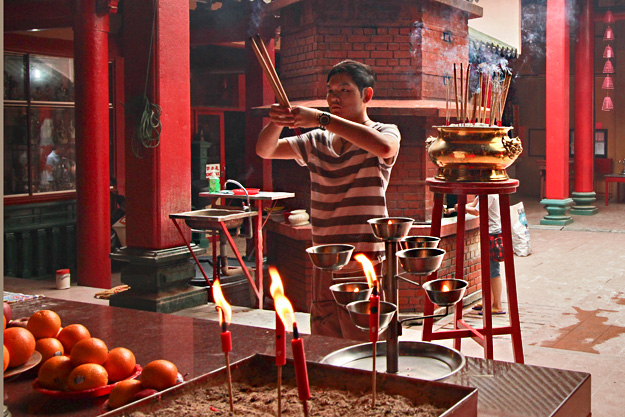 There was little respite the following day, but by that time I was reconciled to drizzly skies. Following on the heels of the previous day, I emailed yet another travel blogger who was in town, Juno Kim, author of Runaway Juno, and we arranged to meet later that afternoon. With a few hours to kill, I walked around Chinatown and stopped into the Guan Di Buddhist Temple to make a quick offering, followed by a stroll through the Central Market.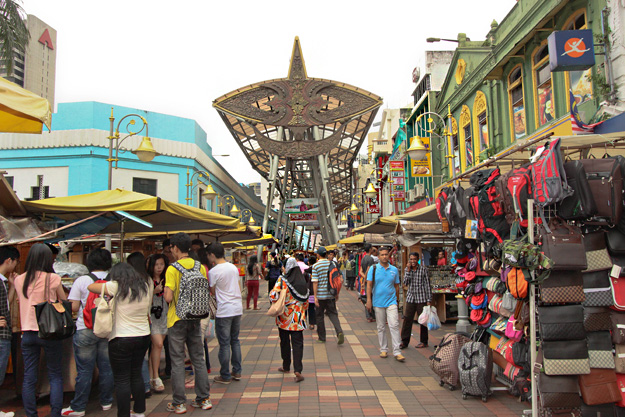 Juno arrived soon afterward and we hopped aboard the rapid rail, bound for Petronas Towers, perhaps the most iconic building in the capital. Soaring 1,483 feet, these twin towers are 88 stories high and contain 5.5 million square feet of space, including a multi-level shopping center. Between floors 41 and 42, a Sky Bridge connects the towers and acts as one of two observation decks, the second being located on the 86th floor. I had every intention of taking the tour of the two observation decks until I read that the Sky Bridge is not attached to the two buildings. Because they can sway several feet in high winds, the bridge was designed to slide in and out of the towers to prevent it from breaking. Between this and the $27 ticket price, I contented myself with the view from the ground level.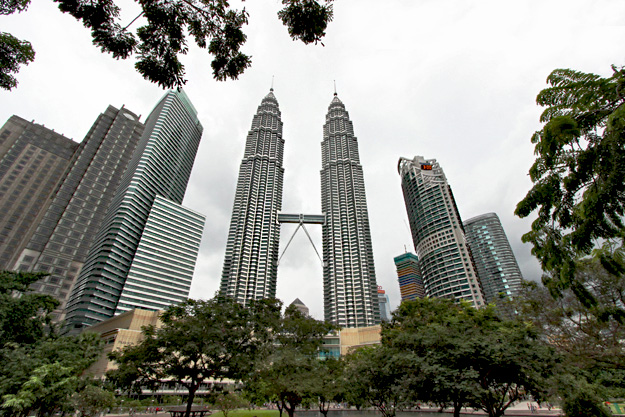 The rear of the Twin Towers face Kuala Lumpur City Centre Park, a 100-acre development filled with tropical plants, lagoons, fountains, a jogging track, children's playground, and children's pool. Thankfully, the rain stopped long enough for Juno and I to stroll through the park, where we found a shiny stainless steel orb that reflected our image and was custom made for "selfie" photos like the one below.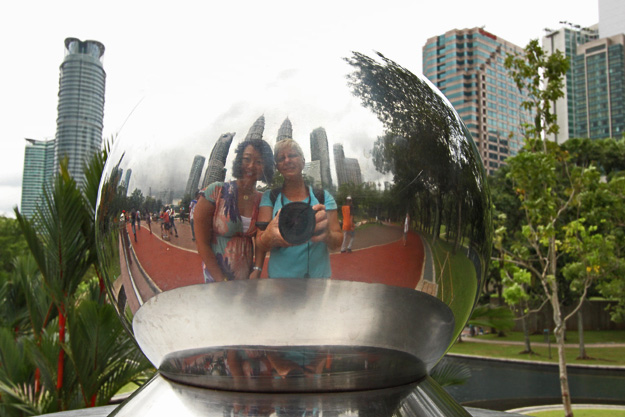 The sky was turning positively black but Juno insisted we couldn't leave before seeing the towers from the front, so we hotfooted it back through the shopping center, out the front doors, across the street, and down to the end of a long flower-framed plaza, from where we could just see the top of the spires that crown the towers. Click, click, click – we snapped photos hurriedly, but not fast enough. Halfway back the heavens opened up and poured down, soaking us to the bone in a matter of 20 feet.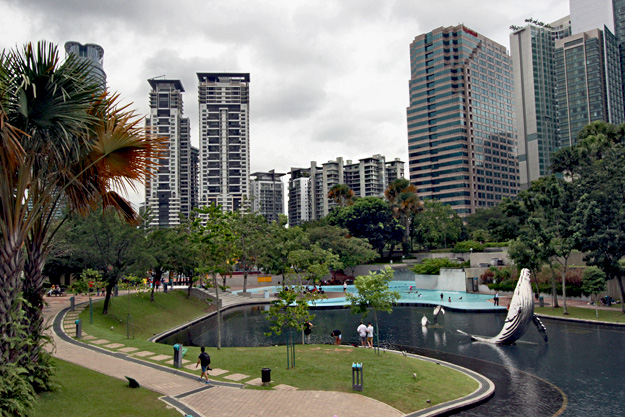 Laughing hysterically, we tore back inside and plopped down onto plastic chairs at the closest coffee shop, where we gossiped and people-watched until we had dried out. I saw precious little of KL, as the locals call it, but what little I saw I enjoyed immensely. I credit that to the great company; things are always best when shared with friends, especially in the pouring rain.
If you're considering a visit to Kuala Lumpur and need an economically priced, high quality hotel, consider the Aloft Kuala Lumpur Sentral. I earn a small sum if you book by clicking on this Booking.com link, which helps keep this blog free for you to read.