At the Bristol, England airport, I handed my boarding pass and passport to the EasyJet ticket agent at the check-in counter. He punched my locator number into his computer, then looked up at me quizzically. "You're a bit early," he said.
"Yes, I like to get to the airport with a lot of time to spare," I replied.
Amused, he shook his head. "No, I mean that your flight is for tomorrow, not today."
"You're kidding!" I grabbed the boarding pass back from him and, sure enough, my flight was for the following day. Sadly, it was not the first time this had happened to me. One of the drawbacks of perpetual travel is having to keep track of lots of travel plans and sometimes things just go awry.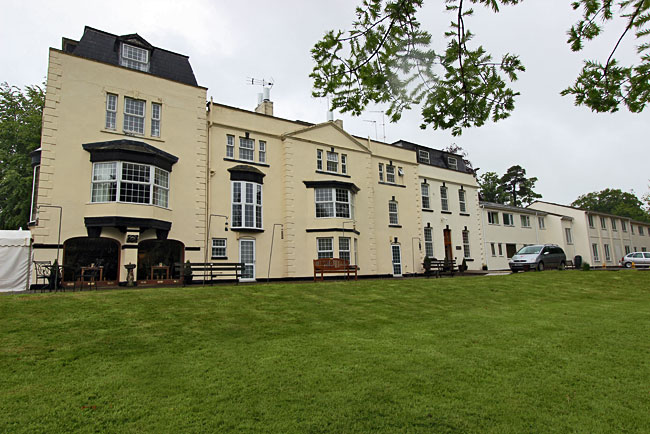 "We might be able to get you on the flight today, but you'd have to pay a change fee," he suggested.
Unfortunately, I was headed for Paris, with a quick connection the following morning. Since my layover was only eight hours, I had planned to sleep in the airport. Going a day earlier meant getting a pricey hotel room at the Paris airport. Instead I asked if there was a Bristol airport hotel nearby. Fortunately, the Winford Manor was just minutes away. It had an airport shuttle service and a room available for a reasonable price of £78 (about $118). They immediately dispatched their shuttle and picked me up.
Minutes later the van turned down a narrow asphalt lane bordered by perfectly manicured hedgerows. At the end of the lane sat a stately stone mansion of cream-colored stone, surrounded by seven acres of lush green gardens. My jaw dropped. "Was this a former castle?" I asked my driver.
The folks at reception filled me in on the history of this unique Bristol airport hotel. Following the Norman Conquest, the land on which Winford Manor now sits was granted to the Bishop of Coutances by William I. It changed hands numerous times until the reign of  Henry II. The manor house was built in the 17th century and by 1772 it was held privately, but beginning in 1905 it was being let out on short leases to families serving the British Empire. During World War II the manor was subdivided and it remained in this condition until it was purchased privately in 1986 and restored to a single residence. It was used as a spiritual retreat until 2008, at which time it was converted for its present day use.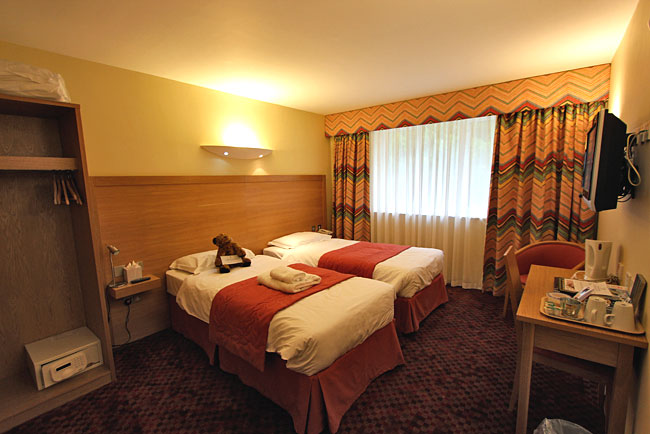 Today Winford Manor offers 22 en-suite, non-smoking rooms fitted to the highest standards. Amenities include under-floor heating, individual thermostats, state-of the art bathrooms with mist-free mirrors, flat-screen television with remote, in-room safe, and room security audit key cards. Every room is equipped with hair dryer, hair straighteners, and a direct dial telephone. The hotel has been awarded the UK's Green Tourism Gold Award and is fully handicap accessible. Of their 22 bedrooms, 11 are located on the ground floor and two have been designed specifically with wheelchair users in mind. The toilets in both are equipped with vertical and horizontal grab bars, a shower seat, and an emergency assistance pull cord.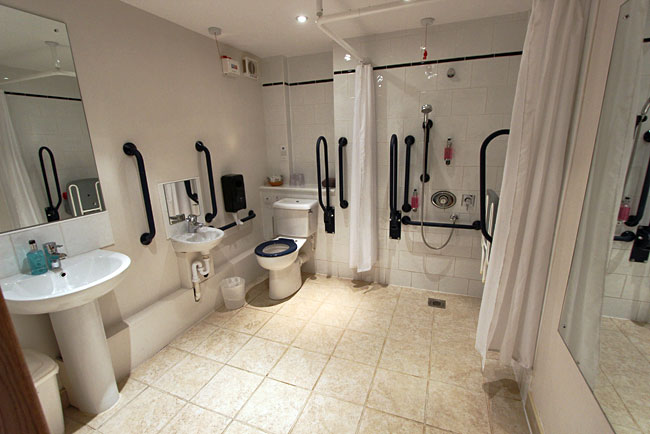 The woman who checked me in escorted me to my room and explained how to work the safe, TV, and how to connect with the free wifi available throughout the property. My room was furnished with two luxurious twin beds with top-of-the-line linens, and unlike many hotels that make it difficult to charge electronic equipment, I was delighted to find electrical outlets right next to the bed. She also explained that lights would come on automatically when I stepped into the bathroom and turn off automatically once I left and that toilets flushed with captured rainwater. Before departing, my host pointed out the homemade biscuits and selection of teas set out on a side table and the cuddly stuffed animal perched on one of the beds. "You can have yourself a cuddle with our Teddy Bear," she said. I have long said that hotels are missing an opportunity to make guests feel welcome by not doing an orientation; Winford Manor immediately felt like a home away from home.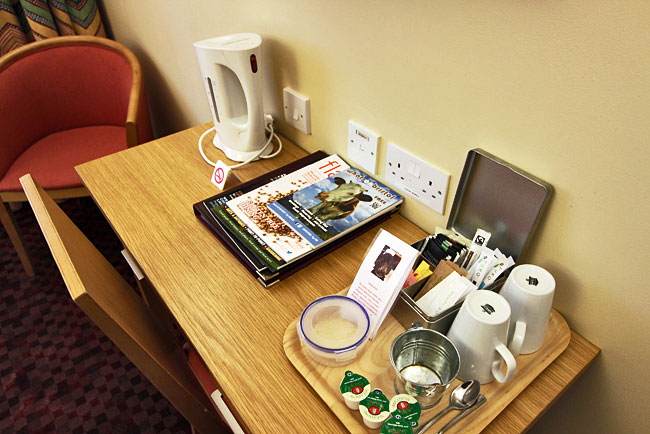 Despite miserable gray skies and a persistent cold drizzle, I couldn't resist the urge to explore the gorgeous grounds. I made my way across a deep plush carpet of green grass and turned to take in the scene. Wooden benches circled old growth trees that dotted the dewy lawn. To one side, a labyrinth offered the perfect photo opportunity for weddings. Eventually the chill air set me to shivering, so I retired to the hotel's gourmet restaurant, The Labyrinth, where I was delighted to find an array of vegetarian options. Both my dinner and my complementary continental breakfast the next morning were excellent; rather than the normal breakfast fare of toast, jam and coffee, Winford Manor offered yogurt, granola, fresh fruit, cheeses, porridge, cold cereals, juice, and a self-serve espresso machine.
I had every intention of working for a few hours after dinner but as I propped myself up in bed with two pillows, two sad eyes bored into me from the adjoining bed. I grinned and closed the cover of my laptop. Grabbing Teddy, I snuggled under my downy soft duvet and had myself a proper cuddle. I drifted off to sleep, thinking that if I'd arrived at the airport on the right day, I never would have found this gem of a hotel. Everything happens for a reason.