The moment Measha Brueggergosman sang her final note the audience in the ballroom of the Bath Assembly Room erupted in applause. I enthusiastically joined in and prepared to rise for a well-deserved standing ovation when a deep rumbling rose through the soles of my shoes and reverberated off the walls.
"What are they doing," I whispered to the man seated next to me.
"It's like extra applause," he whispered back. "We Brits stamp our feet on the floor when we're particularly pleased with a performance."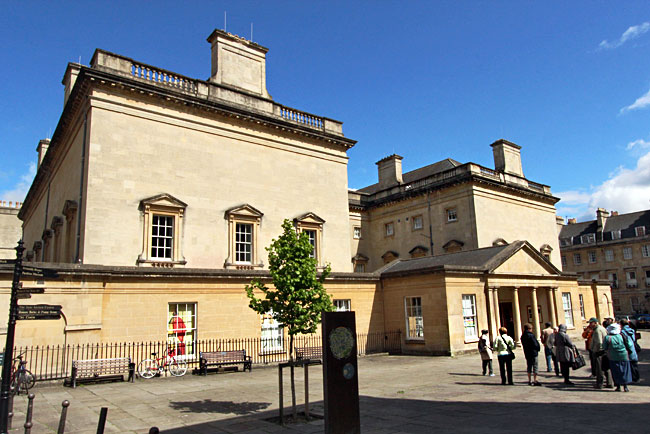 Brueggergosman has been captivating audiences since she first stepped onto the stage in 1998, but it was her performance of the Olympic Hymn at the 2010 Vancouver Winter Games that finally thrust her into the international spotlight. Serendipitously, I was visiting Bath, England on the day that Brueggergosman was scheduled to appear at the annual Bath International Music Festival. I settled into my third row center seat, tingling with excitement to hear this master operatic soprano perform selections from Ravel's Sheherazade, Britten's On This Island, Wagner's Wesendonck Lieder, Poulenc's Chansons, and Turina's Tres Sonetos.
Brueggergosman climbed the few steps to the stage, revealing bare feet when she lifted her floor-length gown. Once front and center she smiled and playfully arranged the yards of fabric flowing around her feet with her toes, then clasped her hands formally in front of her waist and stood statuesque. A nod to her pianist, Justus Zeyen, and her luminous soprano tones suffused the room. Switching fluidly between French, Spanish, and German she enunciated each word crisply and punctuated the meaning with her expressions. I needed only to watch her lips pout, startled eyes open wide, brow furrow with fear, or the corners of her mouth turn up slyly to understand. I was enraptured, and fascinated by her ability to sing so expressively in so many languages.
Suddenly, she turned playful again. "It's about to get steamy in here," she announced. Apologizing beforehand to the BBC, which was recording the concert, she described her next piece, William Bolcom's Amor, as giving off "the aura you get after a really foxy bikini wax!" And that's when she brought the house down. I silently thanked the gods that I hadn't made a fool of myself by standing up and added my feet to the clamor, but as soon as I could respectfully break away I pleaded with the organizers to allow me a few moments with the singer.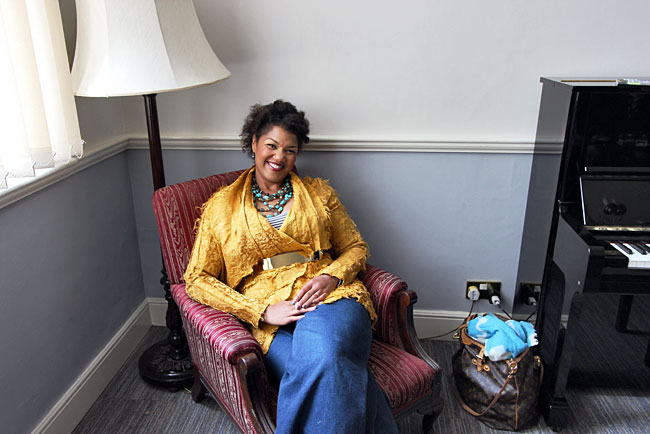 As Brueggergosman settled into an easy chair I asked what it was like to sing in so many different languages.
"(The singing) is the glamorous part…but the process itself is terribly isolating and can be lonely if it's not the right thing for you, so it's like, all these languages…languages, languages, languages," she said.
Having been brought up in New Brunswick, Canada, Brueggergosman is fluent in French, and her German is also impeccable, as she received her Master's degree at a university in Dusseldorf, Germany. However I was curious about her Spanish, which seemed the least comfortable language or her.
"(My Spanish is) oh so bad! Because I always defer to my French and it's never right. But I'm willing to try anything and I go to Spain for three weeks in June, so I'm gonna get there."
I pointed out that she could be forgiven, since the lyrics in her Spanish set were written in very formal dialect, with conjugations no longer in general use.
"It's a Madrilenian formal dialect. I've never heard that outside my music. It's like trying to speak German based on 19th century romantic German language used in songs."
I added that I hadn't been in total agreement with the Spanish translations shown in my program.
"Oh I never read those," she laughed.
"I suspect something is lost in the translation," I said.
"Always. I'm grateful there's musical accompaniment."
I shook my head in disbelief to hear this incredible talent give credit to the music rather than her angelic voice and phenomenal stage presence. I suspect that Measha Brueggergosman could command an audience if she sang in Martian.
Disclosure: I was a guest of the VisitBath.co.uk during my stay in Bath, however the receipt and acceptance of complimentary items or services will never influence the content, topics, or posts in this blog. I write the truth, the whole truth, and nothing but the truth.