Green and pink-haired teens clustered around the tattoo shops and clothing stores, pawing at leather dominatrix outfits and vintage hi-top sneakers imprinted with the Union Jack. I had come to Camden Markets to experience London's alternative fashion scene but within minutes the seething crowds had frazzled my nerves. Abandoning my plan to be a pretend fashionista for a day, I headed instead for the locks on Regent's Canal, the other site for which Camden is famous.
Minutes later I was standing on a quaint stone bridge, looking down on dozens of long, skinny boats painted in riotous colors and designs, lined up and waiting for their turn to pass through a series of three locks. Descending to canal level, I watched boats motor into the narrow locks two-by-two, with barely half a foot of clearance between them. After tying up securely, the captains clambered onto the shore, manually closed the rudimentary timber gates, and inserted metal cranks into a mechanism that allowed water to either flow in or be pumped out. Once the water level equalized, the gates were again opened and the process was reversed for boats going in the opposite direction. Fascinated, I sought out one of the captains as he waited for water in the lock to empty, and asked about his odd-looking vessel.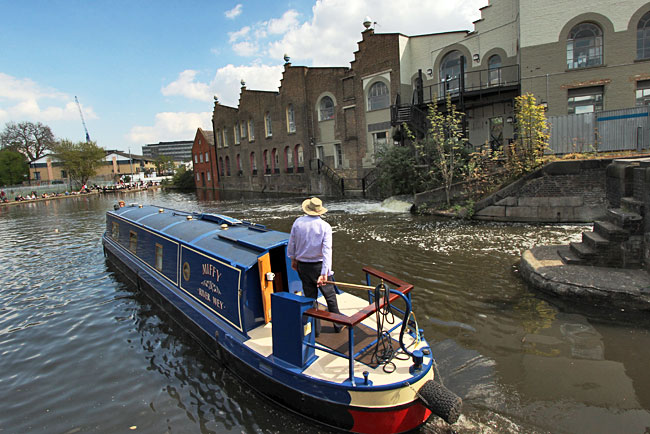 "They're called narrowboats," he explained. "They were originally built to haul goods up and down the canals of England, but nowadays they're mostly used for pleasure cruises, though we live aboard ours year round."
"There's so many!" I exclaimed, noting the long line waiting to pass through the locks.
"It's a bit of a traffic jam this weekend," he laughed. "There was a festival this weekend in Little Venice and everyone is heading home."
"Where's home for you?"
"Ah, well, that's an interesting question," he said. It was a familiar response; as a nomad I use the exact same words whenever anyone asks me where I am from. "We just go from mooring to mooring most of the year. Sometimes we tie off in one place for the winter, when stoppages (repairs) make travel impossible."
"Can you go very far on them?" I asked.
"There's more than 2,000 miles of canals in England. You could cruise for years and still not see them all."
As the water level began to drop, the captain let me peek inside. A surprisingly spacious interior, tall enough to stand up, was painted in a medley of bright colors to match the exterior. In addition to the living area I saw a kitchen with stove, sink, and refrigerator. "There's also a bedroom and bath with shower; and we've even got satellite TV and Internet," he said.
Live-aboard narrowboats are not a new phenomenon in England, though their present day purpose bears little relationship to the original vessels. Beginning in the 18th century, narrowboats provided for cheap and efficient movement of goods such as coal, textiles, pottery, and ice via the network of privately built and maintained canals that criss-crossed England. This efficient system of transport reduced the cost of goods to such a degree that it was largely responsible for Britain's emergence as world's first industrial power. Regent's Canal, built in the early 19th century, was a key piece of the network, as it connected Grand Junction Canal with the River Thames, allowing cargo from seafaring vessels to be transferred to canal barges and subsequently transported across England.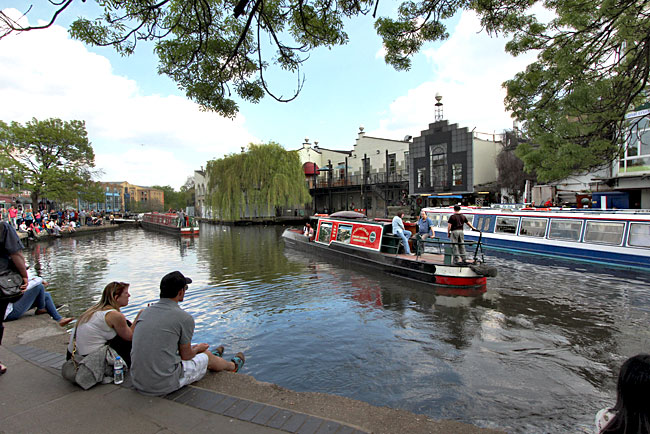 By 1850, Britain had approximately 4,800 miles of inland waterway, but the increase in rail and truck transport, coupled with increased union demands and a dearth of government support, led to the inevitable decline in canal transport. Trying to remain competitive, captains moved their families onto the boat to eliminate the cost of onshore residences. The entire family was pressed into service, including children, who walked the towpath, leading the horse that towed the boat. By 1945, carrying cargo by narrowboat had all but disappeared and by the 1970s, only 1,000 miles of inland waterway were still in use. Regent's Canal fared better than most, but commercial traffic on the canal was all but non-existent by the late 60's and many were calling for closure of the canals. Fortunately, after numerous aborted attempts to sell them off for railroad right-of-way, the government nationalized the canals and gradually public and private consciousness turned to preservation. Enthusiasts pushed for and received public funding that resulted in the restoration of many canals in the 1960's and 70's and once they had been restored the general public understood the benefits of the canals to local economies.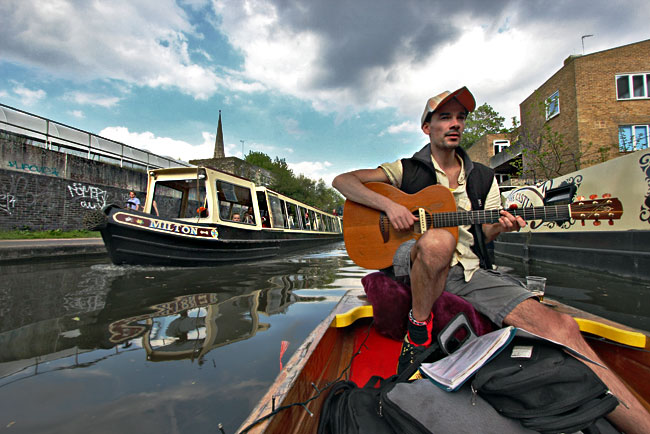 I strolled along the banks of Regent's Canal, enjoying the colorful river traffic and pedestrians out for a Sunday stroll in London. A bit further down the towpath I came upon a small wooden rowboat with three benches, all covered in fanciful silk pillows. Noting my interest, the young man perched in the bow smiled and pointed to his guitar, "Would you like to take a ride? It's only 10 quid and I serenade you all the way." I couldn't resist. Moments later we were paddling serenely past elegant homes and through half-moon tunnels as he crooned old standards and Beatles tunes. The water level view offered glimpses into dozens of narrowboats, many outfitted with lace curtains and custom upholstered benches. Canal & River Trust, the charity charged with care of the canals in England and Wales, estimates that there are about 27,000 licensed narrowboats in the UK and perhaps another 5,000 unlicensed boats. With only six feet of width and an maximum length of 70 feet, these craft offer precious little room for material possessions, making them Britain's equivalent of modern day nomads. I felt right at home.
If you're considering a visit to London, my favorite site for finding the best prices on accommodations is Booking.com. I earn a small sum if you book by clicking this link, which helps keep this blog free for you to read.