Last year I was contacted by author Mark Chimsky, author of 65 Things To Do When You Retire, an anthology of short essays by prominent retirees such as President Jimmy Carter, Gloria Steinem, and Mort Greenberg which The Wall Street Journal called "one of the year's best guides to later life." On the heels of that widely acclaimed first effort, Chimsky was planning a follow-up book named 65 Things To Do When You Retire: Travel. He asked if I would be willing to provide a story for this second anthology. Since the royalties generated from the sale of this book will be donated to nonprofit organizations dedicated to preventing and curing cancer, I agreed to do so.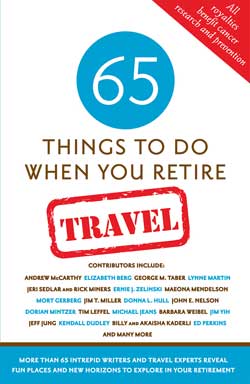 65 Things To Do When You Retire: Travel was released last week. In it, more than 65 writers and travel experts reveal their own personal adventures and offer practical advice about how retirees can have the time of their lives, whether traveling with a group, spouse, partner, or on their own. The essays describe glorious getaways, the best places for retirees to visit (or relocate), how to plan for a "great escape" without breaking the bank, or, as in my case, how to enrich your travel by making a local connection. Other contributors include Andrew McCarthy, actor, director, and award winning travel writer and author of the travel memoir The Longest Way Home; Elizabeth Berg, best selling author of Talk Before Sleep, and Open House, an Oprah's Book Club Selection; and John E. Nelson, co-author of What Color is Your Parachute For Retirement. The essays cover fascinating trends such as taking a "golden gap year," going "glamping," and living a nomadic lifestyle.
65 Things To Do When You Retire: Travel is a 5.5″ x 8.5″, 400 page, softcover book is available in bookstores or through Amazon.com.